Teleo Retrofits Existing Heavy Construction Equipment To Create Remote-Operated And Autonomous Robots.
By Mark S. Kuhar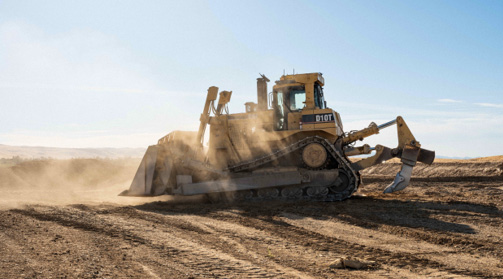 Construction and mining work is skilled, physically demanding and often dangerous. According to the Associated General Contractors of America, 91% of construction firms are having a hard time finding workers to hire, driving up costs and project delays.
To address this issue, Teleo is introducing an incremental approach to autonomy with its system, called Teleo Supervised Autonomy, which enables remote and semi-autonomous operations of any make and model of heavy construction equipment. A key benefit is that one operator can control multiple machines from the comfort of a command center.
Full autonomy, which doesn't require any human intervention, is still many years away for the construction industry and many others. Teleo's system keeps operators involved, having them remotely perform complex tasks that the technology cannot yet fully handle.
The company is leveraging cutting-edge autonomous technology to provide significant value for contractors today rather than many years from now. Deploying the Teleo system with its central command center can help attract more operators, increase site productivity and offer unprecedented operational visibility.
"The construction industry is experiencing a growing skilled labor shortage," said Vinay Shet, Teleo co-founder and CEO. "We founded Teleo to help contractors supercharge their operators' efforts by turning their equipment into semi-autonomous machines. By moving the operator out of the cab of the machine and into a command center, we're also making the operator's role safer, comfortable, and more accessible."
Revolutionizing How Customers Build
Teleo is leading the transition to autonomy for the construction industry by making customer adoption of remote and semi-autonomous heavy equipment as easy as possible, with the help of the global dealer partner network.
The company works hand-in-hand with contractors to identify the best use cases for the Teleo system, and handles everything from operator training to network implementation. By being early adopters of this cutting-edge technology, the following construction companies are the latest to future-proof their businesses, increase efficiency and improve the operator experience.
Teleo recently announced deals with construction customers John Aarts Group, Teichert and Tomahawk Construction for remote-operated wheel loaders, bulldozers and dump trucks, respectively.
In addition, Teleo has announced the company is expanding globally through a new dealer partner network spanning across the United States, Europe and Canada with partners Dobbs Positioning Solutions, RDO Equipment Co., SMS Equipment Inc. and SR-O Technology.
Tomahawk Construction
Tomahawk, a Florida-based excavation and site-development company, is partnering with Teleo to deploy its technology on 12 articulated dump trucks for land development where the trucks will haul dirt across a job site.
The remote-operated trucks are expected to help Tomahawk operations run more efficiently amid a labor shortage. Remote operations are expected to begin in summer 2023 with two machines in Naples, Fla., and Tomahawk will transition to semi-autonomous operations later this year.
"We have had two trucks sitting around for 10 months without operators in them," said Scott Lyons, managing member, Tomahawk Construction. "With Teleo, more people will be attracted to this job because they can run trucks from our office and save hours of drive time to and from job sites. Due to the current labor market, we know going forward we need to do more with less. I believe the Teleo system is the vehicle to make that happen."
Teichert
Teichert, a California construction and materials company in business since 1887, is working with Teleo to retrofit two bulldozers. Teleo delivered its first retrofitted machine to Teichert, a 2012 Caterpillar D10T bulldozer, in the summer of 2022.
The second machine, a 2022 Caterpillar D10T2 bulldozer retrofitted with Teleo Supervised Autonomy technology, will be deployed on site for work at the company's sand and gravel mine near Tracy, Calif., in the second quarter of 2023.
The Teleo system is designed to operate day and night and Teichert will be the first Teleo customer to launch night operations. The machine will be used to remotely push sand and gravel to an on-site processing plant.
The materials produced at the plant are used in asphalt, concrete and infrastructure projects throughout the California Central Valley and Bay Area. The remote operations capability is a significant value-add for Teleo customers as it increases operator safety while improving productivity. These benefits will continue to grow as more Teichert machines are retrofitted with Teleo's technology.
"We believe Teleo's technology can help a good operator become a great operator," said Dan Campbell, head of engineering, Teichert Materials. "The technology will improve the operator experience, making the job safer and more comfortable for our team members. The central command center also makes it easier for operators to go on breaks and creates a seamless and efficient transition between shifts."
John Aarts Group
John Aarts Group, one of Canada's largest integrated construction services companies, is the first company to leverage remote operations to virtually load a concrete plant.
A John Deere 624K wheel loader will be retrofitted with Teleo's technology to remotely load and unload materials in Tillsonburg, Ontario, Canada, starting in the second quarter of 2023. This role traditionally includes a lot of stop and go work, which results in significant unproductive time. The Teleo system increases efficiency allowing operators to focus on higher impact work, while also addressing a talent shortage that the industry is currently facing.
"Our goal with introducing Teleo's autonomous technology is to further support our team," said Ryan Aarts, CEO, John Aarts Group. "There is more work to be done than there are operators, and Teleo is helping us to create opportunities for team members to do more of the meaningful work they like to do. We've always been early adopters of technology and we are partnering with Teleo to load our concrete plant because we saw an opportunity to increase efficiency."
Teleo's Supervised Autonomy Technology
Teleo's system includes the company's proprietary software; a universal retrofit kit customized for any machine; a remote command center to operate the equipment; and a robust mesh network, which offers connectivity on site so the command center can communicate with the machine.
The universal retrofit kit is designed to withstand the harsh conditions associated with operating heavy construction equipment, which includes enduring thousands of hours of heavy vibrations. The kit incorporates state-of-the-art sensors such as high dynamic range cameras that are capable of offering high-definition visibility and video footage both day and night.
Once a machine is retrofitted with Teleo's technology, a skilled operator can control multiple machines, at multiple sites, from a single station. The technology brings the operator experience to the remote command center by bringing the sound and feel of the machine into the room as if they were operating it in person. Later this year, Teleo will launch semi-autonomous operations in addition to the current remote operations offering.
The Teleo system introduces a host of benefits to customers, including:
Attracting more operators. By transitioning these roles from the field to a remote command center, Teleo is creating a safe and comfortable work environment. This makes the role of the operator more attractive to the next generation, making it easier to recruit, train and deploy skilled employees, while also making the job more accessible.
Increasing site productivity. Multiple machines, across multiple sites, can be controlled by one operator. Productivity is increased by having one operator location rather than multiple, which creates less machine downtime between breaks and shift changes on large sites.
Enhancing operational visibility. With Teleo Insite, the company's data and analytics platform, Teleo offers customers unprecedented visibility and access to metrics that will continuously improve job site productivity.
Driving down costs. Operating construction sites is increasingly expensive. The Teleo system offers customers operational savings with payback expected in less than a year. Teleo technology also combats against machine damage and wear, property damage, and operator error, which all drive up costs.
Increasing safety. Working from the protected environment of the remote command center, operators are now removed from harm's way, keeping them safe and productive.
Information for this article courtesy of Teleo.