Astec Industries' Materials Solutions Group has launched its newest mobile rock breaker, the BreakerBOSS 5D. This new mobile mining product is used for breaking oversized rock in underground mines; typically broken at draw points and grizzly stations where rock must keep flowing.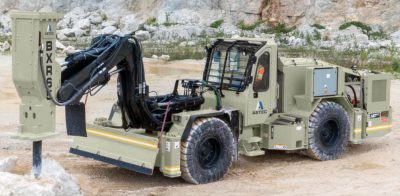 The BreakerBOSS 5D is configured with a standard Deutz, 177 hp (132 kW), Tier 3 engine. It is also equipped with a 5,000 ft.-lb. (6,800 J) BTI BXR50 hydraulic rock breaker attachment. The mobile machine includes a conveniently center-mounted operating cabin for maximum visibility, heavy-duty, tube-in-tube stabilizers at each corner of the machine and manual boom/carrier and breaker lubrication systems.
The mobile rock breaker features a large-coverage boom with a 13 ft. (4m) horizontal reach, a 10 ft. (3m) vertical reach and a compact tram design for enhanced rock breaking and maneuverability.
Operator comfort was strategically designed into the BreakerBOSS 5D. A ROPs/FOPs-certified cabin with heating and air conditioning, ergonomic suspension seat equipped with armrest joystick and HMI controls, safety glass windows complete with a rock guard over the front window and dual-filter air filtration provide an enhanced and safer experience for operators.
The BreakerBOSS 5D is built with Astec's hydraulic wheel drive (HWD) and advanced braking and tramming control system (ABT), allowing the unit to gain more traction and power with fewer emissions than conventional mechanical systems. Hydraulic braking means no brake pads to service or replace; plus, with its innovative control and diagnostics, it's easy to address operational and maintenance issues.
Additional options for the BreakerBOSS 5D include: additional engine options for higher altitude applications and lower emissions requirements, a larger BTI BXR65 hydraulic rock breaker attachment, a heavy-duty, steel plate pusher blade with single cylinder actuation, radio remote control for line-of-site control up to 160 ft. (50m) away, fire suppression systems, automatic lubrication systems and dust suppression system.
Astec Industries' Materials Solutions Group, www.astecindustries.com