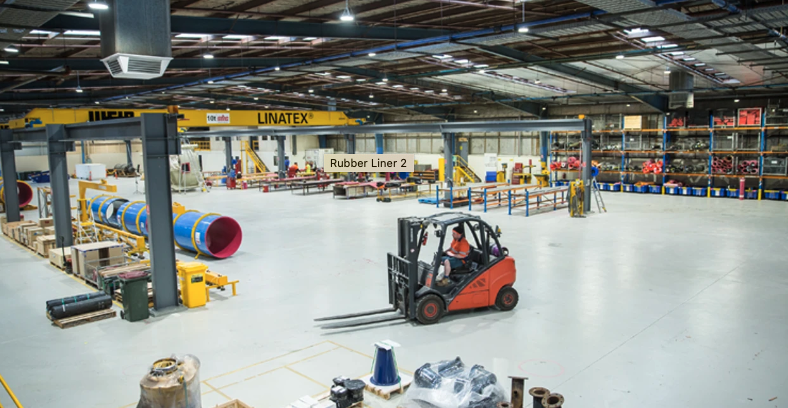 Rubber lining is an important component of Weir Minerals' business, with experienced teams of rubber liners based all over the world. Renowned throughout the mining and aggregates industries for their expertise, they work in-house and on-site to line a variety of products with Linatex premium rubber and other rubber compounds.
But how is rubber lining carried out, and what makes it so special? Goingehind the scenes of a Weir Minerals rubber lining workshop allows us to learn more about this process and the high standards its rubber liners adhere to.
Delivering Exemplary Standards Worldwide
"We take our rubber lining process extremely seriously, in fact, it takes at least three years to train a rubber liner to Weir Minerals' exacting standards," Weir stated. "From the correct handling to cutting and application, we make sure every step of the lining process is completed correctly to ensure your equipment is protected.
"Our team of rubber liners are located across the globe and are based both in-house and on-site to ensure we can deliver year-round service to our customers. One of the best-known brands of rubber that they work with is Linatex premium red rubber, with the remainder being a selection of other Weir Minerals' superior rubber compounds.
"We line a wide range of equipment at our global sites including: Cavex® hydrocyclone vortex finders and underflow launders, magnetic separators, chutes, hoppers, pipes, thickeners and storage tanks."
Behind the Scenes of a Rubber Lining Facility
"A typical day in one of our facilities begins early with a 'Toolbox Talk,' Weir stated."This is when the team discusses new jobs and tracks the progress of those in process. There is also a safety briefing to review any issues or hazards that may have arisen on-site."
As safety at work is a key priority for Weir Minerals, a safety checklist and risk assessment is performed before starting any rubber lining job. In addition, the team can often be found brainstorming and discussing alternative ways to make the job safer.
A "job pack" accompanies each project, which includes measurements, diagrams, materials to be used and the estimated number of hours to complete the work. Most products have a steel element that needs to be lined, which must be measured first and cross-checked to match the measurements specified on the product drawing. Once the dimensions are established, the rubber liner, in consultation with the estimators, can determine the type of rubber required and how it should be applied.
Once all work has been finished, a quality assurance checklist is undertaken, which also then gets double checked and signed off by another rubber liner to ensure every product meets Weir Minerals' high standards.
Selecting and Joining the Correct Rubber Compound
The rubber compound used is selected based on the width and thickness required, and the application it will be used for. It's necessary to work out both the internal and external measurements of the product to ensure it is lined properly.
"Our team of rubber lining experts possess a unique skillset – lining products with a variety of rubber join types to ensure optimal equipment performance," Weir stated. "For example, where and how the rubber lining is joined inside the vortex finder of a Cavex hydrocyclone is a crucial component of the hydrocyclone as it ensures correct flow, while a magnetic separator drum will feature long skive joints that are aligned with the drum's direction of rotation."
After the rubber has been selected and cut, the next step is to affix it to the product. Before this can be done, sand blasting is performed to give the surface of the steel a profile for better adhesion and cleanliness. There are many considerations related to gluing, and factors such as temperature, humidity, dew point and metal temperature must be measured every two hours to ensure the adhesive is being used within the correct climatic conditions. Humidity must remain below 75% otherwise moisture will get in between the rubber and surface, causing potential bond failure.
It's of utmost importance that rubber liners have a solid understanding of their glue, materials and the entire rubber lining process. When gluing, there is a very small tack time window and materials must be fixed together at the optimum moment. Tools including stitchers and small handheld rollers are then used to help bond the glue to remove any air bubbles and ensure permanent attachment of the rubber to the surface.
The team also regularly perform a multitude of testing, including bond strength to make sure each batch of glue meets the necessary requirements.
Hot bonding and other Capabilities
"Some of our global sites have the capability to carry out hot bonding, which is where Linacure uncured rubber is cured with heat using an in-house autoclave and dry oven," Weir stated. "In this process the natural rubber is placed in an autoclave into which a boiler pumps high temperature steam. This creates a change in atmospheric pressure, cross linking the elastomer to form a cured rubber surface."
Hot bonding allows the uncured Linacure® compounds to be applied in very irregular and tight shapes. It's used to bond intricately shaped parts and equipment such as small-bore pipes, while other applications include hoses and dewatering bladders.
The hot bonding process is more malleable than cold bonding, however both systems offer exceptional bond strength and adherence.
"Weir Minerals is at the forefront of innovation in the rubber lining industry; and we are proud to have facilities around the world with teams dedicated to both cold and hot rubber bonding," the company said. "Not only do our customers receive superior quality rubber, but they benefit from an enhanced level of service and high-quality installation as a result of our team's extensive expertise and versatility.    
"Our workshops also utilize a number of other tools, such as an oven and drum lathe, to produce rubber products including road sweeper hoses and Cavex hydrocyclone spigots. To make a road sweeper hose, uncured Linacure rubber is wrapped around a mandrel, which is then placed into the oven or autoclave. Once cured, it is coated with a special solution and taped with uncured rubber for increased UV resistance.
"The drum lathe is used to make precise cuts of straight pieces of rubber and vee fillets, which are strips of rubber cut in a way to protect joins and seamlessly line equipment. We have numerous facilities around the globe which are dedicated to these processes, located close to our customers.
"Our global team of rubber lining professionals exemplify the quality, reliability and high level of service that customers can expect when lining their equipment with Weir Minerals' range of rubber products. Whatever the product or application, Weir Minerals can provide the perfect rubber compound expertly installed by rubber lining teams around the world. Wherever or whenever the need arises, our rubber liners can perform work on-site or in-house to exacting specifications for lasting wear protection and dependability," Weir concluded.