A Holistic And Smart Approach Works. Delta Sand & Gravel Co. Can Attest To That.
By Ken Albaugh
As part of Xylem's turnkey solution, a slurry pump was installed to pump 3,000 gpm of water and fine material through 1,600 ft. of 12-in. SDR11 HDPE. This pump is robust and reliable, capable of pumping this harsh material with minimum maintenance required. 
As operational cost pressures continue to increase and water scarcity intensifies, efficient mine water management has never been more important. Integrating smart water management solutions reduces production downtime and operating costs while improving performance, safety and the environmental impact of a mine – all of which supports long-term prosperity.
A Holistic Approach to Water Management
Taking a holistic approach to water processes on site by examining all aspects of the system will enhance three key aspects of a mining operation: productivity, reliability and sustainability.
1. Pumps operating at their Best Efficiency Point (BEP) support mine productivity by preventing unplanned downtime, reducing energy consumption, minimizing labor costs, and enhancing infrastructure performance.
2. Integrating smart technologies like intelligent pumping solutions, variable frequency drives, control panels, and adaptive mixers support reliable, efficient infrastructure. They require minimal maintenance and deliver lower total life cycle cost.
3. Complying with environmental regulations helps prevent costly shutdowns while protecting the local community. It is one of the biggest challenges facing mine operators today – balancing the demands of productivity and sustainability. Smart technologies such as pipeline management and water monitoring solutions can boost an operation's efforts.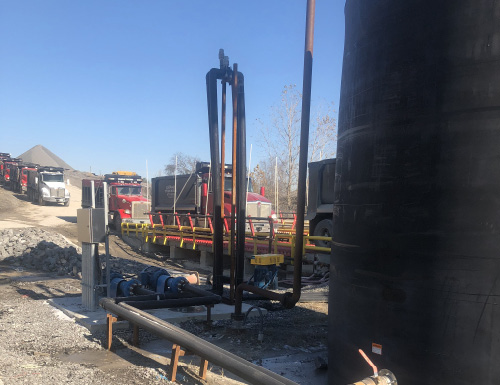 Energy Consumption Cut By 25% 
Some of our recent work with aggregates customers shows just how much can be gained by taking a holistic, smart approach to mine water management. Since 2013, Xylem has been providing water management solutions to Delta Sand & Gravel Co. in Eugene, Ore. – a quality aggregate materials, service and expertise provider with a legacy of nine decades. 
With plans to increase the depth of the aggregates pit by 100 ft. in the coming years, Delta needed a robust, efficient and flexible pumping solution. The aggregates mine features a central collection pit which handles all surface water from across its operations. Surface water is pumped to a series of five settling ponds before being safely discharged into the environment or re-used on site.
The three permanently installed pumps, which had been in place for many years, were inefficient and experienced frequent maintenance issues. The in-rush current at start-up was also problematic, adding to maintenance problems and risking surges that could impact the surrounding power grid. Pump repairs were costly and cumbersome, with a crane required to lift the pumps out of the pit. In addition, parts were becoming difficult to source, due to the age of the pumps.
One of the permanently installed pumps in the collection pit runs 24/7, with all three pumps running simultaneously at certain times of the year when rainfall is high.
We recommended a turn-key solution, incorporating Xylem's Goulds Water Technology vertical turbine pumps as a highly efficient, reliable, and easy-to-operate solution. The pumps are equipped with variable frequency drives (VFDs) to optimize energy consumption, while a soft start controller facilitates a slow ramp up and addresses the large in-rush current issue.
Add to this the flexibility of the pump model, which means the pumps will continue to operate at BEP, even when the pit is lowered by 100 ft. in the coming years.
Our turn-key solution includes pumps, a floating barge and a robust suction screen, a comprehensive solution from a single provider to support the mine's needs today and tomorrow. The robust, reliable solution resulted in energy consumption savings of 25%, compared to the old system.
The low-maintenance pump model will enhance safety at the plant, reducing the need to bring a crane and crew on site when repairs are required, and will cut costs significantly as a result. The mine operators also have the peace of mind that the pump can be configured for optimal efficiency when they lower the pit in the future.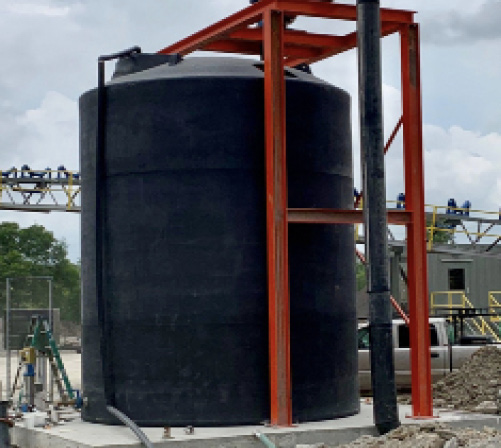 15% Increase in Production 
To take another example – one of the largest U.S. producers of construction aggregates decided to relocate its processing plant to facilitate increased production capacity. However, the new location was further away from the plant's water supply. 
As the new plant would house all of the site's crushing, washing and sorting applications, the customer needed a single-source provider who could design and install a comprehensive and integrated water management system to meet all the necessary applications, including wash down, dust control, truck wash, pugmill and slurry.
We were very familiar with this aggregate producer's operations – a trusted partner for years – and confident in the reliability of our products and the depth of our hydraulic engineering experience.
After an extensive site audit, our engineers worked closely with the customer to develop a comprehensive plan to improve operational efficiency and increase the required water supply. This included evaluating the existing pumps and recommending modifications and replacement of some equipment.
To support the demands of the new processing plant and to ensure future capacity, we engineered and installed an integrated system of new pumps, piping, and fittings.
Our broad portfolio and extensive experience meant that we could design and install an efficient and reliable turnkey water management system that enables the plant to process 15% more aggregate than it could previously.
Also, as the entire solution can be connected to the plant-wide SCADA system for remote, proactive monitoring and control, minimal downtime and maximum efficiency is ensured. Just one person can monitor and control the entire system which provides operational savings.
Deeper Partnerships; End-to-End Optimization
As aggregate mine operators target more resilient operations, they are working hand-in-hand with technology partners to drive greater efficiency, reliability and compliance. Our end-to-end collaboration is built on technical and field support services including:
Design and consulting for custom design and engineered systems that solve complex water and wastewater challenges.
Installation and commissioning support like HDPE pipe fusion and custom fabrication, to minimize risk and maximize uptime.
Customized operation and maintenance programs to optimize lifecycle costs and performance.
Ken Albaugh is director of sales and services at Xylem. With almost three decades of engineering experience in process, facility, system, mining and pumping design Albaugh is a MSHA-trained and certified miner who has spent the last 15 years leading major mine water-management projects for a wide range of mining customers and contractors. For more tips on mine water management, visit xylem.com/mining.