Graymont officially inaugurated the Bedford Heritage Park in Bedford, Quebec, Canada, a novel initiative that will provide access to ore sufficient to extend the viable operating life of its Bedford operations for decades, while creating a new regional park for the benefit of residents and visitors to the picturesque Eastern Townships. 
This project is truly a win-win solution, which will preserve quality jobs at one of the largest employers in the region while ensuring customers an uninterrupted supply of high-quality lime and lime-based products that are deemed essential to a wide range of industries – including steel, glass, paper, water purification and agriculture – and to addressing many of today's environmental challenges.
More than a dozen years in the making from conception to official opening, this original and sustainable undertaking involved stockpiling large quantities of unusable stone overburden on site in accordance with a carefully designed and engineered master plan, then covering it with earth and vegetation to create a major new park in an urban setting.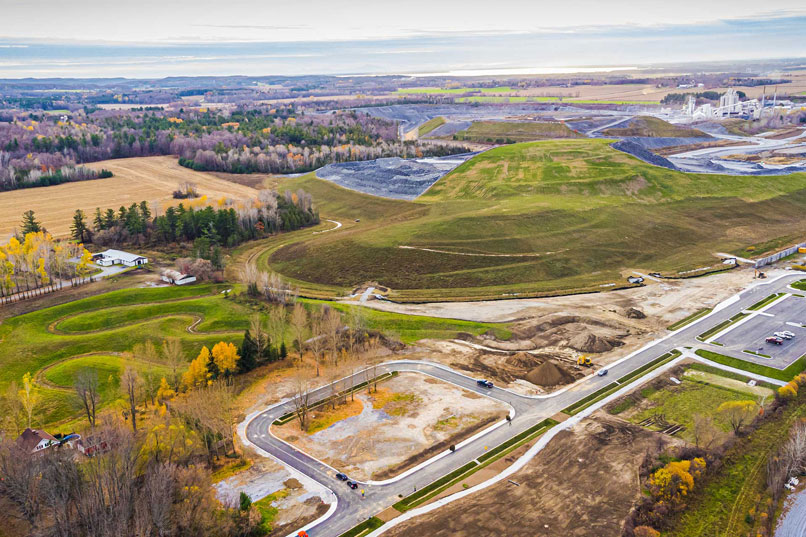 The sprawling green space encompasses three man-made hills, as well as a children's water playground, an amphitheater, a chalet housing an exhibition area, and hiking trails, along with the requisite supporting infrastructure. 
"The fact that we are here today to officially inaugurate this project, which was successfully delivered despite having to overcome unprecedented pandemic-related challenges, attests to the tenacity and resourcefulness of everyone involved, including our local Graymont employees and project team, the various municipalities, and the outstanding builders and contractors – all of them local firms – who rose to the challenge," observed President and CEO Stéphane Godin. "Special thanks to the Citizens Forum, which played a key role in facilitating dialogue among stakeholders that contributed to the smooth realization of the project," Godin added.
Chairman Anthony R. Graham, a member of the family that founded Graymont in Montreal back in 1948, said he "could not think of a better way to celebrate Graymont's 75th anniversary than inaugurating this remarkable new regional park here in our Quebec birthplace." 
Graham said the company is grateful for the collaboration and support of the three municipalities engaged with the project – the Town of Bedford, Bedford Township and the Municipality of Stanbridge Station – "who shared our vision for a mutually beneficial initiative designed to help ensure the long-term operations of one of the largest employers in the region, thereby bolstering the local economy while contributing to an enhanced quality of life for local citizens. Meaningful community engagement was key."