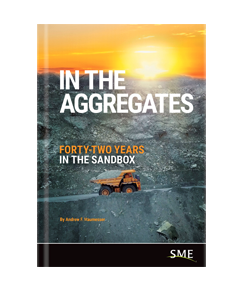 April 27, 2023 – There is a new book out for aggregates professionals. Recently published by the Society for Mining, Metallurgy & Exploration (SME), "In the Aggregates: Forty-Two Years in the Sandbox" highlights the importance of the aggregates industry to the economy and to modern society. In nearly 400 pages, this book dives into a range of detailed information about exploration techniques, real estate acquisition, permitting, mining and production methodology, management philosophy and sustainability.
"Aggregates are a fundamental product needed to further many industries, but especially the construction community to allow everyone to have great cities and urban areas," said David L. Kanagy, SME CEO and executive director. "This book provide guidelines that everyone in the mining industry will rely on."
Industry author Andrew F. Haumesser brings his wealth of knowledge and humorous writing style to this text, providing a detailed industry reference that will support individuals the aggregates business.
"In the Aggregates" is available now in the SME bookstore in both print and eBook formats. Special pricing is provided to SME members, as well as to students.
Find more details about In the Aggregates and the SME book publishing program at smenet.org.