Nov. 14, 2023 – Quarry Days is an annual event held at Komatsu's Arizona Proving Grounds that offers dealers and customers the opportunity to operate Komatsu mining and construction equipment, learn about the latest technology innovations and talk to product experts. SEMCO's Donna Schmidt, editor of North American Mining magazine is on-hand to represent Rock Products. Komatsu's Arizona Proving Grounds is a 660-acre site that includes indoor and outdoor testing and training spaces, and is used for the research, development and demonstration of Komatsu mining equipment and modular technology solutions. There are more than 20 full-time staff members on-site, with a number of visitors that come through the property each year.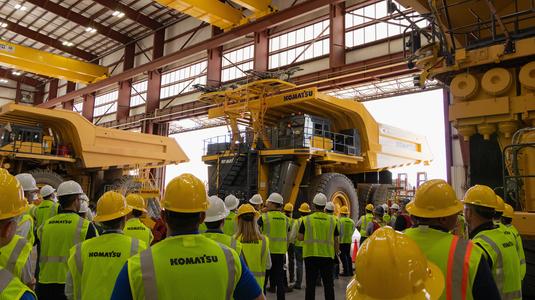 The list of machines and solutions featured at the event includes:
PC900LC-11 hydraulic excavator.
HD1500-8EO mechanical haul truck.
D475A-8 surface mining dozer.
HD785-8 mechanical haul truck.
HM400-5 articulated truck.
PC2000-11 surface mining hydraulic excavator.
WA475-10 yard loader.
WA900-8 surface mining wheel loader.
Technology solutions for Smart Quarry Site and My Komatsu.
ZT44 track drill plus teleremote and autonomous drilling solutions.
Plus attachments, crushing equipment and more.