The Company's Rosemary's Mountain Quarry is Making the Large Rock Needed to Address the Environmental Issues Brought On by Climate Change.
By Mark S. Kuhar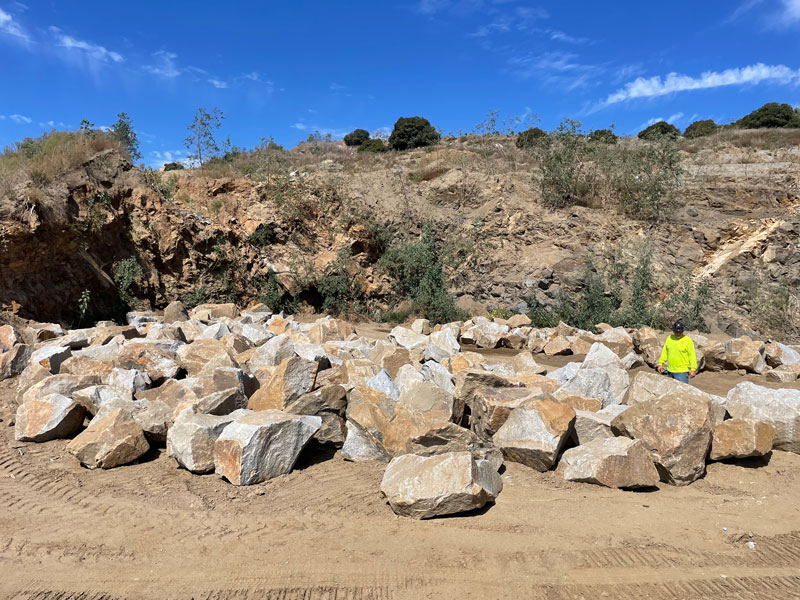 In August, Tropical Storm Hilary hit Southern California with massive rainfall and flooding, not to mention leaving in its wake devastating shoreline erosion and inland material flow. The storm is indicative of the new weather realities facing the West Coast, as well as the entire United States.
Periods of heavy rainfall caused by multiple atmospheric rivers in California between Dec. 28, 2022, and March 25, 2023, resulted in floods that affected parts of Southern California, the California Central Coast, Northern California and Nevada.
Oakland set a record for 24-hour rainfall at 4.75 in. of rain on Dec. 31, while San Francisco recorded its second wettest day with 5.46 in. of rain.
Evacuations were issued in January for Ventura and Santa Barbara counties, including Montecito (which had experienced deadly 2018 mudflows). Multiple highways, including I-5, SR 126, and US 101, were closed.
The Salinas River filled above flood levels, resulting in road closures of bridges in Paso Robles and causing a levee to break near Salinas.
In Merced, evacuations were ordered throughout the area because of an overflow at the nearby Bear Creek.
On March 10, the levee on the Pajaro River failed, triggering flooding and forcing nearly 2,000 residents to evacuate.
The list goes on and on.
According to Jeffrey Mount of the Public Policy Institute of California, "There is no doubt that conditions in the Pacific – the source of tropical storms – are changing. And some modeling suggests that summer storms may become more intense with increased warming."
Fallbrook, Calif.-based Horizon Hill Materials is taking a visionary approach to aggregates production, and the company's Rosemary's Mountain Quarry was specifically planned to address the needs of a California geography that is now being impacted by an increase in adverse weather conditions.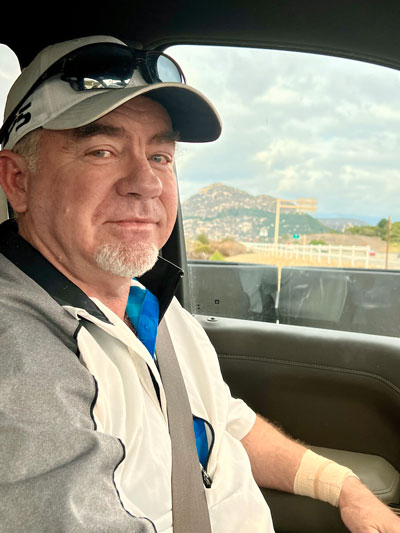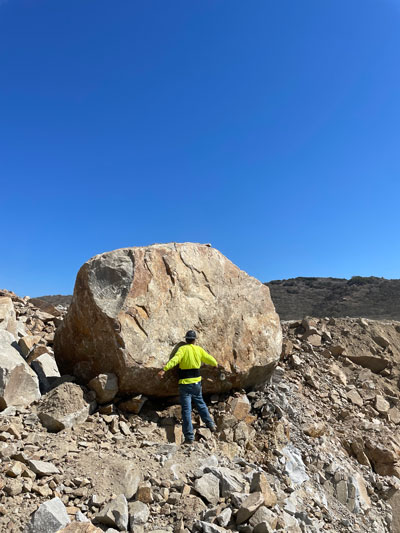 Ownership
Michael G. Dickens – co-owner of the company along with Doug Thompson and Josh Dworken – is no stranger to the quarry business. He began his career in 1978 with his uncle on a screening project. In the early 1980s he was involved in the Hansen Dam clean-out project in the San Fernando Valley and has been an innovator in the industry for the past 40 years. He saw this new quarry project as the perfect opportunity to make a positive impact.
Dickens said the plan for the quarry came to fruition in January 2022. "There was a previous tenant working in the quarry – in fact there have been several over the years – and they were getting ready to vacate their lease," Dickens said. "They were producing construction aggregates at the site, but our vision was to produce a wide variety of erosion-control stone. We also make concrete, asphalt and a full array of construction aggregates, but the main focus here is the rock that is going to be needed for the climate changes we are experiencing. That is the future."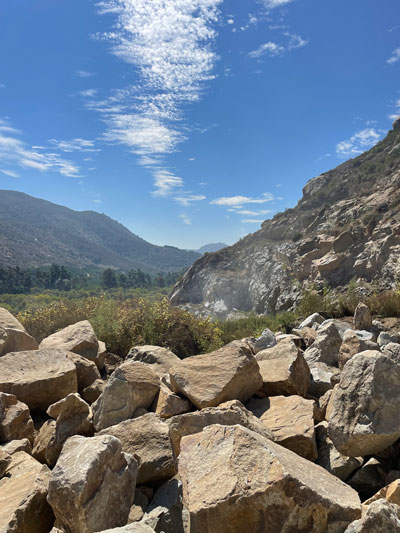 The Quarry
Rosemary's Mountain Quarry is an approximate 95-acre site in Fallbrook, Calif., about 15 miles north of Escondido. About 45 acres is currently being mined. There is 22 million tons of material reserves.
The mining permit – which came with the lease for the site – is good through October of 2048. The only additional permit the operation had to navigate before opening was its APCD air-quality permit, which allows them to mine 900,000 tons per year. That took about eight months but now full-scale production is underway.
Reinforcing the fact that climate change is hitting California hard: When the quarry did its storm water protection plan they were told that such plans were previously based on 1 in. of rain per hour. Now they require a plan for 4 in. per hour.
The quarry is staying pro-active against the chance of flooding by developing its own drainage system beneath its current infrastructure. "I am creating trenches that will channel water from the watershed into a series of settling ponds and a filtration system before it is released back into the riverbed," Dickens said. "It is our own public works project."
Production Blasting
Producing various sizes of rip-rap requires a slightly different approach. This starts with blasting. The blasting sub-contractor is California Drilling and Blasting.
"We are designing blast patterns that give us up to 10-ft.-minus material," Dickens said. "Nobody really drills like that. It gives us rock that can be used for armor stone, or toe of the slope at the beach," he explained. "That can be followed up with 5-ft. stone, 3-ft. stone – smaller as it goes up the slope. But the base is that armor stone. That's the key. When ocean waves hit a 20-ton rock, it is much harder to move.
"We feel like we found our unique niche," Dickens said. "Everybody has 1-, 2- and 3-ft. stone available. If someone came in and said we need 20-ft. rocks for our armor stone, then we'll blast that way and make that for them. We're talking rock so big that it is just one rock on a lowbed trailer delivered to the jobsite."
Equipment Focus
In taking over the existing quarry, Horizon Hill Materials got a quarry – and just a quarry. There was no equipment on-site. "To get us going we bought McCloskey portable equipment on tracks from our distributor, Maverick Equipment," Dickens said. "This allows us to move around the site and work different areas. We also purchased a Lippman cone crusher from them."
Use of the portable equipment is temporary. "We intend to mine this way for 12-24 months," Dickens said "Then we will invest in stationary equipment."
Post-blast, the production process is challenging given the larger size of the stone in the shot. The operation uses two Cat 349 excavators, a Cat 982 wheel loader and two Volvo 40-ton haul trucks. One of the 349 excavators is outfitted with a 15,000-lb. hammer for secondary breaking.
"At this point we move the stone around," Dickens said. "We are going after the big stuff so we stage material throughout the property to be sized and sorted in our stockpile area. We have a subcontractor who buys the material, and comes in to sort, shape and in some cases, even stain it for use as decorative rock. The contractor loads up the material and trucks it out for delivery to customers."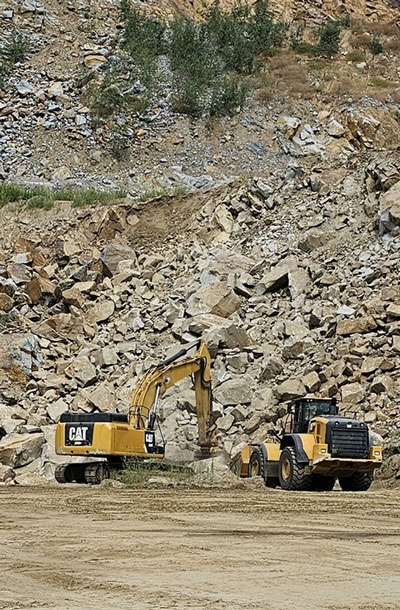 Making it Big
Word is out that Rosemary's Mountain Quarry is back in business and making it big.
"Several agencies have come in and approved our company's stone, Dickens said. "Having met Army Corps of Engineers specifications, we are now bringing in other cities, the Coastal Commission, and engineers to prepare for the work that is coming on the Pacific shoreline from the Mexican border all the way up to Orange County and even L.A. County."
The rising ocean levels and more-violent currents with the warming waters has created a serious need, both at the shoreline and inland.
"Some of the inland jobs they are building now require that they raise the grade, meaning now they have to protect the slope that they put the 6-ft. pad on," Dickens said. "They are going to need rock to prevent from flash flooding. Heavy downpours in a short period of time are now becoming the norm."
Luckily, instead of bringing in material from far away, contractors can now obtain the larger stones locally from Rosemary's Mountain Quarry.
"There is a severe long-term deficit of availability versus need of construction materials in San Diego County," Dickens said. "Most of the material used previously come in from out of the area. Right now, construction and development firms have contracts throughout waterways and channels in Southern California to ensure future increased watershed drains safely into reservoirs and intended destinations."
There will be no lack of business available in the quarry's market area. "We can reach about 120 miles of shoreline," Dickens said.
The company also has permits in place for future expansion including but not limited to a recycling facility, hot mix asphalt and ready mix concrete plants.
Horizon Hill Materials is nothing short of visionary as it anticipates the future marketplace and prepares to meet the needs of a changing world. "We see what's coming," Dickens said, "and we are ready for it."
For more information, contact Michael G. Dickens, 760-535-5550. Website: www.horizonhillmaterials.com.