By Allen-Villere Partners

The Pulse and the AVP Pulse Index, are joint projects between mergers-and-acquisition advisors Allen-Villere Partners, and Rock Products. The Pulse appears quarterly in Rock Products, and the AVP Pulse Index appears monthly.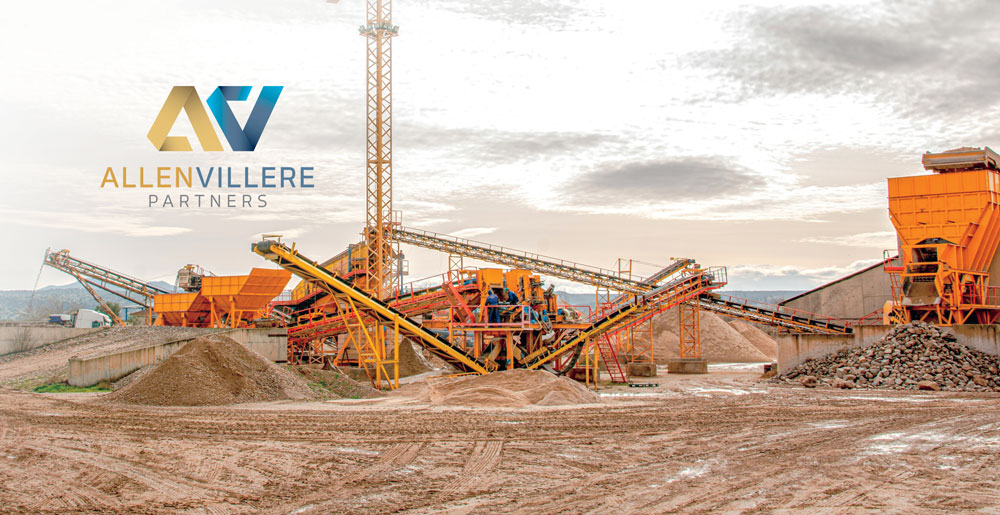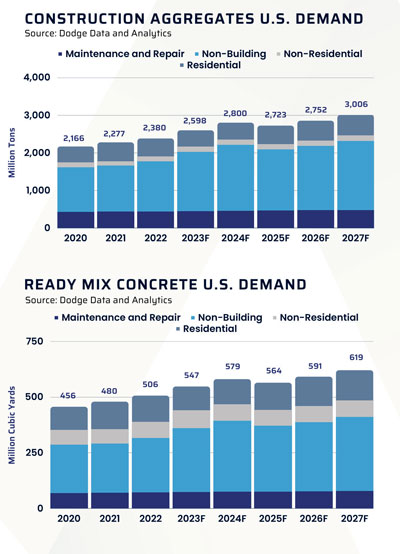 The Federal Reserve has raised its benchmark rate 11 times to cool inflation, with the latest rate increase of 25- basis-points in July. This puts the federal funds target rate range between 5.25% and 5.50%
Though inflation has been on the decline – 3.7% year-over-year in August 2023 compared to 8.3% year-over-year in August 2022 – it's unclear whether the Fed will continue to raise its benchmark rate in order to reach its target inflation rate of 2%
The current United Auto Workers ("UAW") strike, the Federal Government's decision on student loans, and a potential government shutdown in October are all things to watch in Q4 as they can have a significant impact on the overall economy
Concrete Products prices increased 0.5% this month, while Construction Aggregates increased 0.7%
ABC's Construction Backlog Indicator rose to a most recent monthly reading of 9.2 months. This is up from last quarter's reading of 8.9 months, indicating a strong construction backlog that has seen minimal impacts from recent overall economic headwinds
The Infrastructure Investment and Jobs Act has provided a safety net to the Construction Materials Industry by increasing infrastructure investments which will help negate the possible slowing in residential construction due to higher interest rates and a slowing overall economy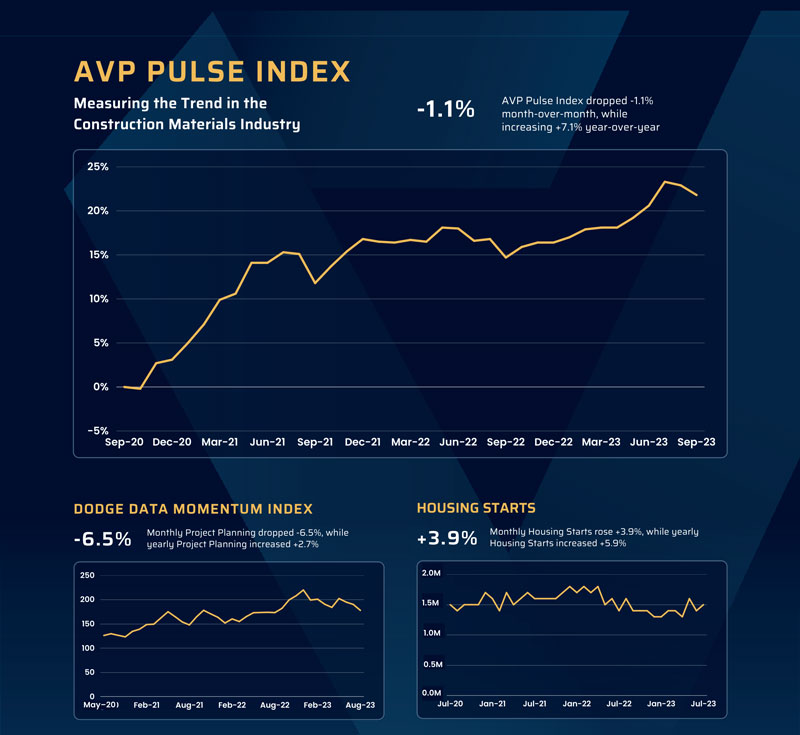 PIERRE VILLERE'S MARKET ASSESSMENT
The last quarter shows more of the same, and the construction trends continue to be steady with the AVP Pulse Index maintaining a very tight range. While the Index is down 1.1% from the prior quarter, it is still up a robust 7.1% year-over-year. A big driver of the movement last quarter was the run-up in Industry Stock Prices, which have all seen a pullback this quarter amidst the expected profit-taking after posting 52 -week highs. However, they are all still up a whopping 41.2% as a group, but the pullback has acted as a downdraft on our formula for calculating the Index.

A positive impact on the Index came from new housing market activity; Case Shiller was up 0.9%, and housing starts are still up 3.9% despite 7% mortgage rates that are weighing heavily on homebuyer demand.

But there are still some possible risks to the construction industry and its corresponding impact on construction aggregate demand. The current UAW strike is an unknown, and of course the concern that the Fed will over-tighten and stall the economy is still a possibility, but I am not betting on any of that happening.

To summarize the longer view, I'll say again what I have said since the beginning of the interest rate hikes: no recession. I have not wavered from that view, and barring a "Black Swan" event that no-one currently sees coming, the economy will continue to remain steadily apace. And I'll repeat what I said last quarter, because nothing has changed our outlook: when interest rates stabilize and cuts start taking place, it will be because inflation is tamed. I still think that is possibly as early as sometime next year, but regardless of timing, get ready for another broad economic expansion that will be a boon to construction aggregates.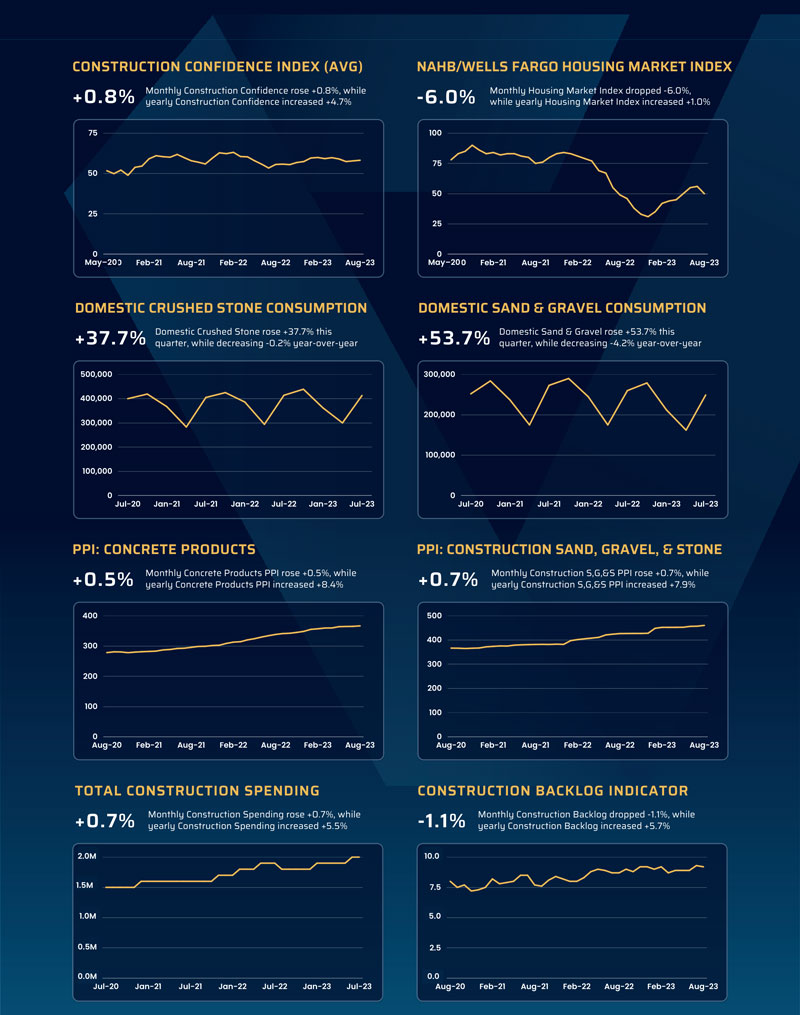 ABOUT ALLEN-VILLERE PARTNERS
Allen-Villere Partners ("AVP") is the premier mergers and acquisition advisors and valuation services firm to the construction materials industry, focused exclusively on the ready-mixed concrete, construction aggregates, concrete products, and asphalt industries. For over 40 years, AVP has developed a special emphasis on representing the independently owned, middle­markets companies that play such a key role in the competitive landscape of construction materials. With over 60 years in combined experience and highly specialized, industry-specific skills, Allen­Villere Partners has a national reputation for excellence in its client representation.

TRACK RECORD
Valued over 600 companies in this industry over the last 40 years
Sold over 100 companies in the construction materials industry
Client relationships in more than 44 states
Completing deals in this healthy mergers Er acquisitions environment
Pierre G. Villere serves as president and senior managing partner of Allen-Villere Partners. He has a career spanning almost five decades, and volunteers his time to educating the industry as a regular columnist in various publications and through presentations at numerous industry events.
Contact Pierre via email at [email protected]. Follow him on Twitter @Allenvillere.