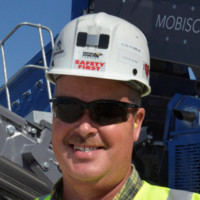 The Erlen Group is a family of industrial companies focusing on aggregates, logistics and real estate. The Erlen Group operates the Springfield Underground, a 3.2 million sq. ft. network of subsurface warehouses.
Although mining ceased and Springfield Underground in 2015, the Erlen Group operates three additional limestone quarries:
Joplin Stone, in Joplin, Mo., opened in 1955.
Westside Stone, in Springfield, Mo., opened in 2017.
The recently purchased Carroll County Stone in Berryville, Ark.
Scott Crabtree joined the company in October of 1989. Over the past 34 years, he has served in a variety of roles including mine general manager and safety health environmental & audit manager. In this new role, he is responsible for operations across all three quarries in the Erlen Group network.
Crabtree brings years of experience to his new position. Prior to moving to Springfield, Scott worked alongside current President and CEO John Griesemer in Parkville, Mo., in the Parkville Commercial Underground and Mine.
"Scott is a steady leader with years of industry knowledge. With the recent addition of Carroll County Stone, Scott was the natural choice to lead this Division," said Griesemer.