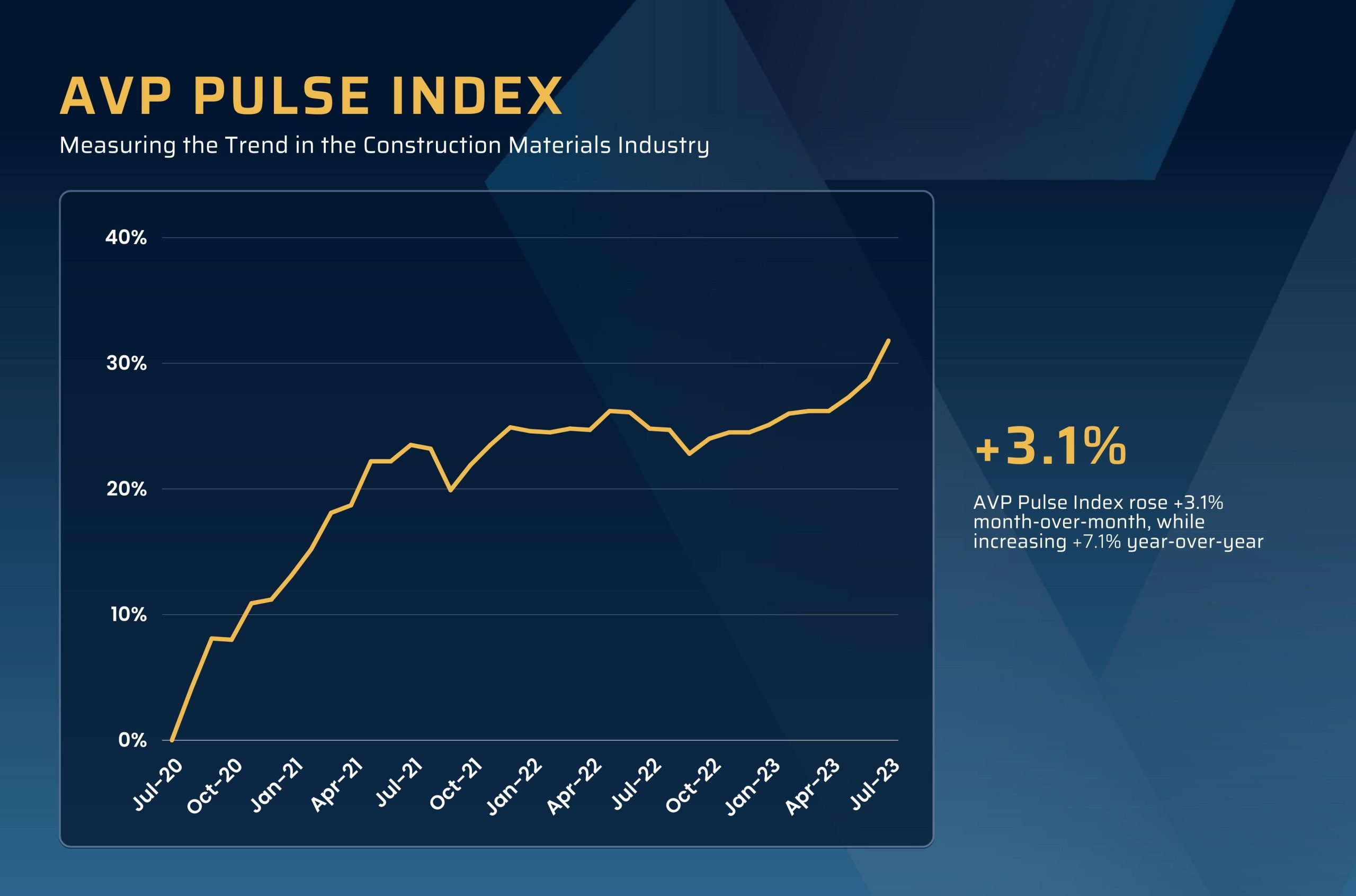 July 24, 2023 – The AVP Pulse Index this month rose 3.1% month-over-month, while increasing 7.1% year-over-year.  The proprietary AVP Pulse Index – a joint effort between mergers and acquisition advisors Allen-Villere Partners, and Rock Products – illustrates the health of the industry in one single trend line, using relevant data that is updated monthly or quarterly.
"The previously flattened curve of the Index turned up this month, much sooner than I expected, rising 3.1% month-over-month, and 7.1% year-over year," stated Pierre Villere of Allen-Villere partners.stated Pierre Villere of Allen-Villere partners. Key drivers include privately‐owned housing starts in May that were at a seasonally adjusted annual rate of 1,631,000. This is 21.7% (±14.8%) above the revised April estimate of 1,340,000, and is 5.7% (±10.8%) above the May 2022 rate of 1,543,000. Single‐family housing starts in May were at a rate of 997,000; this is 18.5% (±14.1%) above the revised April figure of 841,000. And once again, Industry Stocks Average Price rose 7.5% from last month's reading, which was already at a 52-week high, and reflects a stunning 59.2% increase year-over-year. That is now two consecutive months of our Industry Stocks Average Price setting a new 52-week high. Finally, economists across the board are rolling back predictions of a recession, with Goldman Sachs now revising previous expectations down to a 20% chance in the next 12 months."
The latest edition of The Pulse, the quarterly economic report from Allen-Villere Partners and Rock Products, can be viewed here.
You can sign up to receive The Rock Report, the construction-materials industry's only quarterly economic newsletter here. Anchored by The Pulse, The Rock Report is a one-stop shop aggregating the latest economic stories and markers impacting the construction-materials market.