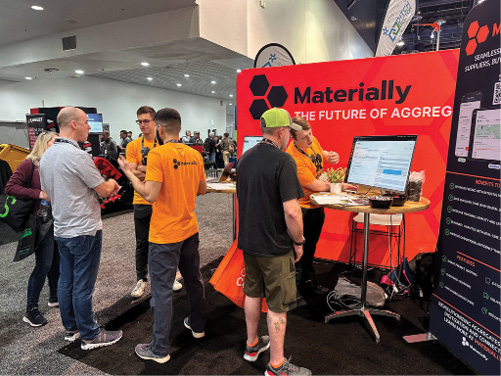 Materially has launched a dispatching solution to simplify the process of dispatching aggregates. Materially's dispatching tool provides a map-based interface that enables dispatchers to easily visualize their operations and make better, more-informed truck routing decisions.
The dispatching tool, which is Materially's latest release, is designed to complement their existing platform, which includes digital order management, e-ticketing, digital proof of delivery, material and invoice reports, and more. With the addition of the new dispatching tool, Materially provides a more comprehensive, end-to-end workflow for aggregate suppliers, allowing them to manage everything from ordering through delivery confirmation on one platform.
Materially's dispatch application was designed to give dispatchers access to visual information in a simple, easy-to-use interface. The interface displays the drop-off location of all relevant orders overlaid with the supplier's locations and real-time truck locations. Dispatchers can "drag-and-drop" loads to assign them to haulers or fleets, and load assignments are then automatically transmitted to the chosen hauler/fleet.
The tool also supports multi-level dispatching, allowing fleets to accept load assignments from a supplier and then choose individual drivers to complete each delivery. Materially's dispatching tool also provides valuable data and reporting functionality.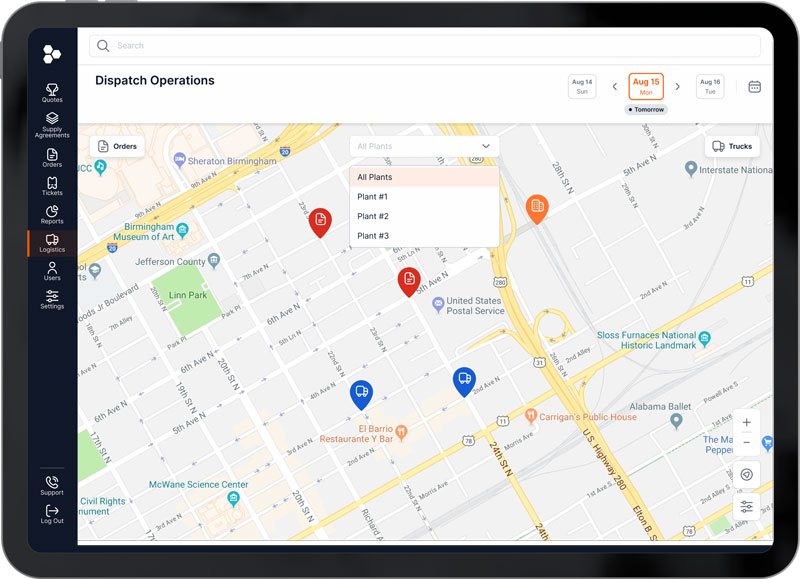 For example, dispatchers receive an alert whenever a hauler has been idle for more than 30 minutes, allowing them to quickly identify and act on any delays or breakdowns, and dispatchers get access to data and insights about hauler performance and cycle times.
Materially's dispatching tool displays supply locations, drop-off locations and truck locations in a simple, map-based interface.
Materially unveiled their dispatching product at ConExpo-Con/Agg and received positive feedback from suppliers and haulers. Suppliers were especially enthusiastic about the ability to gain real-time visibility into their internal and third-party trucking operations, and to make more data-driven decisions on both in-day and next-day routing assignments.
Fleet administrators were excited about the multi-layered dispatching functionality that allows them to control assignment of specific trucks from their fleet, while still benefiting from being connected to suppliers through the more efficient digital dispatching process.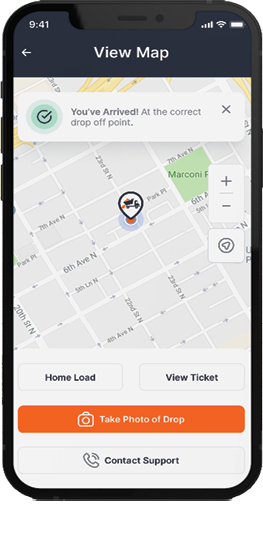 At the trade show, Materially highlighted that the dispatching tool is much more than just a sleek and novel interface; it offers real benefits and a tangible ROI to suppliers who adopt it: increasing the number of trips truckers complete per day, reducing drop-off mistakes/delays and saving employees time.
Potentially the most impactful benefit is the ability for suppliers and haulers to increase the overall efficiency of their trucking operations. Due to smarter, more informed trucking assignments, truckers experience less downtime and complete more trips per day, a benefit that is especially valuable right now given the nationwide trucking shortage.
Materially's tool also decreases the occurrence of incorrect dumps, delays at the drop-off location and customer disputes by providing haulers with comprehensive delivery and drop-off instructions that are automatically updated in real-time.
By reducing the amount of time required to assign loads and communicate the assignments to haulers, the tool also saves valuable time for dispatchers, which is particularly important given that dispatchers have been overwhelmed by record material demand, elevated employee attrition and complicated supply chain dynamics in recent years.
The dispatching tool complements Materially's existing platform, which Materially launched last year to digitally connect suppliers to their buyers and haulers and allow them to digitally handle order and ticket management.
With the addition of dispatching, suppliers can now seamlessly move ordering data into the dispatching system to be assigned and communicated to haulers (either through the Materially trucker app or via text message); dispatching assignments are then seamlessly linked to e-tickets generated in Materially. This creates an integrated, end-to-end platform that gives suppliers a more consistent user interface and access to more reliable, more comprehensive data.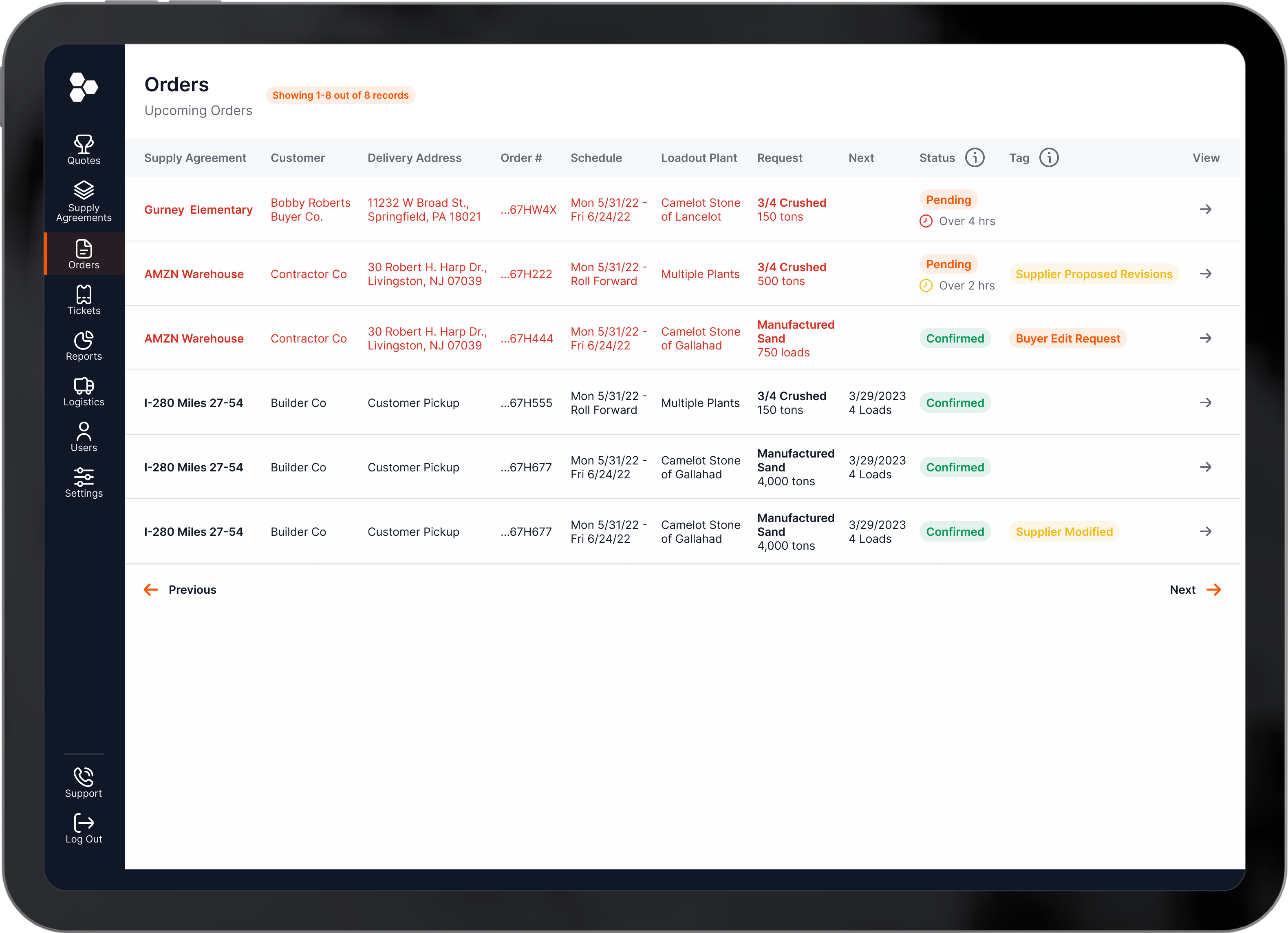 Materially's CEO Ozan Yalniz is enthusiastic about the impact of this release. "We're incredibly excited about the ability for this tool to transform the way suppliers process and meet orders," he said. "We didn't want to create just another TMS system, so we worked with our customers and other industry participants to imagine a new, better process for dispatching."
Materially will continue to add new features based on feedback from the industry: "We certainly don't plan to stop with the dispatching release," Yalniz said. "We pride ourselves on listening to our customers and rapidly developing and delivering the tools that they are asking for. We have a lot of exciting new releases currently under development. I'm especially excited about a quoting tool that we are working on; suppliers that have tested our prototype are really excited about it and have been constantly asking us how soon we can have it ready."
Materially, www.materially.com