Heidelberg Materials North America Embraces Concrete Recycling As Part Of Its Comprehensive Sustainability Strategy.
By Kristin Dispenza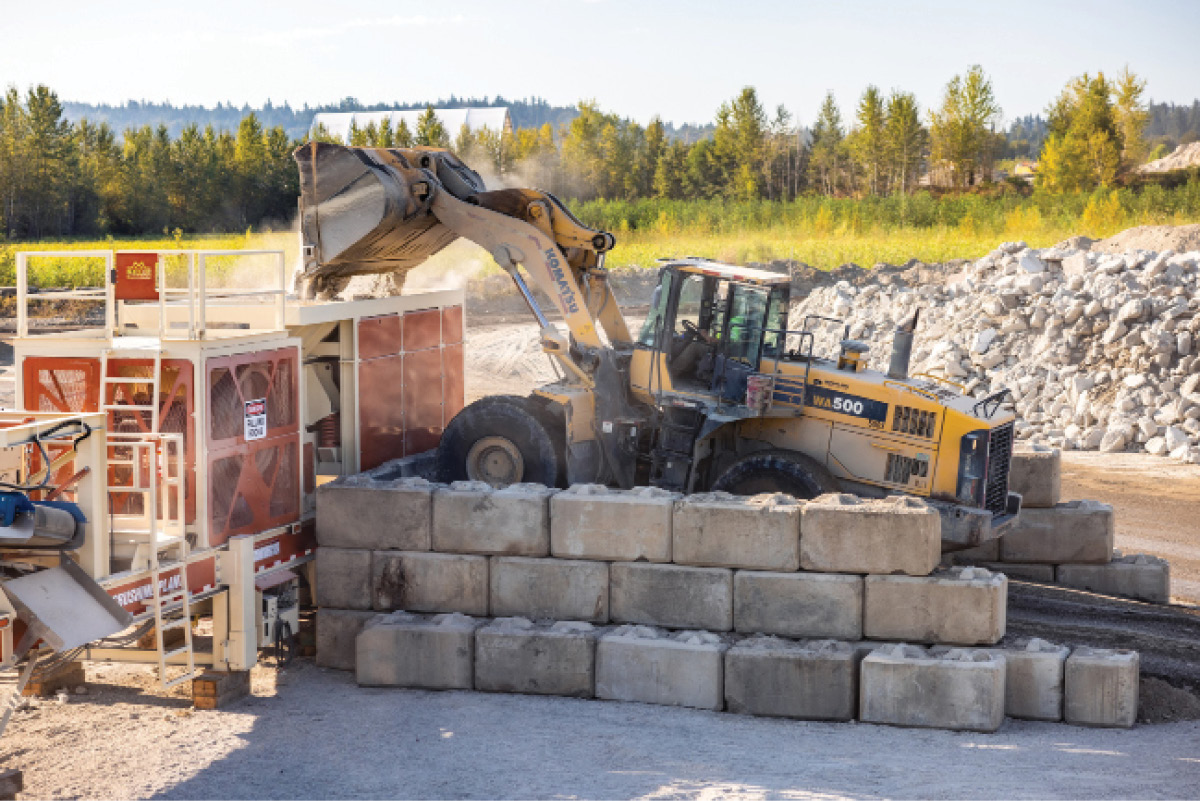 A shift toward a circular economy is underway. The emphasis of the circular model is on reusing materials, in contrast to the old linear model in which raw materials were extracted and products were made, only to become waste after a single application. In the cement and concrete industries, achieving circularity is particularly important, given the ubiquity of concrete and the ambitious goal of reaching carbon neutrality throughout the cement-concrete-construction value chain by 2050. 
Achieving this goal requires a rethinking of how materials are produced and used. A life-cycle approach must be applied, beginning with product manufacturing and following through to design, construction and the end-of-life phase of concrete structures.
To ensure that the loop on concrete recycling gets closed and post-demolition materials find their way into new applications, heavy building materials manufacturers are using their deep expertise to become part of the solution. They are taking steps toward sustainability not only during processing and manufacturing but beyond, contributing their knowledge and engineering capacity to further the use and specification of recycled concrete.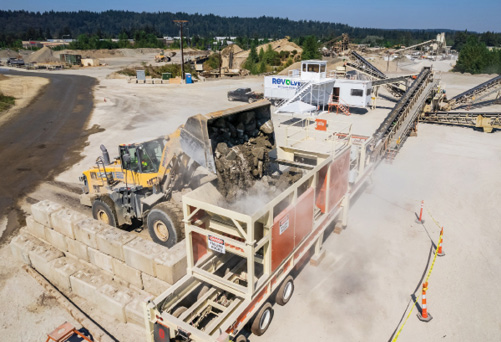 Case-in-Point
Heidelberg Materials North America has been aggressively expanding its portfolio beyond cement and virgin aggregates in an effort to lead the heavy building materials industry in a comprehensive sustainability strategy.
Worldwide, Heidelberg Materials has been increasing its investment in recycling operations, which process concrete rubble into recycled concrete aggregates. Efforts for Heidelberg Materials North America, launched as the new Revolve line of products, have been led by development in the Northwestern United States.
The Woodinville Recycle Site is a prime example of this strategy. Located in Woodinville, Wash., this facility accepts various sizes of concrete and asphalt demolition and sells 1.25-in. minus base course recycled aggregates.
In addition, Heidelberg Materials' facility in Redmond, Wash., recently added concrete recycling to its operations. It will process concrete rubble into recycled concrete aggregates, which will be used in ready mixed concrete and road bases. Strides made at these facilities have elevated Heidelberg Materials North America's position in the recycled concrete segment, with further development on the horizon.
Recycling facilities the company is developing in other portions of its North American markets include Victoria, British Columbia; Chicago; Pittsburgh; and locations in Georgia and South Carolina. Moreover, the company is also forming strategic partnerships to accept clean construction or demolition debris (CCDD) and concrete rubble at its sales yards (for example, at the Little Calumet Yard in Chicago and the Gary Yard in Gary, Ind.). Products manufactured as part of this effort are branded as part of the company's Revolve Recycled Aggregates.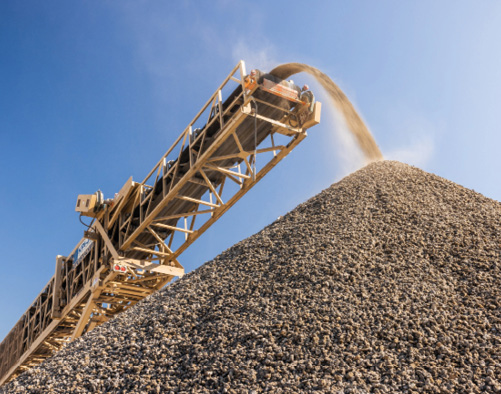 Truck Miles
An often-overlooked benefit of incorporating recycled products into concrete projects is the reduction in truck miles traveled. Sales yards for recycled materials are usually located much closer to urban centers than are quarries producing raw materials. 
Consequently, fuel use and CO2 emissions associated with materials sourcing are reduced. Travel distance can also be reduced – and fuel savings achieved – at a project's end-of-life, since recycling locations tend to be easier to access than landfills when it comes to disposing of CCDD. When landfills do end up receiving CCDD, heavy building materials manufacturers like Heidelberg Materials North America are stepping in to retrieve some of those materials, helping ensure usable concrete and asphalt rubble are recycled.
"Heidelberg Materials' Northwest locations are seeing companies – tech companies, especially – push for greater sustainability, including the use of recycled materials in concrete products," said Sterling Frye, senior area production manager, Northern Washington Recycle, Heidelberg Materials. "This is not a developed market, however, so Heidelberg Materials is expanding its offerings in multiple locations. Currently, most of our recycled concrete is being used in road bases or as a coarse aggregate replacement in ready mixed concrete."
The state of Washington has been striving to incorporate recycled materials into its road network for several years. State legislators passed legislation that went into effect in January 2016 and had the stated intent to "develop and establish objectives and strategies for the reuse and recycling of construction aggregate and recycled concrete materials" with a focus on infrastructure.
The legislation set ambitious targets but released the Washington State Department of Transportation (WSDOT) from meeting those targets in the event that construction aggregate and recycled concrete materials were not readily available and cost-effective. At the time WSDOT specs were developed, the required materials were not available.
"This represented a very unfortunate gap in the market. To address the gap, Heidelberg Materials has taken on the goal of moving recycled products beyond development and production, taking them on to the project level. That means we are actively working with WSDOT, educating specifiers and engineers and providing services like testing," said Frye.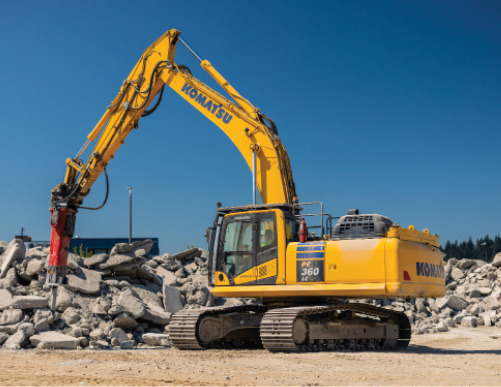 Establishing Goals
Like the state's 2016 act, WSDOT's 2022 "Standard Specifications for Road, Bridge, and Municipal Construction" establishes goals for use of recycled aggregate. The performance of recycled aggregate must meet the same standard specifications as virgin aggregate. To ensure that performance metrics are met, DOT personnel must work with partners in the supply chain who are able to ensure quality control on the front end of projects. This is more complex for some geographic locations than others.
"For example, in the Pacific Northwest, Heidelberg Materials is looking to upcycle concrete rubble into fresh concrete. To safeguard against structural issues, they separate demolished concrete that was used in different types of applications, such as concrete aggregate that was originally used in a bridge versus aggregate that was originally used in a sidewalk or driveways. This assures the team that even if the concrete is not crushed back down to nearly a virgin aggregate, that the material being reused in their concrete mix designs is structurally adequate," explained Frye.
Beyond recycled aggregates' use in pavement, which currently accounts for much of its use in the United States, experts at Heidelberg Materials North America are working with ready mix suppliers to incorporate recycled coarse aggregates into concrete that is used for other types of new construction. Much of the support offered by the building materials manufacturer consists of product testing.
"Testing these materials is a lengthy process," explained Dave Warner, area general manager, Aggregates Northern Washington, Heidelberg Materials. "It begins with 56 days of initial testing, then progresses to truck trials. A number of people across the entire project's implementation must commit to the effort – not only the end customer, but architects, engineers and, in the case of public works, DOTs and other government organizations, all must be involved. As we work with these committed partners to build out data, the process will become simpler in the future."
Key to Success
Ultimately, the key to success in realizing the circular economy is a willingness to push boundaries while closely engaging with critical stakeholders. Heidelberg Materials and the industry overall has made much progress in the past few years recycling concrete. 
Recently, momentum has accelerated as the marketplace has become more attuned to the concept through sustainability-focused customers and government entities. As the number of successful applications and examples increase, a truly circular construction process will emerge as the standard.
"Success in our decarbonization strategy requires taking a holistic look at the overall product chain, from how we manufacture our products to how they are integrated into construction, how they perform during their service life, and ultimately how they can be reprocessed after that service life is over. There is much yet to be done in each of these phases, but bringing all of them together effectively will ultimately close the loop and get us to net zero," said Chris Ward, president and CEO, Heidelberg Materials North America.