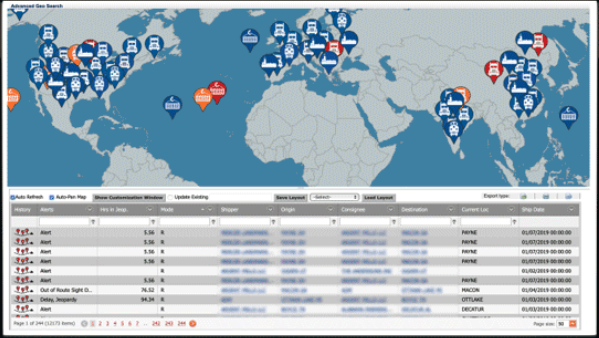 IntelliTrans, the provider of global multimodal solutions for optimizing supply chain operations for bulk and break-bulk industries, announced a partnership with AllTranstek LLC for rail car maintenance tracking.
AllTranstek monitors rail cars for required maintenance and testing; audits both railroad and contract shop repairs in addition to auditing lease and mileage equalization activity; handles Ad Valorem Tax processing; provides rail car inspections; and assists shippers with regulatory compliance to improve the decision-making process, reducing risk and maximizing profit margins. They also support shippers with consulting on overall fleet management and issue resolution.
"AllTranstek digitizes the maintenance process for rail cars, ensuring the rail fleets get to the right maintenance shops at the optimal time to keep up with federal regulations while minimizing lost revenue," said Ken Sherman, president, IntelliTrans. "Companies might forget when maintenance needs to be performed, which can lead to rail cars being unavailable to ship products or out of compliance. Automating maintenance tracking lets customers know when cars need to be repaired or updated, keeping the cars compliant, safe, and working properly."
Maintaining rail cars is critical to ensuring that deliveries arrive on time, the supply chain keeps running smoothly, and costs are kept in check. Studies show that monitoring the condition of a rail car to decide when maintenance should be done saves 5% to 12% of life cycle costs.
However, many shippers forgo routine maintenance because of a lack of time and budget. Without routine preventative maintenance, rail cars can break down, increasing the time a car is out of service and resulting in lost revenues.
Shippers can't move their products if a rail car is out for repair – which can be expensive if a rail car is damaged in the field and a repair shop is not nearby. To prevent downtime, regular maintenance must be scheduled.
Plus, rail cars must follow the standards of the American Association of Railroads (AAR), the Federal Railroad Administration (FRA), and Transport Canada (TC). If a car is out of compliance, expensive penalties will be invoked. To stay in compliance and avoid penalties, rail cars must be maintained appropriately by certified rail shops that can show proper service records.
"Shippers need to be aware of many factors when it comes to rail car maintenance and compliance, and we are delighted to partner with IntelliTrans, a recognized industry leader, to assist our mutual customers in navigating these varying and complex AAR, FRA, and TC regulatory compliance requirements," said Jeff Wilson, president of AllTranstek.
Thanks to direct integration with IntelliTrans' Global Visibility Platform, all maintenance records, repair and operational costs, fleet data, lease information, and more are housed within a single system. This enables better insights to be generated at the fleet level and for individual cars, maximizing productivity.
"People are busy, and keeping maintenance and compliance records is very detailed," Sherman added. "IntelliTrans keeps track of where rail cars are moving. By integrating data from AllTranstek, we can tell clients that their rail cars need maintenance and where that maintenance can be done promptly to minimize lost time and get the car back to making money. After working with AllTranstek for over 15 years, we are delighted about the partnership that has evolved for the mutual benefit of our customers and the industry."
IntelliTrans, www.intellitrans.com/supply-chain-visibility