The CASE Minotaur DL550 helps you dominate the jobsite with true dozing performance, massive power and unrelenting hydraulics – all in a single platform that's compatible with hundreds of attachments. It all comes down to providing you ways to work smarter to increase productivity and improve your profitability.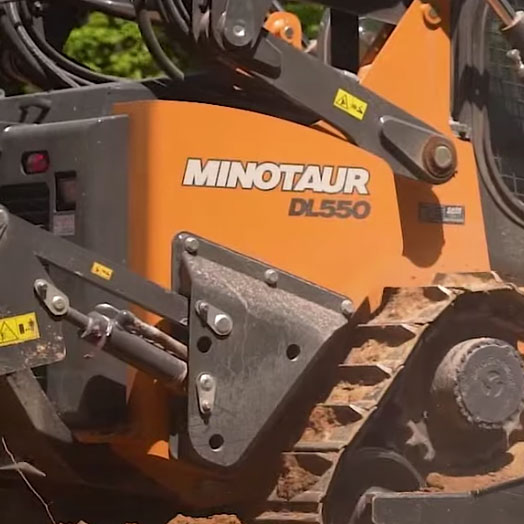 This new product works very intuitively. It operates as a compact dozer when equipped with the fully chassis-integrated C-frame and six-way blade. That C-frame then can be dropped with a few easy steps, and then the machine serves as a loader with a 1.25-cubic-yard bucket – or it can be run with any of the hundreds of attachments equipment owners already have for their current loaders.
Key features of the new CASE Minotaur DL550 compact dozer loader:
Industry-exclusive chassis-integrated C-frame with six-way blade delivers true dozer performance.
Industry-exclusive fully integrated rear ripper for tearing tough soils (optional).
Standard 1.25-cu.-yd. bucket for heavy-duty loading and material handling.
Compatible with hundreds of attachments – enhanced high-flow comes standard.
Choice of steel tracks (two options) or rubber tracks to match jobsite profiles.
CASE Universal Machine Control allows for the precision construction solution of your choice.
Powerful collaborative fleet management with CASE SiteWatch telematics (standard) and remote machine access for diagnostics and software uploads.
The CASE Minotaur DL550 has taken fleet management of compact equipment to an entirely new level with the inclusion of the CASE SiteConnect Module – a powerful device that improves the volume, flow and integration of data to the CASE SiteWatch telematics platform for real-time monitoring and management of maintenance and service intervals, as well as the analysis of equipment utilization and performance.
It's also the foundation from which CASE has made the collaborative fleet management and remote diagnostics of compact equipment a reality. This enhanced connectivity allows the machine owner to share – with permission – real-time machine information with their CASE dealer and the CASE Uptime Center in Racine, Wis.
CASE achieves these remote service capabilities through the CASE SiteManager App (iOS and Android). This app pairs the operator's phone or device to the machine to enable remote analysis by a certified CASE technician, which allows them to diagnose the health of each connected machine through various parameter readings and fault codes. The technician makes a determination as to whether the issue can be addressed remotely (such as clearing codes or updating software) or if it requires a trip to the machine.
CASE, www.case.com