Rock Products' Annual Survey On The Opinions, Concerns And Buying Intentions Of Producers Reveals What Is On The Industry's Collective Mind.
By Mark S. Kuhar and Josephine Patterson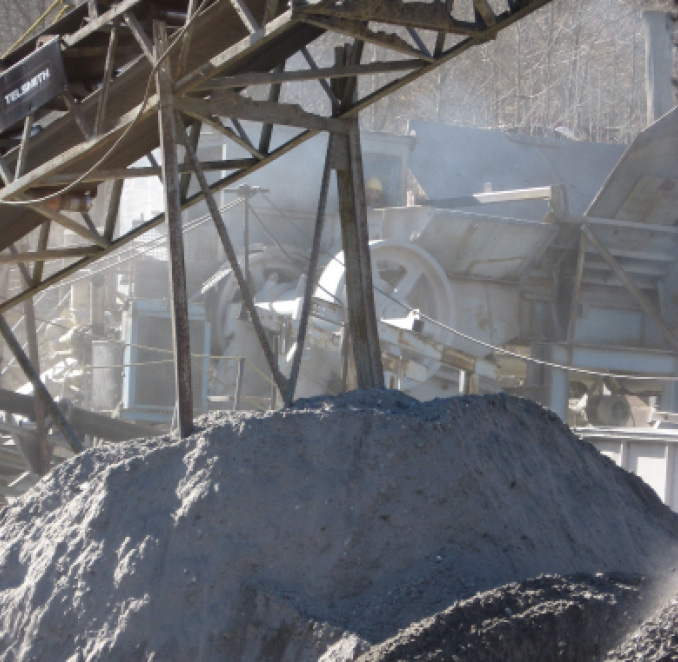 The year 2021 was dominated by the COVID-19 pandemic, and the passage of the Infrastructure Investment and Jobs Act (IIJA). The changes wrought by both of those are certain to dominate the aggregates industry in the coming years.
So who took the survey this year? More than 200 industry professionals contributed to the survey data. A typical survey respondent was an officer, executive, owner or partner (45.76%). A production manager, foreman or technical superintendent (16.95%) was next. A further breakdown indicates a portion of the respondents identified themselves as sales executive or department head (51.02%), as well as other.
What types of operations are reflected by this year's survey respondents? Operations producing between 0 and 500,000 tpy (30.51%) were well represented this year. Plants producing more than 2.5 million tpy (28.81%) were next, followed by between 1.5 and 2.5 million tpy (20.34%.) Plants producing 500,000 to 1.5 million tpy (15.25%) rounded out the respondent's production capacity.
The number of survey participants employed at companies that produce both crushed stone, and sand and gravel increased this year (45.76%), up from the previous survey (31.73%), but producers of crushed stone only decreased from last survey as well as producers of sand and gravel only. Producers of specialty minerals and frac sand made up about 15% of respondents, also up strongly from 9%.
Geographic location was dominated by the Midwest again this survey, followed by the Southwest and Southeast. The Plains, Northeast and Northwest round out the geographic spread with additional responses coming in from Canada and Mexico.
Big Issues
When it comes to the key issues facing aggregates producers, there is a new big "number-one." While in the past, the Construction Economy and National Economy were of major concern, this year, it is Labor. Back with a vengeance is Environmental Regulations, which fell down the list last year, followed by Permitting.
COVID-19 was still cited by a third of respondents as being a major concern. Also, energy cost was right up there, no surprise given the increase in oil prices and diesel fuel costs.
The national and construction economy were second-tier concerns, as was transportation issues, equipment capitalization and healthcare costs. Lowest on the list was credit, while water regulations and supply chain issues were also mentioned.
Producers were asked how COVID-19 will change the industry and what changes that have been put in place will remain permanent. The responses were enlightening:
It will reduce available labor force. We continually post job openings.
Little impact on our operations but downstream users are greatly impacted
None at all.
Hygiene and staffing. It is apparent we need to add bench strength to combat illness, absences, future growth, and work/life balance.
A more robust hygiene program will remain in place.
COVID-19 has not changed the industry.
No changes have been made to my aspect from the mine planning and geology.
Equipment availability will slow things down.
Until we get the pandemic under control, labor force participation rate will continue to be lower than pre-COVID. We will continue to have more virtual meetings going forward.
COVID will never go away but will be managed the same way as the seasonal flu. Companies will manage it the same way. OSHA and MSHA will have 'new' policies that will require companies to create policies for what to do if people are sick at work. Nothing meaningful will change.
No negative impact.
COVID -19 did not affect our business.
Downsizing of offices and allowing office staff to work remotely, a portion of which will be permanent. Labor shortages have created delays in repair times which will be transitory but have forced us to rent secondary machinery to cover extended lead times on repairs. Flexible work location.
Increase use of electronic tickets.
Just coping with it and unless vax mandates become a reality, other than labor shortages that may be it. With that being said we are doing more training and recruiting.
There is not much impact on COVID-19, initial phase of 2020 there was issue on lock down of the work force that had the most impact and after that we have followed the guidelines provided by the company. Testing facility with quarantine centers established and mitigate the issue. Double dose vaccination improved the psychological impact.
Now the situation is in normal and works are moving smoothly.
Looking "outside the box" has proven to be of value and implementable.
COVID has and will continue to change the industry in how we do business. The labor force is very tight in the industry, even more so than pre-COVID. There are opportunities for companies that are nimble and can take advantage of competitors that are slow to change and push back to the new way of doing business. Gen Z has gotten used to choice, not one size fits all. This thinking has to translate into our industry.

Equipment Capitalization
With a new federal infrastructure bill now in place, producers are starting to spend money. Just over 49% of respondents said they will increase capital spending.
A majority (32.20%) planned to spend $1 million to $5 million this year. About 30% of the survey group planned to spend $5 million to $10 million this year, up a lot from last year (10%). Approximately 25% of the survey group plan to spend up to $500,000., while last year's highest group, $500,000 to $1 million, came in as the lowest amount.
And what do they plan to buy?
Equipment upgrades.
New equipment.
Plant additions.
Technology upgrades.
Mine development.
Permitting and bonding.
Safety and health changes.
Quality control.
Exploration.
Used equipment.
New plant construction.
Reclaim systems.
New mine start up.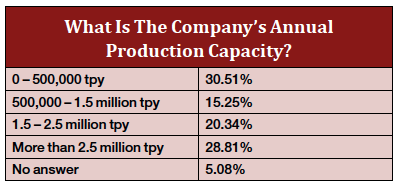 Aggregates operations have specific product categories in mind when it comes to spending their upgrade dollars. They are in order:
Replacement parts.
Tires.
Oil and lubes.
Environment/Safety supplies.
Pick-up/Utility Vehicles.
Maintenance equipment.
Material handling/Conveying Equipment.
Screening and sizing equipment.
Excavators/loaders/dredges.
Pumps.
Motors.
Haul trucks.
Drilling and blasting suppliers/services.
Crushers.
Breakers.
Portable crushing/screening plants.
Washing and classifying equipment.
Automation products.
Scales.
Energy management.
Frac sand equipment.
Drones.
Other.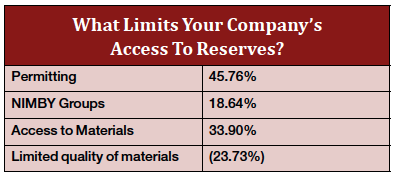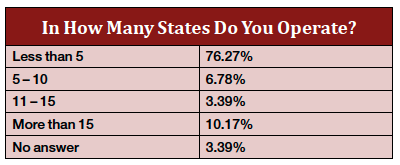 Impacting the Industry
Respondents were asked the question, "What will impact the U.S. aggregates industry the most in the near future and how should it prepare?" Respondents touched all the bases, some good and some bad with their responses.
Continued environmental policies that restrict the economy.
Taxes, regulations.
Train the next generation of leaders and workers. Labor shortage is killing the industry.
Labor/experience shortages. Spend time on grassroots recruitment and training. Find autonomous equipment capable of repetitive tasks.
The rise of social media and immediate feedback will lead to more importance placed on PR and public perception. Education is key.
Transportation cost inflation.
Cost of fuel, labor.
The economy's response to COVID.
New materials, recycled products, less consumption of natural mineral products.
Infrastructure bill.
The infrastructure bill will have some impact.
Zoning regulations and NIMBYism.
Permitting.
Environmental issues and climate change.
Labor shortage and government regulations.
Labor shortage.
Infrastructure and construction.
Highway funding.
Limited reserves.
Labor and quality of labor.
Transportation/supply chain.
Labor rates, increase pricing.
Transportation of materials.
Truck drivers are in short supply.
Labor shortages and retention.
The new water regulations will make it almost impossible to find new reserves, let alone have the water ways mitigated. Also market consolidation will make it almost impossible for a small quarry to run without being bought.
Ability to meet new demand from infrastructure spending. Do a better job of providing a great workplace and marketing opportunities to potential new hires.
Labor, energy and inflation costs. Not a lot that can be done to prepare. Try to prevent good workers from leaving for higher-paying positions elsewhere.
Supply chain and cost inflation. We have increased our prices and our working on mitigating increased material and equipment costs.
Funding is the key issue, specifically as it applies to electric vehicles in the state of Kentucky. Access to experienced labor is also an issue as our older folks retire, there is a gap in experience. This results in higher wages as all aggregate companies are competing for the same workers. This increase in wages may force smaller companies out of business.
Labor and transportation are in short supply. Attracting and retained skilled labor is an industry challenge. Finding trucks and drivers is equally difficult.
In the Northeast, lack of reserves. There needs to be a federal initiative making permitting of new reserves a mandate.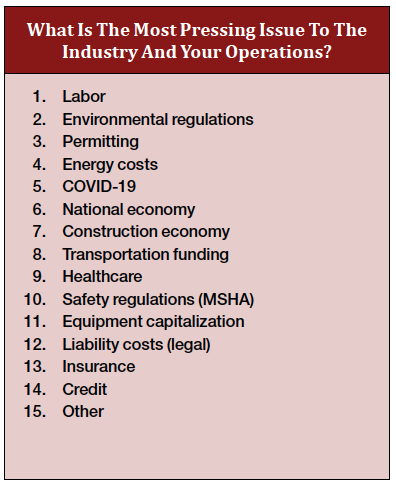 Looking Ahead
Aggregates producers are pretty confident right now that they are sitting on an acceptable amount of reserves for the foreseeable future. About 66% of respondents said they have adequate reserves, up from last survey. When asked what limits their access to reserves, respondents most cited permitting, while access to materials and limited quality of materials followed. NIMBY groups were cited as much less of a concern this year than in past years.
When asked to describe the attitude in the aggregates industry going into 2022, the prevailing opinion is one of obvious optimism. About 57% of producers are more optimistic, while about 33% expect no change and only 3% are more pessimistic.