In Clinton, Ind., D. Robertson Gravel Co. Is A Small Operation, But it Operates Big Using A Dragline, Rolling Stock And A Brand New Plant.
By Mark S. Kuhar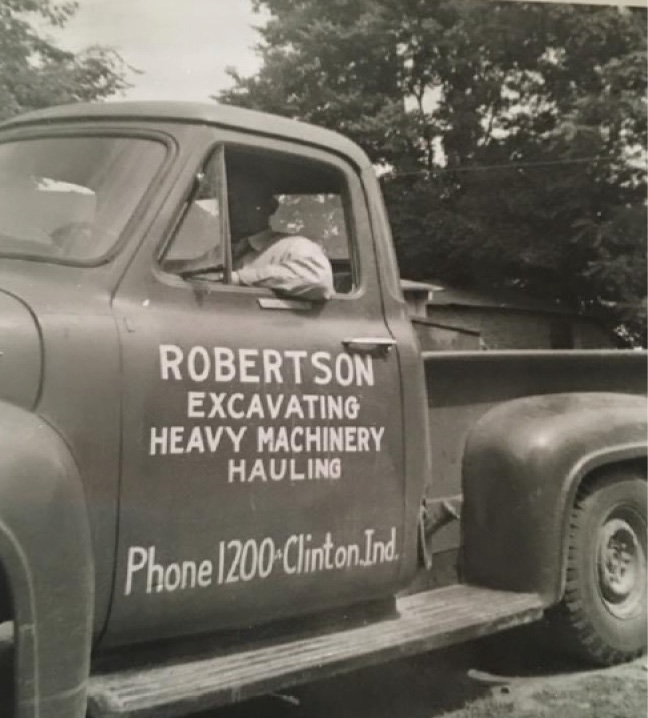 Indiana produces a lot of construction aggregates, close to 70 million tons per year, according to the U.S. Geological Survey. While a lot of that is produced at large quarries, you cannot ignore the roll smaller aggregates operations play in supplying the market with stone.
One such operation is D. Robertson Gravel Co., in Clinton, Ind. "My grandfather, Don Robertson, started the gravel pit and an excavating operation in 1947," said co-owner Donnetta Polomski.
The operation is still a family operation. It is 100% female owned.
"My father, Donnie Robertson, became president in 1979," she said. "My late husband George Domeika Jr. and I took over in 2006 and my current husband Mike Polomski joined in 2015. My son Bradley Domeika has been here since 1995."
The plant, which is located off a winding backroad, is first and foremost a dredging operation. An on-site lake sits on 10 acres, which is where production starts.
Using a Northwest 9570 dragline, material is deposited on the bank. It is then loaded into Mack and International tri-axle haul trucks using a Komatsu PC360SL excavator.
From the bank the haul trucks rumble around the lake to the opposite side, where the raw material is stockpiled, but not before passing the rusting pieces of the operation's old plant.
"We got a lot of use out of that plant, but it had seen better days," Mike Polomski said. "It was time for something new."
That something new makes up the core of the plant's current central processing operations.
New Plant
From the stockpiles, two John Deere loaders – an 844K and an 824K – cycle back and forth to a hopper that scalps off overside and feeds the operation's new 450 Tesab screening plant.
According to Tesab, using the 450 plant, the sand and water slurry coming from the washing screen is collected in the sump tank and fed by the centrifugal pump to the cyclone. The cyclone separates particles according to their relative settling rate in the centrifugal force created inside the cyclone.
The clay, waste and ultra-fine particles are removed by suction through the overflow while the coarser solids spiral down the cyclone cone and are discharged onto the dewatering screen. The dewatering screen is fitted with slotted polyurethane screens which move the sand along and discharges the dewatered sand onto the outlet chute.
Wash plant benefits include:
Ability to produce one or two grades of sand.
More consistent sand grading and quality.
Suitable for natural and crushed sand.
Reduces sand sent to lagoon.
Reduces lagoon maintenance.
Retains saleable sand.
Modular design.
"We use a Deister 5- x 16-ft. triple-deck screen," Mike Polomski said. "The plant is very flexible. We are able to make a number of products and variations on products."
Wastewater gets returned to the adjacent settling pond to be reused. With its own on-site water supply, the company does not have to worry about water issues at the plant, like so many other operations around the country.
Some of the products made at the plant include sand, pea gravel, double-washed #9s, 1-in., 1.5 in., 2-3 in., 2-5 in., #8s gravel, #53 road patch, pit run and specialty products such as asphalt binder.
Surprise Customers
"We service a number of local customers such as National Gypsum and the county buys material for patch mix," Mike Polomski said. "But some of our biggest customers are out of state."
While it may sound unusual for a small gravel operation to have a full slate of out-of-state customers, for D. Robertson Gravel Co., its business as usual. Landscaping companies from as far away as Tennessee, Missouri, North Carolina, Kentucky and Illinois order their pea gravel, 1.5-in. and 2-5-in. material for their customers and projects.
"They like the color of the stone, as well as the fact that we double wash it, so it is very clean," Mike Polomski said. "We contract the shipping out and they pay the costs, we just charge them for the material."
After material comes off the plant it is moved the central stockpiling area where it waits to go over the scale and out the front gate.
"We are a small operation but we stay busy," Mike Polomski said. "It is always a challenge to keep the equipment running and do maintenance. And like everywhere else, good labor is hard to find. But we keep at it. I think we make some very good products."
With family members all working together, D. Robertson Gravel Co. is a success, something its founder, to be sure, would be very proud of.