ABB announced it is working with Amazon Web Services (AWS) to accelerate the adoption of new and sustainable technologies in mining. The two are creating solutions for digitally integrated all-electric operations to help meet industry goals on net-zero emissions.
ABB Ability Operations Management System (OMS) has been integrated with heavy-duty EV drivetrain developer MEDATech's cloud data collection system on AWS. Telemetry data, including battery state and speed of charge, was transmitted in real time from MEDATech's first-ever 100-percent electric haul truck – paired with ABB Ability eMine FastCharge – while ensuring data security using AWS's Internet of Things (IoT) services. The team used the gathered data to perform a real-time production optimization for test purposes as shown at MINExpo last year.
Such seamless digital integration of electrical equipment across industrial operations is increasingly important for operational efficiencies through optimized scheduling and planning. Battery electric vehicles (BEVs) and related charging infrastructure present a challenge and an opportunity as the industry commits to decarbonization and reduced resources and energy consumption.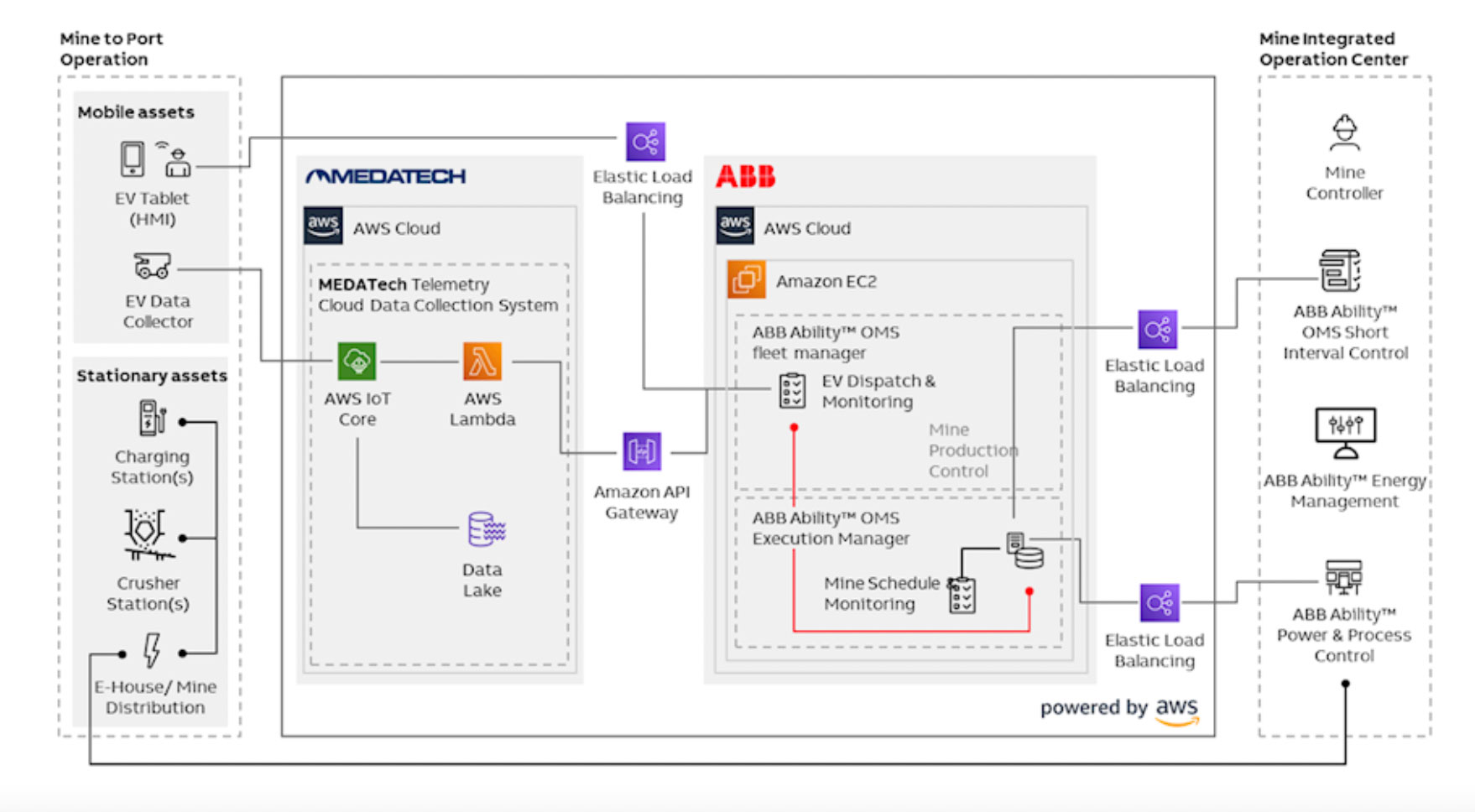 ABB and AWS are also proving scalability. AWS enables OMS to ingest, store, process and analyze operational data from stationary and mobile equipment, and dynamically scales to meet the operational demands. The new ABB Ability eMine approach relies on the reliable and standardized exchange of equipment and process data to effectively integrate electrical and digital systems from mine to port. ABB is simplifying the integration via a collaborative and interoperable approach, leveraging AWS, which removes management and investment responsibilities normally associated with on-premises infrastructure from the customer.
"In the course of the digital transformation and decarbonization in the industrial sector, customers are looking for end-to-end integrated solutions to optimize their operations," said Flemming Kongsberg, director, Global ISV Alliances, AWS. "Together, ABB, MEDATech and AWS have demonstrated a fully integrated solution for mining operators to combine data from electric vehicles and operations to maximize their efficiency and contribute to their sustainability goals. Through this collaboration, we are excited to help deliver this solution to our customers worldwide, providing flexibility, scalability and security in the cloud."
ABB, https://new.abb.com