By John Frost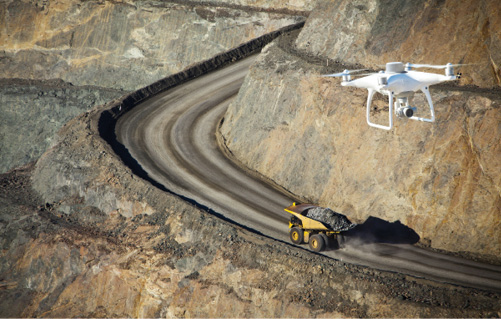 Yearly stockpile reconciliations are wrapping up, and companies are crossing their fingers for accurate material estimates. For aggregate companies, this process is essential to keeping their customers' projects on time and on budget as they enter 2022. If stockpile estimates are off by even 1,000 tons, companies could easily incur high losses at $6 to $7 per ton.
While measuring stockpiles on a monthly, or even more frequent basis, is ideal in preventing financial pitfalls and fulfilling maximum work orders, stockpile surveying has historically been a tedious process that requires the allocation of significant time and resources most companies don't have available.
Luckily, aggregate professionals, along with other earthmoving industry experts, have new technologies at their disposal that can improve this process and take the guesswork out of their highly consequential calculations.
A View from the Sky
Drones and drone surveying technologies allow worksites to measure their stockpiles more frequently and with greater accuracy to mitigate discrepancies, prevent rising material costs, and better manage supply chains. As opposed to surveying a site twice a year via plane, site managers can use easy-to-operate drones to record detailed images of their stockpiles at their convenience and analyze the data through a drone data processing platform within a matter of hours.
Drones can easily take off from any point of an earthmoving site, and with the latest advancements in ground control technology, surveys can be recorded within 1/10-ft. accuracy. Additionally, surveyors can now oversee drone flights from a safe distance as opposed to maneuvering steep and jagged stockpiles and taking measurements by hand, saving time and improving overall worksite safety.
Mapping Made Easy
Beyond the hardware innovations used to collect worksite survey data, drone processing and visualization software can equip earthmoving professionals with accessible 3D mapping tools to easily address the irregularity of stockpile masses and prevent misestimations.
As industry professionals know, stockpiles are never nice and computable cubes or cones – even in good cases. Site managers have previously had to rely on manually recorded height and width measurements that don't account for topical irregularities. By only taking a rough estimate of the total stockpile volume, yearly reconciliations end up inaccurate and based on outdated information.
3D mapping and visualization tools solve this dilemma by producing detailed digital models that record the nuanced material usage of each stockpile. This way, site managers can measure how their stockpiles are changing on a monthly basis and ensure that their yearly reconciliations are on par with their actual inventory.
Technology Improves Teamwork
Notably, the benefits of these new technologies extend beyond the data collection and visualization process. By going digital and having survey data aggregated in one place, managers can easily share their stockpile measurements with all stakeholders, including materials teams, company executives, outside partners, and more.
This efficient, unified communication on earthmoving sites not only improves daily worksite operations, but it also saves crucial resources, prevents costly write-offs, and keeps inventory moving to market on schedule.
Adoption in the New Year
With the start of 2022, aggregate sites have the opportunity to capitalize on these technical advancements and record more accurate and frequent stockpile estimates than ever before. As drones and drone surveying technology continue to experience rapid adoption among earthmoving professionals, these highly accurate surveys will become the industry standard, and those who continue to use traditional measurement methods will fall behind in revenue and efficiency.
John Frost, is vice president of business development at Propeller Aero.