Aggregates Operations Are Moving Into A New High-Tech World Of Machine Performance.
By Mark S. Kuhar
Aggregates operations that are dredging have moved into a new high-tech world of machine performance. According to Fact.MR, the global dredging market is expected to expand at more than 3% CAGR through 2031, as more companies look below the waterline for production and profits. Aggregates operations are no exception.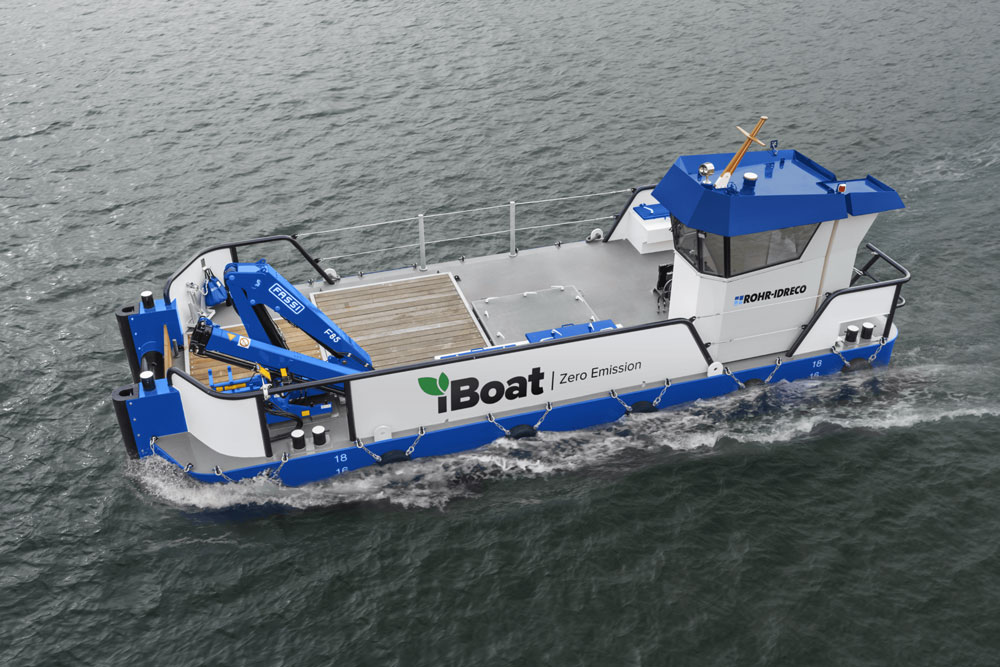 Rohr-Idreco, a designer and manufacturer of premium dredging vessels and equipment, is launching its first workboat. The iBoat, a high-end vessel powered entirely by electricity, adds to the company's range of zero-emission dredge systems and equipment. The iBoat can be used for a variety of applications, such as anchor handling, mooring and support.
The iBoat is built in the United States to the highest standards. It is designed to be especially suitable in "water protection areas" and environmentally sensitive mining locations as well as urban centers, where zero emission, maximum energy efficiency, and reduced noise pollution are key factors.
The vessel is equipped with a 200 kW propulsion battery pack that can be charged from either onshore or the dredge, a deck crane, and a quality cabin. It can be further customized and upgraded from an extensive range of options. As with many dredges in the Rohr-Idreco portfolio, the iBoat is designed to be containerized, allowing it to be conveniently transported worldwide in 40-ft. containers and reassembled quickly and easily on-site.
Rohr-Idreco, www.rohr-idreco.com/usa/iboat
---
DSC Dredge
For more than 20 years, DSC Dredge's Moray Class dredge design has remained the same with only minor enhancements made within the last decade. Uniquely offering a swinging ladder configuration along with an efficient submerged dredge pump, the Moray was designed by DSC engineers to be both highly productive and transportable.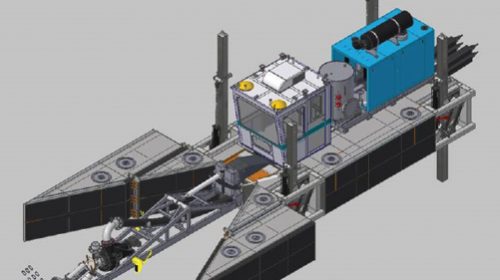 The Moray excels in promoting the environmental dredging industry trend of pumping low flow rates with higher-percent solids. Leading the way with new technology and designs, DSC has once more raised the bar with its newly improved design to its Moray Class dredge.
The newly improved Moray Class dredge is manufactured for both higher regulated countries requiring Tier 4 or Stage 5 emission engines and lesser regulated regions that do not have these requirements. It can also handle all of DSC Dredge's newest technology.
DSC's Walking Spud Carriage apparatus, better known as "spud gliders," allows seamless forward or reverse dredge positioning without ever losing contact with the bottom. Each of the four spuds individually and automatically repositions itself after stepping which allows for almost uninterrupted excavation. This leads to much greater throughput with much lower operator fatigue.
In addition to increasing dredge efficiency, there are many advantages to the spud glider system on the new Moray Class dredge, including increasing hourly production and decreasing operational costs with a net result of higher profits.
It is key to remember that the Moray Class dredge is suited for applications where flow rates need to be minimized, such as pumping into geotubes, filter presses or retention areas that do not accommodate large volumes of water. It is also well suited for shallow waterway maintenance, lake revitalization, aquaculture, environmental clean-up, erosion control and irrigation projects. Moray Class units, with discharge size of 8 in. (200 mm), meet most single-truck hauling requirements. The Moray Class dredge features include PLC enhanced operator controls and displays, power up/down spuds and gliders, DSC's Intelligent Flow Meter, and Dredge Rx connectivity.
In addition to these premium features that maximize operational efficiency and longevity, every Moray Class dredge customer benefit from DSC Dredge's ability to customize each standard production model to fit exact applications and production requirements. These customizations include swing winches for conventional mode operations, traveling spud carriage, dredge automation, larger or smaller dredge size, extended digging depths, production instrumentation and DSC Vision.
DSC Dredge, dscdredge.com
---
Supreme Manufacturing
Supreme Manufacturing provides proven solutions for producers to extract 100% of their deposit. The company's team of specialists can explain to producers how clamshell dredges can outperform more conventional methods like draglines or excavators when used in underwater deposits.

Producers are constantly faced with the challenge of extracting material from their underwater deposits and this often leads to a profit loss per acre and per ton. Operating a minimum of four machines and requiring four operators is also a burden and a loss in profit to a producer.
The Supreme Clamshell Dredge only requires one machine, one operator and no material left behind. This method always translates into a huge savings for a producer along with a substantial dollar figure savings per ton.
Supreme Manufacturing specializes in green and efficient deep mining floating clamshell dredges, rock barges, conveyors, processing equipment and professional services. Supreme provides solutions for customers to utilize valuable resources in an economical manner so no profits are left behind.
Supreme Manufacturing, www.suprememfg.net
---
Custom Dredge Works
Winter Brothers Material Co. is a third-generation, family-owned business celebrating its 75th birthday this year. What better way to celebrate than with the launch of a new mining dredge in their newest mining location?
Winter Brothers recently opened a new mining operation on the west bank of the Meramec River just outside of Arnold, Mo. The new operation is now well underway with the christening and launch of a new 14-in. electric dredge that was designed and built by Custom Dredge Works (CDW) specifically for the unique mining requirements of the mine's Meramec Aggregate deposit. Winter Brothers is one of the top producers of Meramec sand and gravel in the region.
Mine Supervisor Jerry Gunter and Ryan Winter, president of Winter Brothers, offered the following thoughts about why they chose to go with a chain-ladder on their new dredge to cut or agitate the material they wish to mine versus a more traditional cutterhead. They also shared why an electric-powered dredge provides many advantages over diesel-power.
"With our deposit we really don't need a cutterhead to break the material up. It is free flowing material, and really sluffs off and flows pretty easily to the suction mouth of the dredge," Gunter said. "However, we do have a small percentage of basketball-sized rock in our deposit. The chain does a good job of removing the rock from the cutting area and keeping the suction mouth clear and uncluttered. Conversely, a cutterhead has the tendency to allow the rock to continually get 're-handled' and often that rock will collect or pile up around the suction mouth, which in turn impedes the production of the free-flowing material we enjoy."
"Our other two older dredges also utilize a chain-ladder, so we are experienced with this technology and feel that it is the best solution for our type of deposit," Winter said. "Another thing about the chain-ladder that is superior to a more traditional cutterhead dredge is that the suction 'fish-mouth' is positioned much closer to the material, which exponentially increases the amount of suction force and production output."
With electric the company doesn't have to deal with any of the maintenance headaches and the costs associated with diesel power. Even if the initial cost to get into an electric dredge is a bit more, it is well worth it and pays for itself quickly, Gunter stated.
"All of our other dredges and wheel loaders are diesel powered, so we have at least five large diesel engines that we have to do maintenance on, which includes refueling, oil changes, replacing air filters and the occasional engine rebuild," he said. "We also have to deal with the risk and cost of possible oil and fuel spills. On top of all that, we have the huge expense of downtime costs associated with every one of these maintenance items. Just shutting down to refuel is a large downtime expense. I prefer to work smart versus hard."
"We looked at five dredges when we were doing our initial due diligence on what dredge we should purchase," Winter said. "Every one of those dredges was electric, and the folks who were kind enough to allow us to view their dredge in operation all just loved their electric dredge. They told us that the electric dredge required very little maintenance, they were quiet, and they were friendly to the environment, which is important to Winter Bros. too."
There were a number of reasons the company chose a dredge from CDW.
"We took several field trips to different mining operations to look at the dredges out there, which were built by all of the major dredge manufacturers. It was just very clear to us that CDW was incredibly accommodating and were genuinely interested in understanding our needs and building a dredge that suited us," said Winter. "The feeling we had from other manufacturers was, 'this is what we offer and this what we are going to build you.' They tried to push us to what they want to build, for example pushing us towards a cutterhead when we really wanted a chain-ladder. We liked the prior dredges that CDW had built that we were able to view. Very impressive, and their clients were very happy with their dredge and the ongoing support they receive."
"Since we were looking to have a long-term relationship with our dredge manufacturer that might last 25 years or more, we wanted to make sure it was going to be good," Gunter said. "Do you want to be married to somebody who is easy to work with and who listens to you or someone who is difficult to get along with? CDW seemed like they were willing to work with us, and we did not get that sense at all from the other dredge builders."
"Downtime is critical! We were impressed with the amount of parts that CDW keeps in inventory should we need anything from them," Winter said. "Regarding the dredge assembly and launch, their lead launch foreman came to our mine location and said 'This is what I need to put your dredge together. And this is where we need to build the ramp, etc.' He just planned out everything for us. The assembly and launch was extremely well advised and planned and went very smoothly."
John Jones, president of CDW, said, "We are very happy and proud that we were given the opportunity to provide them with this new electric dredge. We have worked very hard on our end to design and build for them a world-class Flag Ship Dredge that they can be proud of and that will continue to insure their place as a dominant force in the St. Louis aggregate market."
CDW, www.CustomDredgeWorks.com