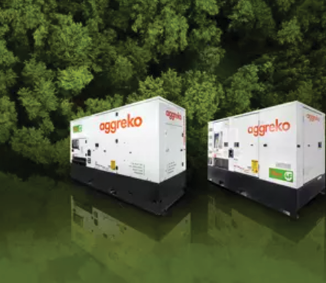 Aggreko's latest Tier 4 Final generators are now available in Canada. Aggreko is offering the low-emissions technology for Canadian customers in Canadian Standards Association (CSA)-certified options ranging from 100 to 500 kW.
Aggreko designed the Tier 4 Final generators to comply with the Canadian Environmental Protection Act's (CEPA) most stringent emissions regulations for diesel generators, in alignment with those of the U.S. Environmental Protection Agency (EPA), which apply to products for use in Canada as well as the United States. All units within the fleet incorporate a variety of advanced exhaust treatment processes to remove harmful pollutants. Compared to traditional generators, these systems achieve a 98% reduction in the volume of particulates and a 96% reduction in NOx emissions.
The Tier 4 Final fleet is part of Aggreko's mission to provide better options for customers who rely on mobile power solutions to reduce their operational carbon footprint without compromising reliability or negatively impacting budgets. Since their launch for the American market in 2022, the Tier 4 Final generators have also become a central part of Aggreko's Greener Upgrades initiative, which bundles together cleaner solutions in packages tailor-made for customers looking to improve efficiencies, reduce costs and lower emissions.
As the Tier 4 Final generators prioritize efficiency, they can also operate on alternative fuels such as Hydrotreated Vegetable Oil and operators can take advantage of load management tools to minimize fuel consumption. Aggreko's Remote Monitoring services also reduce service costs and interruptions associated with in-person service checks, ensuring that businesses can continue to operate efficiently and reliably.
"We're excited to expand the availability of our most advanced diesel generators to our Canadian customers," said Stephen Saal, vice president of sales and marketing of Aggreko North America. "Canada has been a central part of our global operations since we began business in the country in the 1980s. Our Canadian customers are some of our most valued relationships, and we're happy to be able to bring them greener solutions and offer our Tier 4 Final for their temporary power needs."
Having launched for the American market in 2022, the Tier 4 Final generators have proven themselves in several projects in advance of their Canadian debut. The generators have been successfully installed and operated at construction sites, natural gas plants, data centers, mining sites, refineries, utilities, midstream pipeline pumping facilities, food and beverage facilities and more, in all cases meeting stringent environmental regulations and helping reduce site emissions.
The Tier 4 Final launch in Canada continues Aggreko's commitment to bringing advanced, innovative temporary power solutions to the country, routed through our locations in Ontario and Alberta.
Aggreko, www.aggreko.com