Montabert USA recently hosted two Demo Days events in Hatfield, Pa., and South Plainfield, N.J., respectively. Over the two days, 25 construction, demolition and excavating contractors came together with factory representatives and dealers to view Montabert and Lehnhoff attachments and couplers in action. Specifically, attendees experienced demonstrations of the following products during the event:
• Lehnhoff SQ80V fully automatic symmetric quick coupler.
• Lehnhoff 72" tilt bucket.
• Montabert V46 variable speed hydraulic hammer.
• Montabert HCG-32-1200 demolition grapple.
All attachments were equipped with a Lehnhoff adaptor for the coupler, and all were demonstrated on a 35-ton Komatsu PC360 LCI excavator.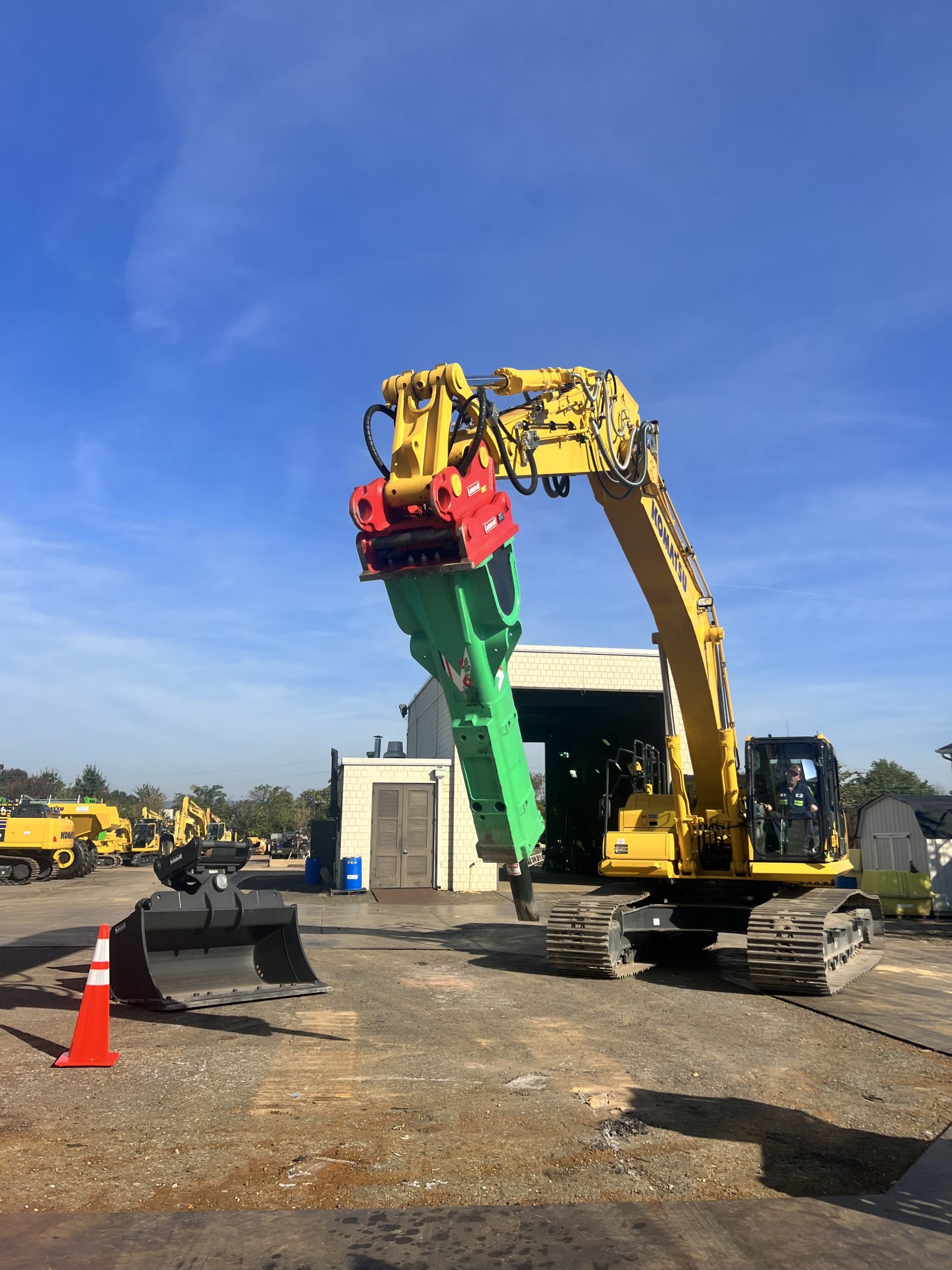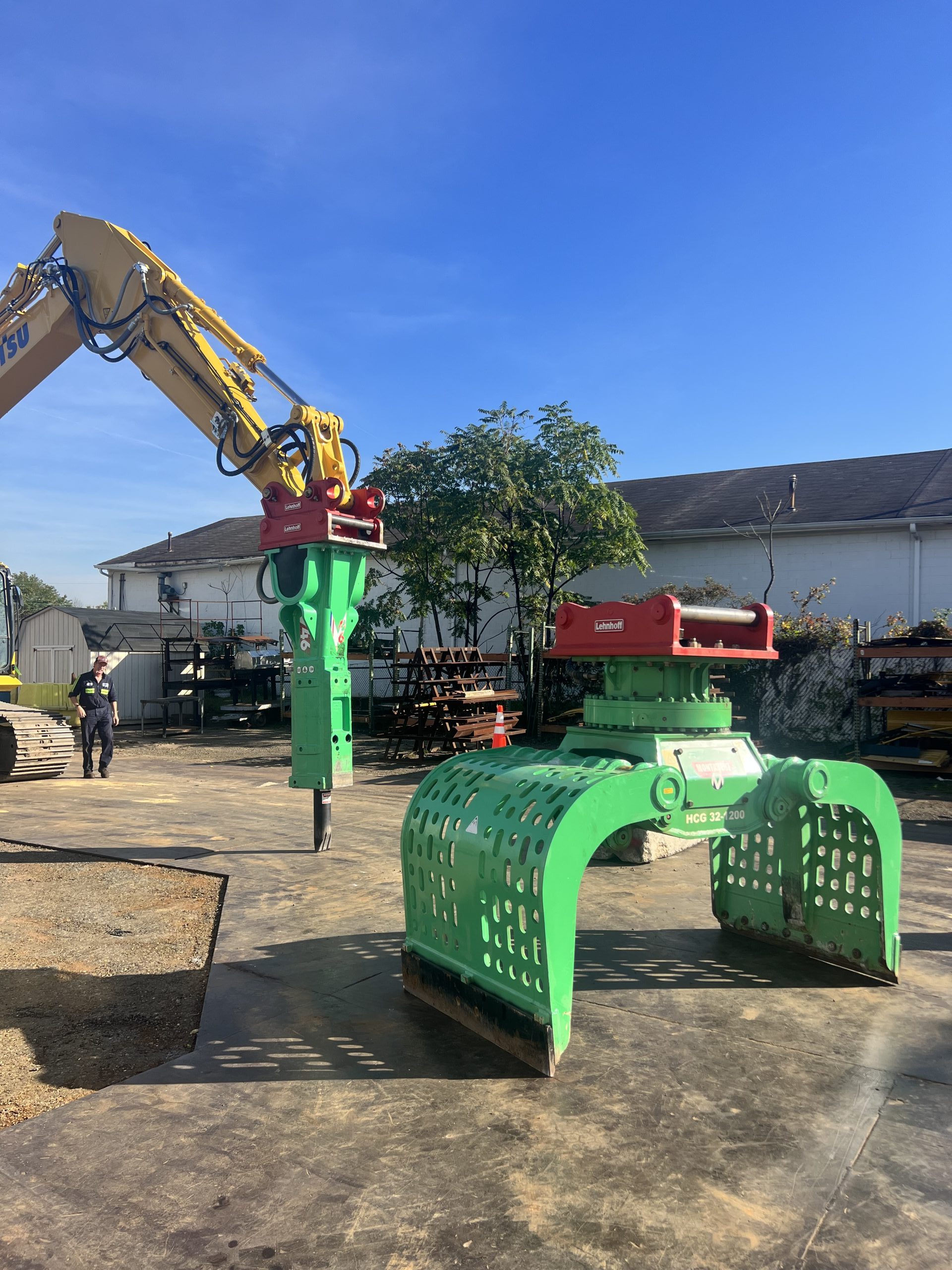 The Montabert V46 Hydraulic Hammer is a premium 15-speed hammer with automatic variable-speed technology that senses changes in material hardness and adjusts impact energy and striking rate. This ability increases productivity, based on the application, and reduces blank firing. The technology also reduces unnecessary harmful energy from transferring to the carrier and breaker, helping to prevent wear on parts and components. Montabert Premium Heavy Breakers are designed for all types of carriers, from 18 to 120 tons, and are ideal for a variety of applications, including quarrying, mining, excavation and demolition.
Montabert Silent Demolition Grapples are available in three models that are suitable for demolition, sorting, loading, light excavation,and stone-setting applications. These grapples feature 360-degree rotation, 400HB steel jaws, and 500HB steel blades. They are designed for carriers from 5 tons up to 100 tons and provide ease of operation and overload protection for increased safety.
The Lehnhoff Tilt Bucket allows for versatile site work by using the bucket in digging mode or shovel mode. It features two hydraulic cylinders with piston-rod protection and a pressure-retention valve. The robust, durable swivel head provides a swivel angle of 2 x 45 degrees. The Tilt Bucket is ideal for medium to heavy excavation and material backfilling.
The fully automatic, symmetric Lehnhoff Quick Coupler system allows operators to quickly and automatically change all hydraulic attachments without leaving the cab, increasing efficiency and safety. A standardized interface with two coupling shafts enables the attachment to be rotated by 180 degrees — meaning a rigid bucket can be used as a backhoe or as a shovel bucket. The advantages provided by the coupler include potential savings in additional excavator and operator costs, increased productivity with less time spent on manual attachment changes, and reduced safety risks for the operator by not unhooking hydraulic hoses with each attachment change.
Steve Scott, owner of Scott Contractors in Norristown, Pa., said he was impressed with the value the Lehnhoff coupler will provide in lowering overall operating costs by eliminating the need for two excavators on job sites to handle different tasks. He noted the coupler also will help to increase job site safety. "The Lehnhoff [coupler] seems to be a no-brainer," he concluded.
According to Montabert Sales Engineer Michelle Wilson, who helped to host the Demo Days events, "We already have multiple requests for pricing and more information following the demonstration. There seems to be quite a bit of interest in the coupler system in particular."