On Aug. 11, Trimble invited media representatives for its "media play days" at the company's headquarters in Westminster, Colo. With the striking Colorado Rockies in the background, local and trade-publication journalists were given an opportunity to view and personally experience Trimble's technologies with demonstrations and hands-on exploration opportunities.
The event was attended by Rock Products Publisher Peter Johnson and Marketing Director David Jones.
Trimble solutions are used extensively in the agriculture, construction and infrastructure industries in ways that leverage a deep understanding of positioning, modeling, connectivity and data-analytics technologies. Their software and hardware solutions aim to solve extremely complex business processes while promising cost savings, efficiency and precision. They also aim to lead the way with a powerful dedication to research and development – some products of which were demonstrated.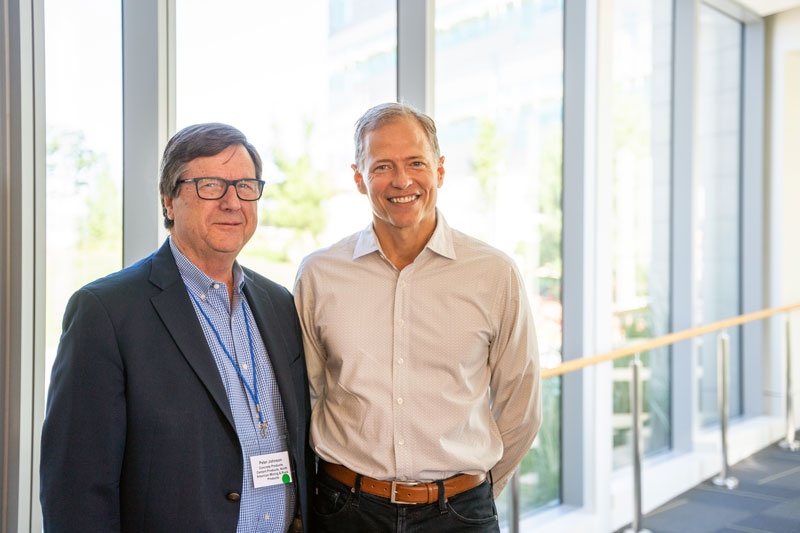 Along with current, real-world solutions like Trimble XR10 with HoloLens 2– a mixed-reality hardhat that allows users to easily visualize 3D designs overlayed against real world construction sites – Trimble's brain-computer-interface was demonstrated. This interface, featuring a small headpiece for the user, allowed hands-free, voice-free, computer-aided interactions. While this interface isn't yet ready for practical, in-the-field applications, the effort showcases Trimble's dedication to research and development and a drive to maintaining industry leadership.
"We believe a lot in innovation at Trimble," explained Rob Painter, president and CEO of Trimble, during the media day introduction. "We put more than $600 million back this year into research and development. We don't just talk about innovation, we invest in innovation."
Painter, one of the Denver Business Journals' most admired CEOs of 2022, became president and CEO of Trimble in January 2020. He has worked to translate a "connect and scale" corporate vision that moved the company from "single-point technology solutions and toward building industry-leading cloud platforms that connect people, technology, tasks, data, processes and industry life cycles."
Trimble employees also demonstrated a hands-free, automated steering system; Trimble Geospatial solutions combining scanning stations, software, and receivers; Trimble Construction One suite of construction software that facilitates access and collaboration on projects; and TrimbleAgileAssets software that provides transportation asset lifecycle management. In almost every example, the technologies showed advanced use of artificial reality and mixed reality, machine learning, and creative problem solving.