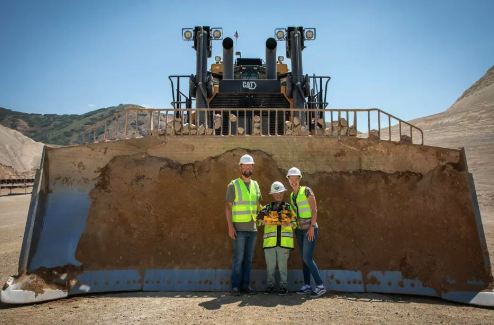 Geneva Rock and Wheeler Machinery joined forces for an incredible opportunity to put a smile on the face of a courageous young boy, 12-year-old Boston Ballash. He was electrocuted earlier this year in an unfortunate accident at a family reunion, resulting in the amputation of several fingers.
Despite this setback, he has worked hard to regain the use of his hands, thanks in part to his love of building with Legos. After completing countless Lego sets at the hospital, Boston was given the ultimate Lego challenge, a 3,854-piece Cat D11 Bulldozer.
"Boston has always been a builder by heart with an engineering mindset," said his father, Greg. "The simple Lego sets he had been working on were both a blessing and a curse because it was a reminder of how difficult the recovery process was going to be. He wanted the bulldozer set for a real challenge, and he was really committed to it – even going so far as lining up pieces with his toes before securing them in place."
After seeing how much joy the Lego bulldozer brought his son, Greg determined to reach out to the supplier of the actual bulldozer, Wheeler Machinery, to see if it would be possible to set up an in-person experience with a D11.
"I contacted Wheeler Machinery through their website," said Greg. "I said, 'My son has been through a journey. He's getting close to completing his Lego bulldozer, and he's learned a lot about the machine in the process. Would it be possible for him to see one up close and personal?'"
The response from Wheeler Machinery was immediate. "'We're committed to making this happen," said Greg. "'We don't have any D11s with us on site – but we partner with Geneva Rock, and they've always been great to work with. We reached out to them, and they're behind Boston too.'"
"We are humbled to be part of Boston's healing journey," said Jay Ritchie, president of Geneva Rock. "It has truly been an honor to partner with Wheeler Machinery to make this day possible for him and his family."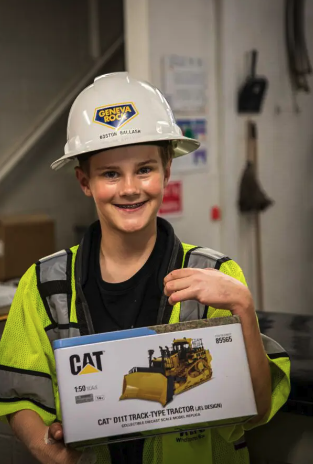 Thanks to the partnership between Wheeler Machinery and Geneva Rock, Boston was given a surprise opportunity to see a Cat D11 Bulldozer in real life. And for Boston, it wasn't just about seeing a piece of equipment, it was about experiencing the joy of building and construction with the support of family members by his side.
"I didn't know this was going to happen," said Boston. "It's been so cool to come here today and see the actual thing and how it works and everything. This has been so much fun."
"I was honored to be a part of this event and see Boston's reaction when he witnessed the Cat D11 Bulldozer in person," said Chris Christiansen, director of equipment and maintenance. "His excitement was contagious, and it was clear that he was truly inspired by the machine. This day has been a reminder of the importance of giving back to our community, and I'm proud that Geneva Rock could play a role in making Boston's day. This will surely be a day he will remember for the rest of his life."
Geneva Rock said it is "committed to Building a Better Community. By partnering with Wheeler Machinery, we've been able to show extraordinary support for Boston. We are truly humbled to give back in ways that bring joy to the families of the communities we serve."
"I can't say how grateful I am to Geneva Rock and Wheeler Machinery for making this day possible," said Greg. "Thank you for supporting Boston."