In This Quarterly Report, Provided Exclusively to Rock Products, Capstone Partners Offers Insight Into Merger and Acquisition Activity, Capital Markets Trends, Aggregate Production and Pricing.
By Darin Good, Brian Krehbiel and Crista Gilmore
Capstone Partners' Building Products & Construction Services Team is pleased to share its Rock Products report. Consolidation among aggregates producers has continued to drive merger and acquisition (M&A) activity to-date as sector players increasingly seek economies of scale, geographic expansion, and complementary product offerings. Several additional key takeaways are outlined below.
Robust construction backlogs have provided healthy near-term visibility for sector players, fueling optimism in the space.
Leading public companies have recorded strong valuations through year-to-date (YTD) 2023, outpacing the prior year from an EBITDA multiple perspective.
Sector participants have capitalized on the favorable pricing environment, resulting in outsized returns in public equity markets.
Strategic buyers have continued to drive M&A volume as healthy construction demand has encouraged sector consolidation.
Private equity buyers have been increasingly selective in their acquisition pursuits, however, quality companies have maintained robust financial buyer interest.
In this quarterly report, Capstone Partners provides insight into mergers & acquisitions, capital markets trends, aggregates production and pricing data through YTD 2023.
Capstone's Building Products & Construction Services Team advises industry business owners, entrepreneurs, executives, and investors in the areas of M&A, capital raising, and various special situations. Due to our extensive background and laser focus within the industry, Capstone is uniquely qualified and has an unparalleled track record of successfully representing Building Products & Construction Services companies.
Public Company Commentary
Valuations among public companies in the Aggregates sector have demonstrated significant resilience amid a backdrop of economic uncertainty. The average EBITDA trading multiple has amounted to 9.6x EV/EBITDA – a substantial uptick from the 8.0x EV/EBITDA average in the prior year.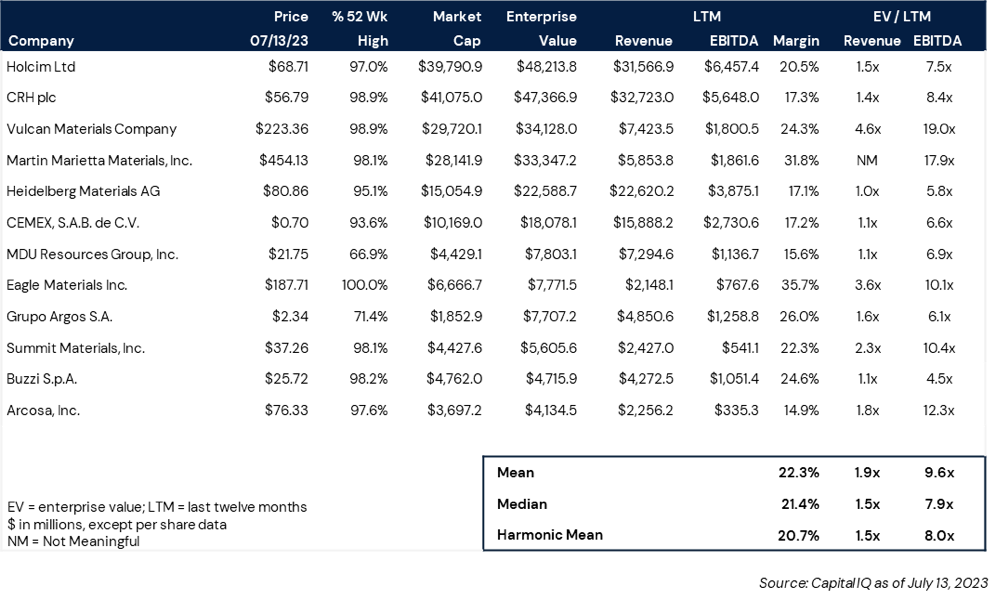 Aggregate Materials Index Surges Past Broader Market
Aggregate Materials Index: +49.5%
S&P 500: +15.2%
Dow Jones Industrial Average: +9.9%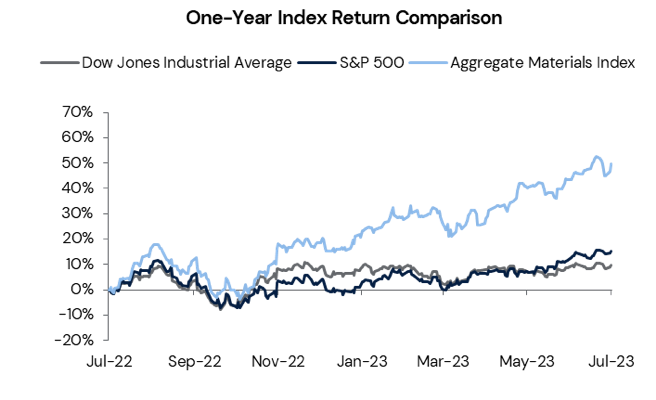 Public companies in the Aggregates space have significantly outperformed broader equity markets as robust demand, margin expansion, and healthy sector fundamentals have contributed to strong pricing returns. Over the past twelve months, Capstone's Aggregate Materials Index has increased 49.5%, compared to a 15.2% one – year return in the S&P 500.
Demand Visibility And Margin Strength Fuel Sector Growth
Steady construction backlogs, robust employment growth, and defensible gross margins have allowed the Aggregates space to remain largely insulated from an aggressive monetary tightening campaign and persistent levels of inflation. While near-term uncertainty has lingered for the broader economy, aggregates providers have benefited from a high degree of demand visibility—evidenced by construction backlogs remaining elevated in June at 8.9 months, according to Associated Builders and Contractors (ABC).1 Project demand in the Infrastructure segment recorded the highest backlog, rising 3.3 months year-over-year (YOY) to 11.2 months as federal funding has helped propel activity. Federal emphasis on infrastructure improvement, which often involves aggregates intensive projects, has provided significant revenue opportunities for leading sector players. Notably, construction spending on highway & street projects increased 14% YOY in May, according to the U.S. Census Bureau.2
Many market participants forecasted the rapid succession of interest rate hikes would suppress the labor market for construction workers. However, the Construction industry has continued to expand its workforce, adding 23,000 jobs in June with total employment rising 2.6% over the past year, according to ABC.3 Despite forecasts for a downturn in the near-term, contractors expect staffing levels, sales, and profit margins to expand over the next six months.
Leading aggregates players have capitalized on the favorable aggregates pricing environment which has driven outsized gains in revenue and profitability for select sector participants. Notably, Martin Marietta reported a 10% YOY increase in consolidated total revenues with gross profit rising 94% in Q1, according to its earnings release.4 Strong pricing tailwinds were further amplified in its Aggregates and Cement segments, which achieved gross margin improvement of 1,250 basis points and 860 basis points, respectively. Moving through the second half of 2023, continued pricing power and a steady backdrop of demand will likely prove critical for sector players in the event of an economic contraction.
Strategics Remain Active Despite Softening M&A Volume
M&A volume in the Aggregates space has moderated through YTD 2023 as many prospective sellers have awaited further market clarity before engaging in a liquidity event. At the halfway point in 2023, M&A activity has declined 19.4% YOY to 50 transactions. Strategic buyers have overwhelmingly driven consolidation activity, accounting for 84% of total M&A volume, with private strategics comprising 60% of transactions. Public sector participants have also been active in M&A markets both as acquirers and through divesting non-core assets or operations. Notably, Martin Marietta sold its Northern California cement import and distribution business to Eagle Materials for an undisclosed sum (May). Sector players are expected to continue to employ inorganic growth strategies to gain operational efficiencies, geographic penetration, and enhanced product offerings.
Financial buyers have been increasingly selective in their acquisition pursuits amid a heightened cost of capital and uncertainty in projecting cash flows. Through YTD, private equity acquirers have accounted for 16% of total transactions, a significant decline from 29% in 2022. However, quality sector participants have continued to draw interest from the sponsor community. Notably, Trilantic Capital-backed Outdoor Living Supply acquired three distributors of natural stone, masonry, hardscape, and landscape supplies—C&R Stone World, StoneWorld Utah, and Cedar Stone Supply (May, undisclosed). The acquisitions bolster Outdoor Living Supply's presence in the Mountain states with the addition of Utah and Idaho locations. Moving through the second half of the year, private equity firms are expected to maintain a high level of due diligence when evaluating investment opportunities. Sector participants with defensible margins, sustainable earnings, and healthy backlogs are poised to continue to draw interest from the sponsor community.
Private Equity Activity
GF Data, a provider of detailed information on business transactions ranging in size from $10 to $250 million, provides quarterly data from over 200 private equity firm contributors on the number of completed transactions. The following chart provides the number of completed transactions from GF Data contributors, the average total enterprise value (TEV)/EBITDA multiples, and the average amount of debt utilized in the transaction computed as a multiple of EBITDA. The data, although not industry specific, has demonstrated that EBITDA multiples increased to 8.0x in Q1, a 1.2x increase quarter-over-quarter (QoQ).

Public Companies Add Production Capacity In Key Markets
Strategic buyers have actively consolidated regional producers and distributors to bolster production capacity and penetrate new geographies. Outlined below are recent notable transactions in the space.
Transaction Overview
Heidelberg Materials, a leading construction materials provider, acquired The SEFA Group, for an undisclosed sum (April 2023). The SEFA Group is a leading provider of recycled fly ash to cement manufacturers. Recycled fly ash can be used in the production of cement to reduce the amount of carbon dioxide used in the manufacturing process. The acquisition of The SEFA Group highlights Heidelberg's efforts to reduce their carbon footprint across product offerings.
M&A and Sector Takeaways
The transaction highlights strong buyer appetite for large suppliers and manufacturers that provide innovative services. The acquisition of The SEFA Group builds Heidelberg's cement production capabilities in the U.S. and extends its capabilities in Canada. Heidelberg expects the acquisition to contribute to the company's efforts towards net zero carbon emissions over the next decade.
Transaction Overview
Granite has acquired Coast Mountain Resources, a leading provider of construction materials servicing firms on the west coast and British Columbia, for an enterprise value of $27 million (April 2023). Coast Mountain Resources operates an aggregates and shipping facility in Vancouver, Canada, helping to build much of Vancouver's current infrastructure.
M&A and Sector Takeaways
The acquisition of Coast Mountain Resources expands Granite's geographic reach further into the Pacific Northwest. Public strategics have been active in pursuing tuck-ins that can add production capacity. Granite expects the acquisition to help bolster its Pacific Northwest presence to take advantage of rapid growth in the region.
SELECT TRANSACTIONS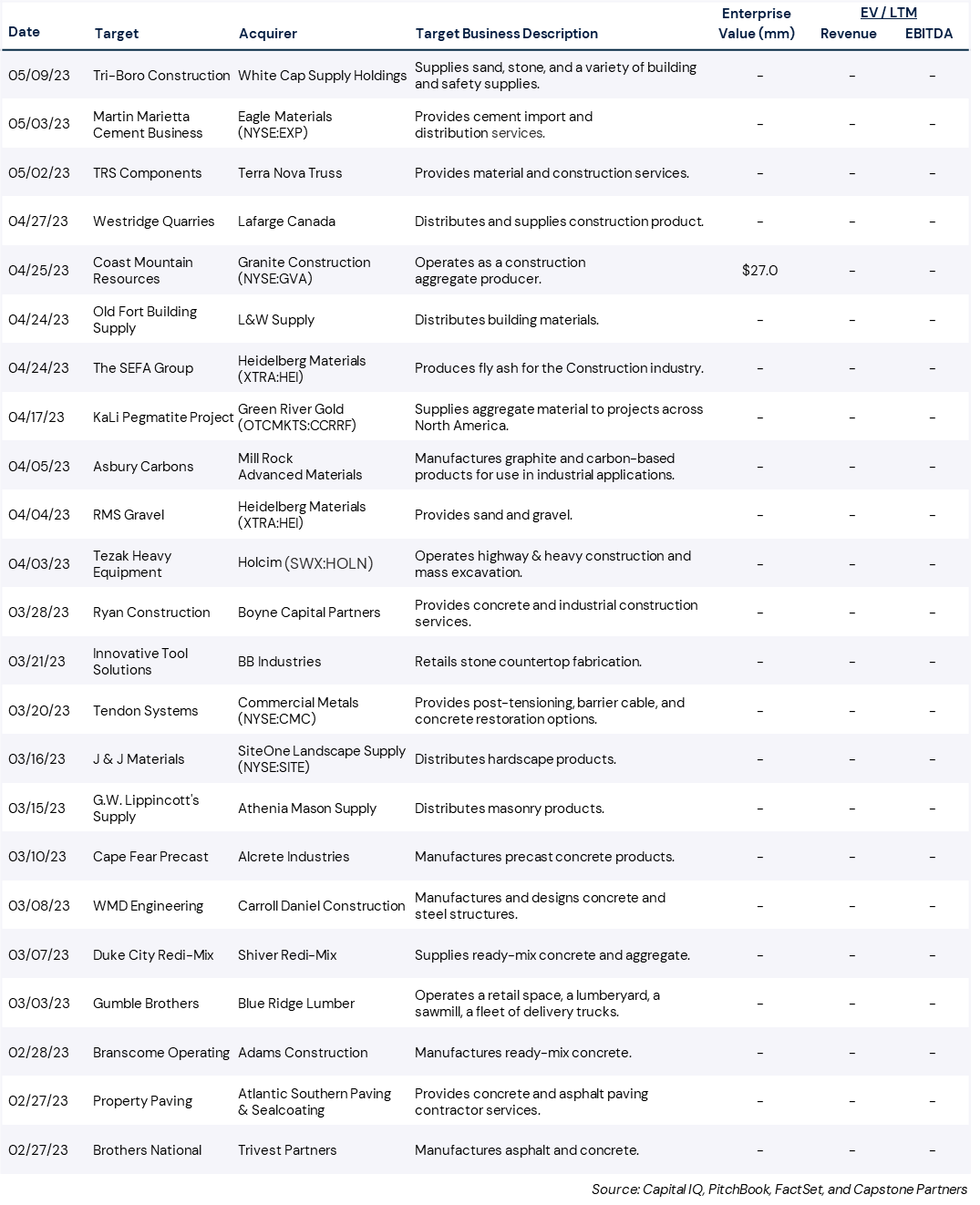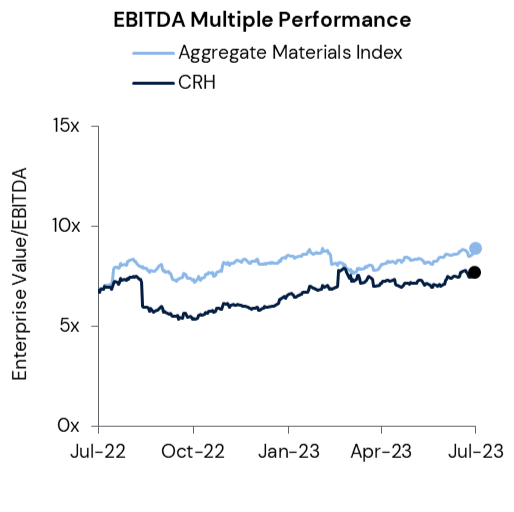 CRH Builds Brand In North America
Headquarters: Dublin, Ireland
Markets: Construction Materials
LTM Revenue: $27.4 Billion
Market Capitalization: $39.4 Billion
Company Description
CRH experienced revenue increases of 7% YOY in Q1 2023, driven by elevated raw materials costs and continued demand, according to its earnings release.5 CRH focuses on two primary markets, North America and Europe. In North America, CRH has been active in acquiring firms with proven cash flows and customer bases to grow its presence in the U.S. and Canada.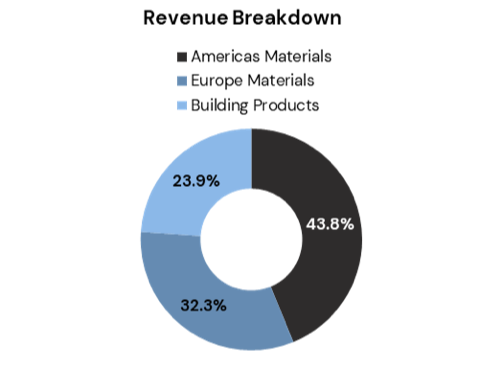 "Following a good start to the year, we expect our businesses in the Americas to benefit from robust infrastructure demand, good activity in non-residential segments, continued pricing progress, and positive contributions from acquisitions. In Europe, we anticipate a more challenging market backdrop driven by continued inflationary pressures and some slowdown in the new-build residential sector. Overall, assuming normal seasonal weather patterns, absent any major dislocations in the macroeconomic environment, we expect first half group sales, EBITDA and margins to be ahead of the prior-year period, reflecting the continued strength and resilience of our integrated solutions strategy," said CRH Chief Executive Officer, Albert Manifold, in a company earnings call.6
As of Q1, CRH has deployed more than $200 million in acquisition capital, targeting four companies, according to its earnings call. Of note, CRH's latest acquisition in North America was the purchase of Barrette Outdoor Living in June 2022, an Ohio-based outdoor living space construction provider, for an enterprise value of $1.9 billion, equivalent to 10.0x EV/EBITDA. The addition of Barrette Outdoor Living will increase CRH's market share and enhance its brand presence in the U.S.
Source: FactSet and Capital IQ as of July 13, 2023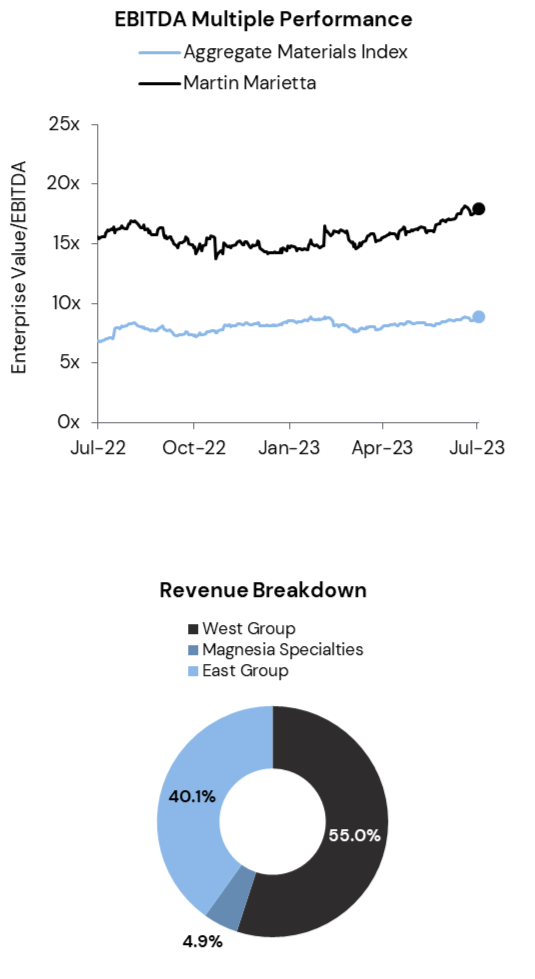 Martin Marietta Benefits From Increased Construction Demand
Headquarters: Raleigh, N.C.
Markets: Construction Materials
LTM Revenue: $5.9 Billion
Market Capitalization: $24.7 Billion
Company Description
Martin Marietta experienced strong Q1 performance, with a YOY earnings increase of 10%, which has been partially driven by a 22.6% increase in aggregates prices YOY, according to its earnings call. Elevated pricing trends have continued to affect the Aggregates sector, with interest rates and continued high input costs forcing material providers to pass along production costs to the consumer. With pricing increases persisting, Martin Marietta posted improved aggregates gross margins, rising to 26.1% YOY in Q1 2023, according to its earnings release.
"Our record-setting first quarter performance provides excellent momentum going into the balance of the year. As a result, we're confident in our ability to achieve the high end of our previously announced 2023 financial guidance range and navigate the current macroeconomic backdrop. Taking a broader view, we believe that our financial results validate the secular durability of our proven aggregates-led business model as we continue along our path of building and maintaining the safest, most resilient and best-performing aggregates-led public company," said Martin Marietta's President and Chief Executive Officer, C. Howard Nye, in a company earnings call.7
Martin Marietta has continued to outperform the Aggregate Materials Index from an EBITDA multiple perspective, trading at 17.9x EV/EBITDA compared to 8.9x EV/EBITDA in the index. Martin Marietta's scale, geographic presence, and healthy profitability levels have allowed it to achieve strong performance through YTD 2023.
Source: FactSet and Capital IQ as of July 13, 2023
Construction Materials Update
Construction input prices have continued to fall from elevated levels, declining 3.5% YOY in May and easing 0.6% compared to the previous month, according to the Bureau of Labor Statistics.8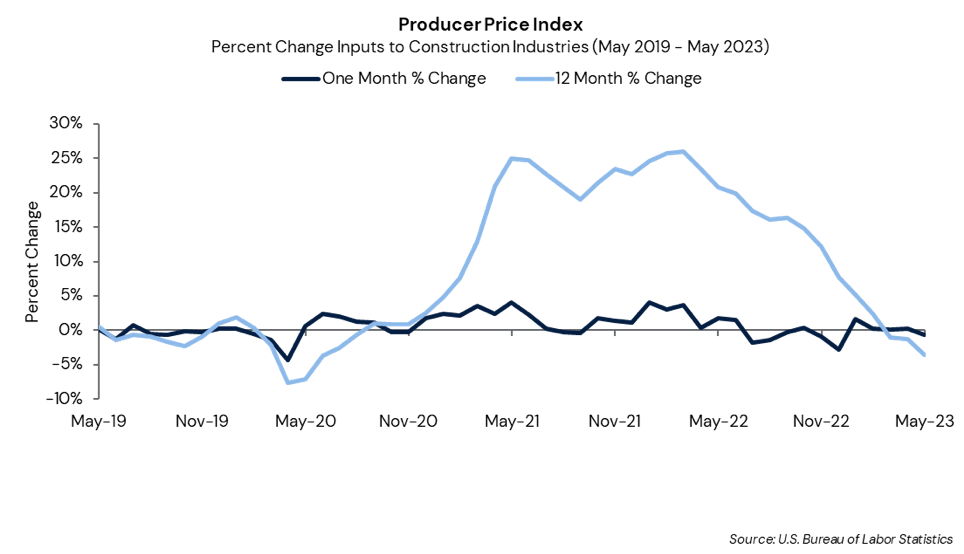 Aggregate Materials Update
Select aggregate materials have experienced substantial price increases, benefiting sector players able to pass on elevated costs to customers. Cement has led pricing growth through Q1, rising 24.4% YOY.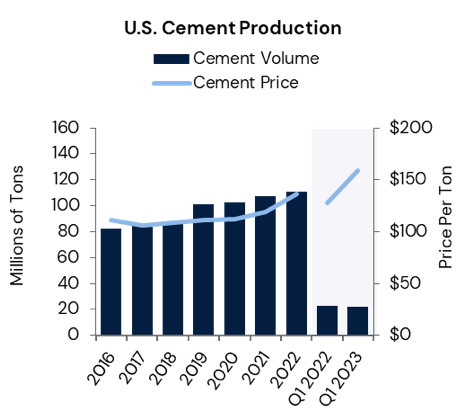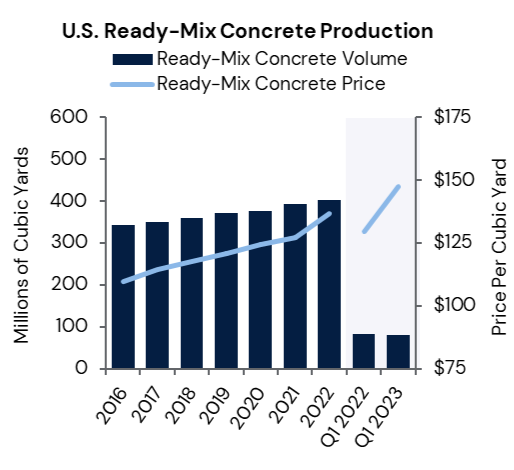 Cement
U.S. cement consumption amounted 21.9 million metric tons in Q1 2023, marking a 3.5% decrease YOY. Cement production volume declined 19.8% compared to the prior quarter.
The average net selling price per ton for Martin Marietta and Eagle Materials cement in Q1 was $159.1, a 24.4% YOY increase.
Source: U.S. Geological Survey and Capstone Partners
Ready-Mix Concrete
Ready-mix concrete prices increased 13.9% YOY per cubic yard in Q1 to $147.6. Price data is computed from the average ready-mix net selling prices of Vulcan Materials, Martin Marietta, and Eagle Materials.
Ready-mix volume declined 3.1% YOY to 81.2 million cubic yards in Q1. Volume declined 19.1% compared to the prior quarter.
Source: NRMCA Industry Data Survey, Average ready-mix selling price of U.S. Concrete (not included after Q1 2021 due to acquisition by Vulcan), Vulcan Materials, Martin Marietta Materials, Eagle Materials, and Capstone Partners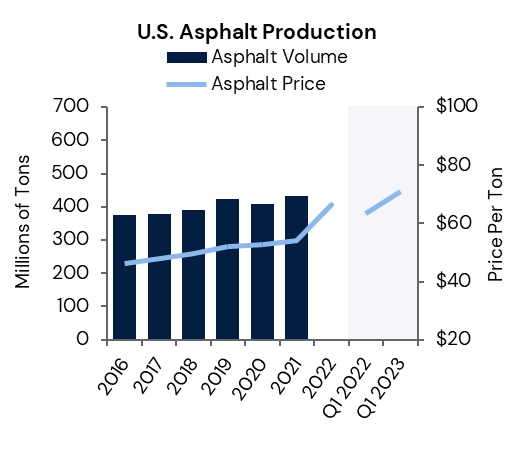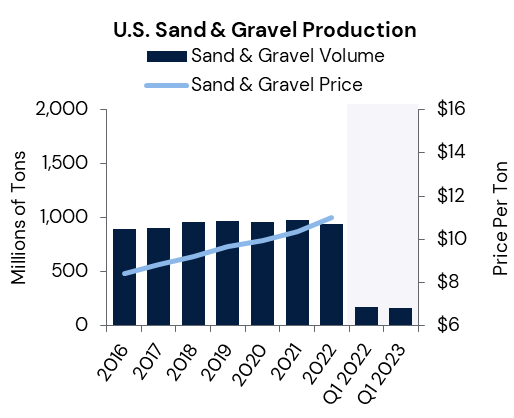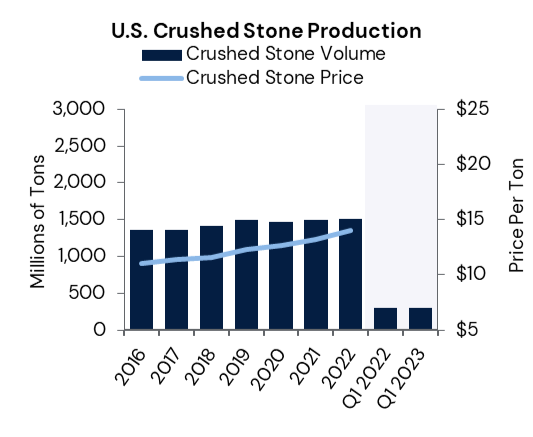 Asphalt
Asphalt prices increased by 12.3% YOY in Q1 to $71.0 per ton, measured by the average net asphalt selling prices of Vulcan Materials and Martin Marietta.
Asphalt volume is reported on an annual basis. The most recent asphalt production amounted to nearly 432.4 million tons in 2021.
Source: NAPA Asphalt Pavement Industry Survey, Vulcan Materials, Martin Marietta
Materials average of net asphalt selling prices, and Capstone Partners
Crushed Stone
Crushed stone production in Q1 increased 1.7% YOY to 300 million metric tons. Production volume has decreased 16.9% compared to the prior quarter.
Crushed stone prices are reported on an annual basis.
Source: U.S. Geological Survey and Capstone Partners
Sand & Gravel
An estimated 160 million metric tons of sand & gravel were produced and shipped for consumption in Q1, a decrease of 8.6% YOY.
Sand & gravel prices are reported on an annual basis.
Source: U.S. Geological Survey and Capstone Partners
Capstone Partners has developed a full suite of corporate finance solutions, including M&A advisory, debt advisory, financial advisory and equity capital financing to help privately owned businesses and private equity firms through each stage of the company's lifecycle, ranging from growth to an ultimate exit transaction. To learn more about Capstone's wide breadth of advisory services and Building Products & Construction Services industry knowledge, please contact us.
ENDNOTES
Disclosure
This report is a periodic compilation of certain economic and corporate information, as well as completed and announced merger and acquisition activity. Information contained in this report should not be construed as a recommendation to sell or buy any security. Any reference to or omission of any reference to any company in this report should not be construed as a recommendation to buy, sell or take any other action with respect to any security of any such company. We are not soliciting any action with respect to any security or company based on this report. The report is published solely for the general information of clients and friends of Capstone Partners. It does not take into account the particular investment objectives, financial situation or needs of individual recipients. Certain transactions, including those involving early-stage companies, give rise to substantial risk and are not suitable for all investors. This report is based upon information that we consider reliable, but we do not represent that it is accurate or complete, and it should not be relied upon as such. Prediction of future events is inherently subject to both known and unknown risks and other factors that may cause actual results to vary materially. We are under no obligation to update the information contained in this report. Opinions expressed are our present opinions only and are subject to change without notice. Additional information is available upon request. The companies mentioned in this report may be clients of Capstone Partners. The decisions to include any company in this report is unrelated in all respects to any service that Capstone Partners may provide to such company. This report may not be copied or reproduced in any form or redistributed without the prior written consent of Capstone Partners. The information contained herein should not be construed as legal advice.