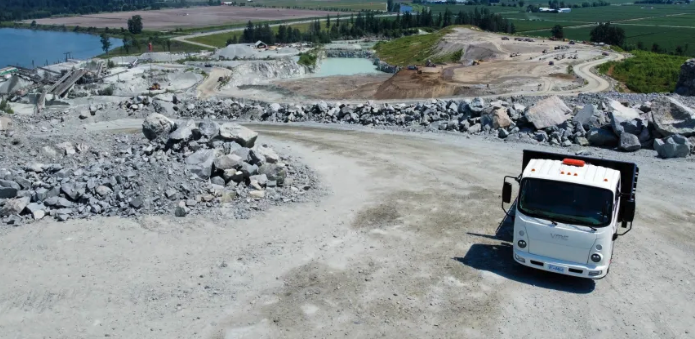 Lafarge Canada announced a significant milestone in its commitment to sustainability and the journey towards achieving net-zero emissions. The company is taking a pivotal step by electrifying its work truck fleet in conjunction with North American electric vehicle supplier Vicinity Motor Corp. (VMC), resulting in a reduction in scope 1 emissions on site.

Lafarge is Canada's largest provider of sustainable and innovative building solutions including aggregates, cement, ready mix and precast concrete, asphalt and paving, and road and civil construction. With more than 6,900 employees and 400 sites across the country, the company provides green products to build the infrastructure and communities where Canadians live and work.
In collaboration with VMC and automotive dealer Pioneer Automotive Group, Lafarge Canada has identified a gap in the market offering within the work truck segment and selected a purpose-built, custom-upfit all-electric industrial vehicle – the VMC 1200. Designed as a versatile vehicle to excel in aggregates and production sites, even in the face of challenging weather conditions, this vehicle sets a new standard for sustainable transportation in the construction materials industry.
Lafarge Canada is deploying two all-electric VMC trucks in its British Columbia aggregates and ready-mix operations, signifying a shift towards sustainable transportation solutions. As Lafarge expands its fleet, additional VMC models will be integrated throughout 2024.
Lincoln Kyne, senior vice president, Lafarge Canada BC Market, expressing his pride in this initiative, states: "I am extremely proud of this industry-leading initiative with Vicinity Motor Corp., a company rooted in British Columbia. With a proven track record in producing reliable electric vehicles that operate across North America, I am excited for the opportunity to collaborate on the design of new models for our business lines in the coming years."
Brad Kohl, president and CEO, of Lafarge Canada (West), agrees, "The benefits of this electrification effort are twofold, delivering cost savings and contributing to a reduction in scope 1 emissions on site. Each VMC 1200 truck is estimated to reduce site emissions related to transportation by 6200 kg of CO2 annually, showcasing Lafarge's firm commitment to sustainability and its role in combating climate change".
William Trainer, chief executive officer of Vicinity Motor Corp., added: "We are thrilled to announce this new electrification partnership with Lafarge, Canada's largest supplier of sustainable and innovative building solutions. Our VMC 1200 is the ideal vehicle to help their team advance sustainable transportation and reduce carbon emissions in the Canadian building solutions sector – helping to create a better world for everyone. We look forward to working closely with the team at Lafarge to enable their electrification journey."
Lafarge Canada said it remains steadfast in its pursuit of sustainable practices in the construction industry. The electrification of its truck fleet represents a significant step forward in the company's goal of reaching net-zero emissions and accelerating green growth.