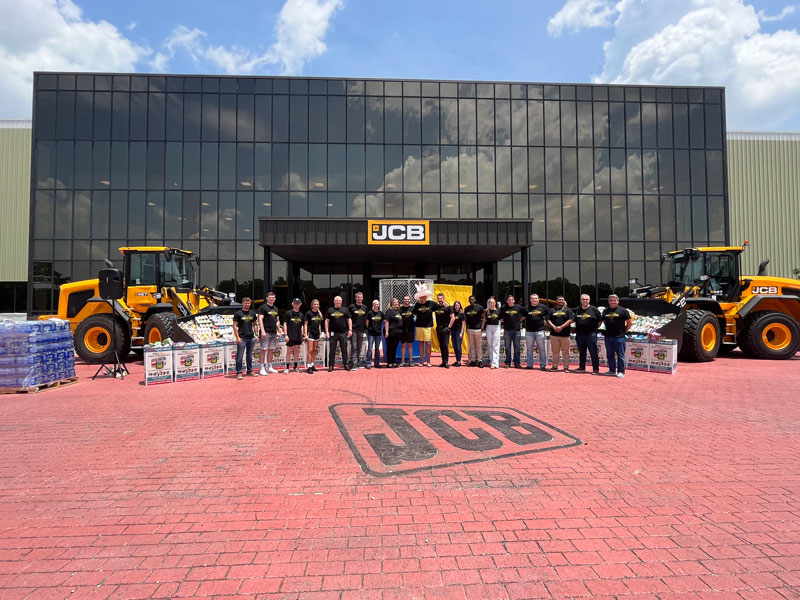 JCB recently held its annual food drive event, named "The Big Dunk" Benefitting America's Second Harvest Food Bank. The event was led by a team of JCB interns, fostering the company's culture of giving back and camaraderie. With the goal of collecting 1,500 items, their expectations were well surpassed with 18,000 total donations.
This year saw the introduction of a friendly competition to boost employee engagement and contribute to the food drive's success. Each JCB executive was given a box to fill with donations of non-perishable goods. In the end, the executive with the least number of items in their box was dunked into the water tank, while the one with the most was allowed to choose an intern to also be dunked.
"We're extremely proud of The Big Dunk food drive's success, the generosity of our employees and the hard work put in by our interns to make it happen," said Richard Fox-Marrs, president and CEO of JCB North America. "This event exemplifies the heart of JCB's culture, which values community, and good, healthy competition. The food drive not only allows us to give back in a meaningful way, but it also serves as a team-building opportunity for our summer interns, providing a real-world opportunity for them to learn the importance of teamwork, leadership, and social responsibility in the workplace."
"Our goal was to work efficiently as a team and give back to the community that is taking care of us while we are here for the summer and away from our families," said Hailey Medlin, marketing intern at JCB North America. "The Savannah community has become our temporary home and we're glad to be actively involved in giving back to this community, particularly with this record setting campaign."
JCB's North American headquarters is located in Savannah, Ga., in addition to 22 other manufacturing facilities worldwide. The company creates a diverse range of more than 300 products for customers in 150 countries. JCB's portfolio includes Loadall telescopic handlers, backhoe loaders, tracked and wheeled excavators, wheel loaders, compact excavators, skid steer loaders, compact track loaders, Access aerial work platforms, rough terrain forklifts and Fastrac tractors.