Here Are Three Companies Offering Equipment And Technology To Help You Deal With Water Issues.
Mark S. Kuhar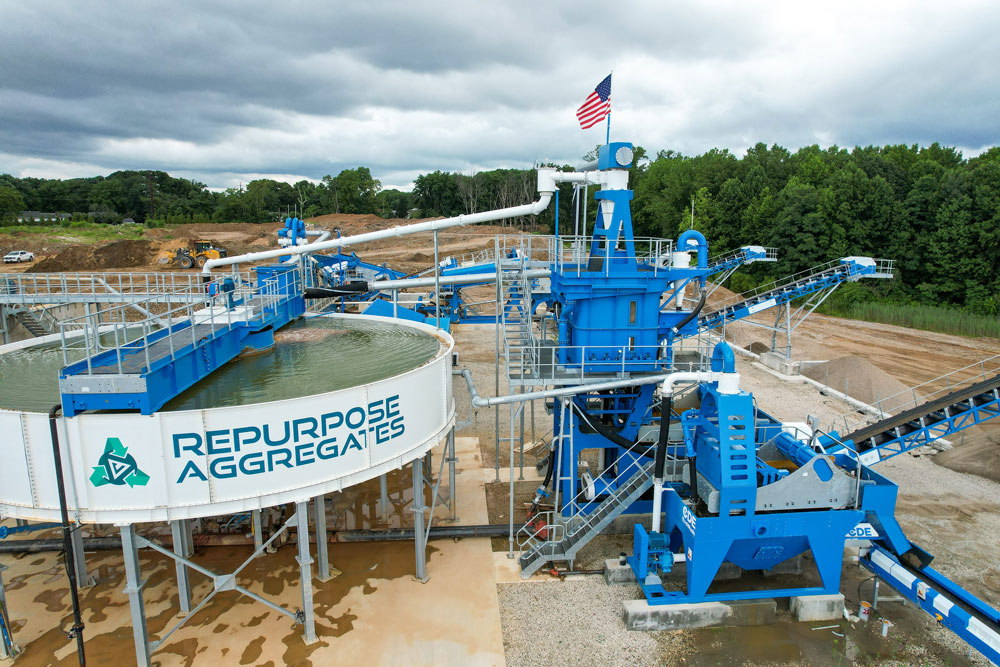 While the Western United States is making headway against years-long drought conditions – recent rains in California have helped stem the tide – aggregates producers will face long-term issues with water management, not just on the West Coast but also in many other parts of the country.
"The stakes have never been higher in our work to tackle the world's water challenges," Patrick Decker, president and CEO of Xylem, said. "As impacts from climate change intensify, water operators in utilities and businesses are leaning in to be part of the solution – embracing advanced technologies that improve the resiliency and sustainability of water systems at an affordable cost – all while lowering carbon emissions."
Here are some equipment and technology products available to aggregates producers.
CDE Showcases Next-Gen Water-Management Equipment
CDE, one of the leading suppliers of sand and aggregate washing solutions for the waste recycling and natural processing sectors, showcased its next generation of waste recycling equipment at ConExpo-Con/Agg and launched the latest addition to its range of Infinity high-frequency dewatering screens.
At its booth, CDE presented its top-of-the-range recycling solutions, including the next generation of its AggMax scrubbing and attrition system, Counter Flow Classification Unit (CFCU) for density separation, ShearClean attrition cells and EvoWash sand classification and dewatering plant.
The company also unveiled its new P2-168 Infinity screen. With a processing capacity of up to 700 tph it's the largest model in the range and has been designed specifically for the U.S. market.
Screens are the single biggest point of fatigue in the wash plant setup, but the unique construction of CDE's Infinity range makes them fundamentally different from other screens available on the market. With no welds in the sidewalls, a galvanized structure, and a VibroSync drive mechanism providing control and even distribution of power, they offer increased durability and prolonged operational life for advanced screening and dewatering performance.
The new P2-168 model brings all the benefits of the Infinity range to a new scale to support materials producers processing high tonnages. Benefitting from almost 17 sq. meters in surface area the screen decks are reinforced at the center point which serves to strengthen the screen and provide the operator with the flexibility to produce up to six in-spec products simultaneously.
CDE Director Darren Eastwood said, "The latest upgrades to our AggMax, CFCU, ShearClean and EvoWash systems – staples of our next generation of recycling solution – represent the very best of CDE engineering excellence. The future of waste recycling is here. We've proven the consistency of our technical processes and the profitability of the commercial investment, learning from our success around America and Canada over the past five years. Our suite of products is helping both sand and aggregate processors as well as excavation producers to transform dirt into dollars with more efficiency and less waste than ever before," Eastwood stated.
CDE's AggMax is engineered to operate in the toughest conditions, maximizing product yield from the most abrasive of feedstocks thanks to the unique spiral alignment of its paddles. Combining feeding, scrubbing, screening and sizing on one chassis, the AggMax is capable of producing a variety of materials at the high processing rates demanded by the U.S. market.
CDE's third generation AggMax 253SR, the latest in the range, has undergone significant improvements to its chassis. Greater modularization enables operators to integrate additional equipment from across the CDE range in line with future commercial needs. Improved access to pumps and other critical components also allows for easier observation and maintenance, minimizing the need for servicing downtime.
CFCU technology allows for effective separation of two materials of differing relative densities. With a variable cut (separation) point, it offers greater control over sand classification providing complete flexibility for the production of various end products and the removal of lightweight contaminants from the fine material fraction.
The latest CFCU 300 model is the biggest in the range and includes CDE's newly developed dart valve, offering improved control of the underflow discharge for a consistent material cut point and optimized throughput.
An all-in-one sand washing, classification and dewatering system, the EvoWash uses hydrocyclone technology to deliver unparalleled control of silt cut points and increases product yield. The EvoWash 201 is one of the largest in the CDE range and is capable of processing around 200 tph of feed material.
ShearClean Attrition Cell technology further enhances the washing process by providing efficient contaminant removal through consistent material scrubbing. It maximizes material-on-material impact to both protect downstream processes from wear and ensure the production of in-spec products. The latest DS120 model is developed for high tonnage operations, offering twice the scrubbing volume as its predecessor, the DS60. CDE, www. cdegroup.com
---
Eagle Iron Works Expands End-to-End Washing Equipment Line
For more than 150 years, Eagle Iron Works (EIW) has offered customers reliable, high-quality equipment to handle their washing and classifying applications. Recently, EIW expanded its end-to-end washing equipment line to give producers access to not only a full range of washing and classifying equipment, but also access to equipment for managing the resulting waste stream. The development of EIW's new Hawk Fines Recovery Plant along with its recent partnership with Diefenbach will prove to be a valuable addition for new and existing customers, the company stated.
EIW Hawk Fines Recovery Plant
To meet the needs of the industry, Eagle Iron Works expanded its product line with the introduction of the Hawk Fines Recovery Plant. The Hawk is composed of a sump, pump, cyclones and dewatering screen in a compact, modular design. 
It can be used as a stand-alone solution for fines recovery or used as part of a larger tailings management system. This fines recovery plant captures ultra-fine solids from process water in the waste stream and discharges a drip-free material that is stackable and conveyable. The recovered material could potentially be sold as backfill or pond lining, which can add an additional revenue stream to your site.
The Hawk will also help to reduce the amount of solids that go to the settling pond, reducing the frequency that ponds need to be cleaned out and as a result reducing labor and equipment costs. In areas where water is scarce or expensive to buy, the Hawk Fines Recovery Plant offers a first step in preparing the waste stream for water recycling in downstream equipment such as thickeners and filter presses.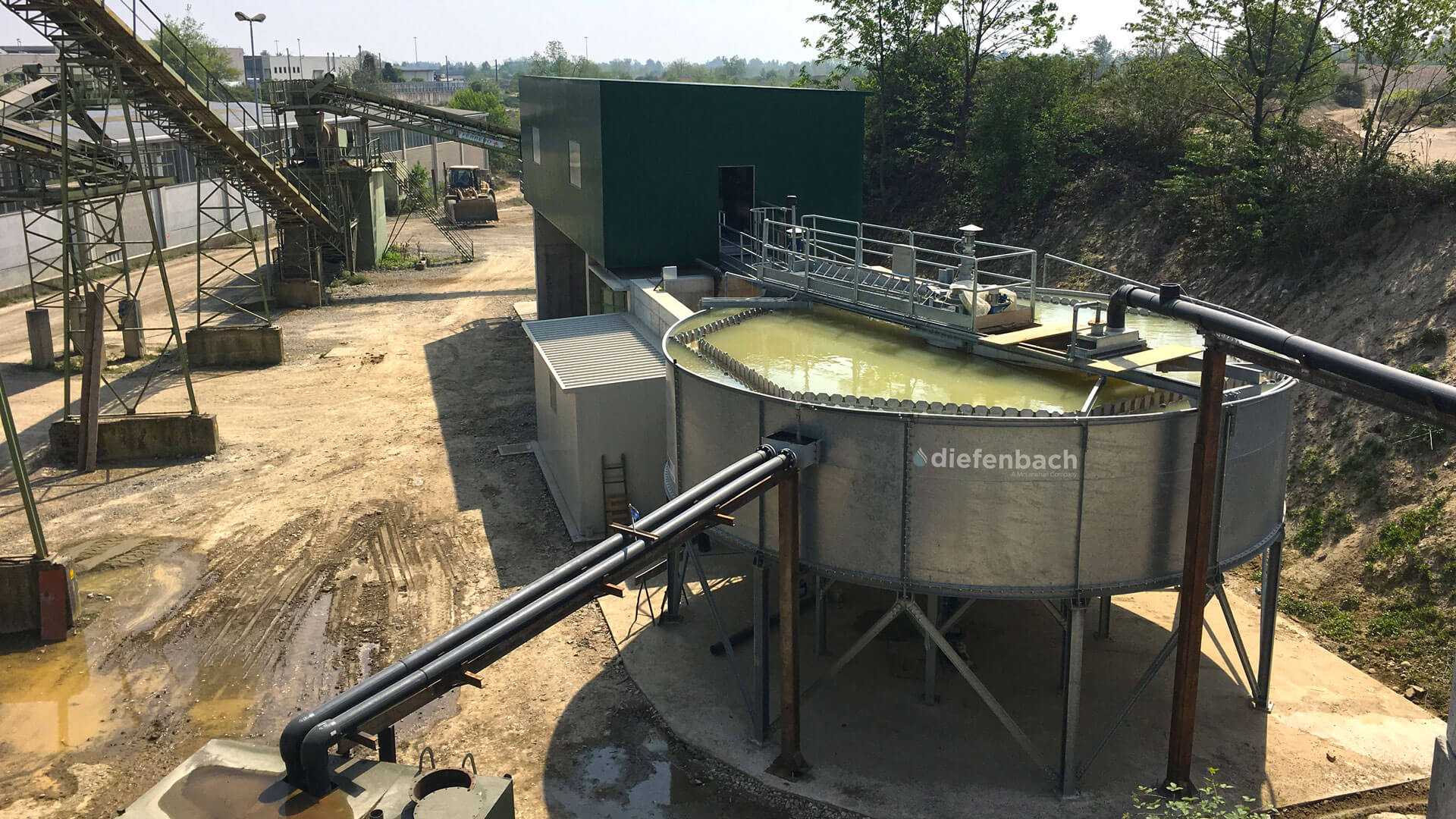 Diefenbach Partnership 
Eagle Iron Works has partnered with Diefenbach to offer a proven line of thickeners and filter presses to EIW customers who are looking to purchase a complete tailings and water management system from one vendor. Diefenbach's range of thickeners and filter presses will help customers recover reusable process water from the waste stream and therefore lessen the burden on ponds, reducing pond size as a result. 
As the focus on sustainability and recycling water from industrial processes becomes more and more prominent on a global scale, Diefenbach is a great partner to allow EIW to expand its offerings in this space. With this new partnership, EIW can now offer the complete package of end-to-end washing equipment.
Diefenbach has been a leader in liquid-solid separation in a wide range of industries since it was founded in 1907. In its early operation, Diefenbach was focused on producing filter presses for the olive oil industry but later expanded into the recycling and filtration of industrial wastewater.
Today, Diefenbach has sold thousands of filter presses and has gained extensive experience in manufacturing and selling this equipment for the mining and aggregate industries. In addition to the aggregate and mining industries, Diefenbach manufacturers filter presses for industries such as chemical production, food and beverage processing, battery recycling, PET recycling, wastewater treatment and more.
Diefenbach will continue to operate as an independent brand in the marketplace, focusing on its core industries and markets around the world as well as supporting its customers in these core industries and regions.
Thickeners
Diefenbach thickeners can be used to recover immediately reusable process water in a wide range of applications, such as liquid-solid separation in mining and aggregate processing applications. 
Thickeners can be used to concentrate and thicken solids in the waste stream to help reduce the volume of slurry going into the settling pond. They can also be used to reduce freshwater requirements by recovering process water that can be reused for washing in the wet plant.
This is beneficial in areas where the water supply may be dwindling, or water is costly. Diefenbach offers a range of elevated high-rate thickeners and paste thickeners that are process engineered for the application based on materials testing done in Diefenbach's in-house lab.
The process of recovering water from a thickener begins when slurry feed enters the Thickener and is mixed with a flocculant, or other chemical polymer, to allow the solid particles to cluster, gain mass and settle to the bottom of the tank.
The rotating rake mechanism moves these settled solids toward the discharge cone located in the center of the tank. They are then discharged from the bottom of the tank. The clear liquid portion overflows a weir surrounding the top of the tank to be used as process liquid in the wet washing plant or sent for further downstream processing.
Filter Presses
Filter presses offer the highest level of liquid-solid separation without using chemicals. They are used to process a wide range of materials for a variety of industries, including dewatering and filtration in liquid-solid separation applications. Filter presses generate a solids product that is drip-free and easily transported with mechanical handling equipment. They also generate an immediately reusable process water. 
Diefenbach offers a range of overhead beam filter presses, side beam filter presses and hybrid filter presses that combine the features of both the overhead and side beam filter presses.
Filter presses are composed of a heavy-duty support framework holding a series of polypropylene plates that are lined with a synthetic filter cloth. When the plates, which are recessed on each side, are tightly pressed together with hydraulic pressure, a void space is created between each surface.
A high-pressure pump is used to fill the chambers between each plate with slurry. The solids are then trapped on the filter cloths, allowing the liquid to flow through the cloth and discharge through the filtrate ports of each plate and into a storage tank. The drip-free solids then discharge when the plates are opened at the end of each cycle. Diefenbach Filter Presses are dual feed and feature a variety of filter plate configurations as well as an auto-wash system that helps extend the life of the filter cloths.
The newly expanded product line as well as its partnership with Diefenbach to offer a line of thickeners and filter presses goes hand in hand with its already established washing and classifying equipment. EIW is excited to continue meeting the needs and demands of its customers with this new addition of tailings and water recovery equipment. Eagle Iron Works, www. eagleironworks.com
---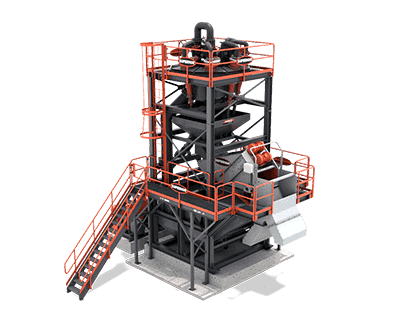 Superior Offers Spirit Sand Plant; Aggredry Washer
Superior Industries' Spirit Sand Plant is a pre-packaged washing system that combines a series of cyclones and dewatering screens. When it comes to application, Spirit Sand Plants are closely aligned with sand screws.
Alternative to a fine screw, however, these modular washing towers require less real estate and are typically more efficient with their cut point (specific particle size at which a separation of material occurs). Spirit Sand Plants work best when their feed is unchanging and steady, while sand screws are more forgiving to variable feeds.
Applications include sand, fines recovery, concrete, crushed rock and manufactured sands.
Advantages include:
Easy To Assemble – The plant features bolt-together, pre-plumbed pipes and pre-installed wiring components for faster installation.
Helix Cyclone(s) – Geometrically efficient design improves classification, prevents short-circuiting, and reduces wear during operation.
Dewatering Screen – Unique sidewall media remove moisture from the top and sides of the material bed, which achieves a much drier product.
Sump Tank – An Internal baffle reduces turbulence to ensure consistent and uniform flow.
Superior also offers the Aggredry Dewatering Washer. The Aggredry Washer is a combination wet screw and dewatering screen and can be used anywhere a fine screw might be used. The added benefits of dewatering and fines recovery pay back your investment much faster than a traditional screw.
While material moves through an Aggredry Washer's screw section, clays, dirts and fines are separated before the good sand moves to an attached dewatering screen. Here, any fines lost during screening are flushed back to the screw.
This patented jet is constantly reclaiming and preventing valuable material from ending up in your waste pond.
Sand discharges from the end of the Aggredry Washer with a moisture content as low as 8% (compared to 15-25% from a traditional screw) and is instantly available to sell. Superior Industries, www.superior-ind.com