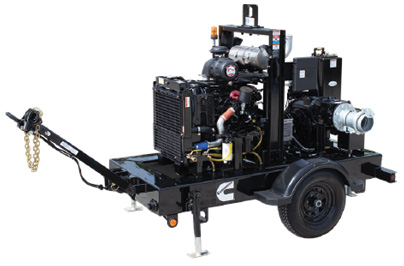 Cummins Inc. announced the availability of two new dewatering pump solutions for use in construction, oil and gas, agricultural, mining, water and wastewater environments. The QSF4X4 and QSF6X6 offer customers a fully finished pump for use in their operations powered by Cummins' QSF2.8 engine.
"The new pumps are a culmination of many hours of customer research. Product reliability and uptime are very important to them, so we have developed a robust package that is backed by Cummins strong support network," said Greg Totin, Cummins industrial sales director.
These pumps are built with a heavy-duty cast-iron construction and produced on a fully towable trailer for ease of transportation. They are able to self-prime when filled with water, and re-prime automatically. The Cummins QSF6X6 is designed for moderate flow rates up to 1,430 gpm and can handle heads up to 104 ft. The Cummins QSF4X4 supports flow rates up to 1,350 gpm and can handle heads up to 135 ft.
Cummins QSF2.8 engine, which powers the pumps, is available for industrial applications at 74 hp in compact envelope size. It uses proven Cummins fuel injection, turbocharging and electronic control technology to deliver a peak torque of 221 lb-ft, while meeting near-zero emissions Tier 4 Final emissions. The sculptured cast-iron block, give the 2.8 liter engine durability with a low weight of 507 lb.
"They new pumps are compatible with our telematics services to help maximize availability and efficiency while minimizing downtime," added Totin.
Cummins, www.cummins.com