Business leaders across all sectors, including construction materials, are still navigating the tough environment of high inflation and labor shortages. But materials price increases and a construction backlog bode well for the market, according to the latest edition of The Pulse, the quarterly economic report from Allen-Villere Partners and Rock Products.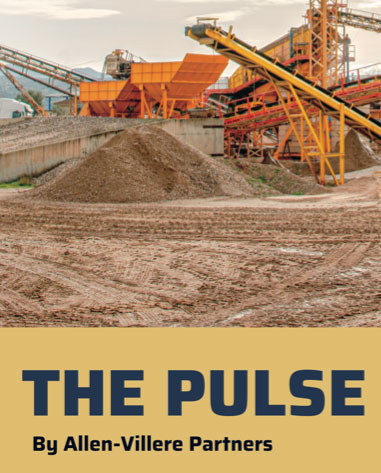 The Pulse is the construction-materials industry's premier economic report, focusing on the most current data points; aggregates and ready mix concrete demand; and insightful market analysis.
"Despite the fears that the recent, and well-contained, banking crisis could push us further towards a recession, I stand by my previous prognostication: no recession for the construction industry," stated Pierre Villere of Allen-Villere Partners, the lead author of the report. "The only moderation to my view is the black swan event of the Silicon Valley and Signature Bank failures, which spooked financial markets that are still too gun-shy just 10 short years since the end of the Great Recession. This is the time for Jay Powell and his Federal Reserve to shine, and balance his inflation fight against the tumult that higher interest rates are driving."
You can sign up to receive The Rock Report, the construction-materials industry's only quarterly economic e-newsletter here. Anchored by The Pulse, The Rock Report is a one-stop shop aggregating the latest economic stories and markers impacting the construction-materials market.