According to McLanahan Corp., frac sand plants can be engineered in many configurations, including high-capacity multi-stage classification and long attritioning cycles, or the plants can be as simple as skid-based cyclones and dewatering screens making a 140 mesh cut.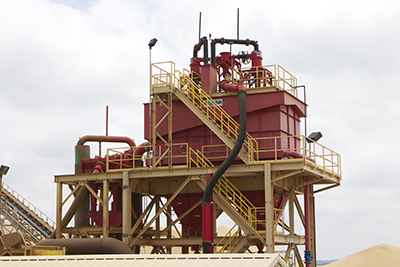 The final design of a plant will depend on the nature of the deposit and desired products. However, these decisions can also be influenced by downstream processing in the dry plant.
Before making the investment in a deposit or plant, it is necessary to test the deposit to see if it meets the American Petroleum Institute's (API) requirements for frac sand.
Every sand deposit that will pass API testing still requires some form of processing to create fractions for drying and discrete sizing into the final frac sand products used in the field. The equipment is applied as appropriate in a complete system to benefit the yield from the deposit and the quality of the products being produced.
If your sand has been tested by an accredited lab and meets the API frac sand requirements, McLanahan can begin designing your plant immediately. If your sand has not yet been tested, its in-house laboratory can perform sieve analysis, as well as attrition and turbidity testing. For other API accredited test work, McLanahan can arrange for an accredited lab to perform the complete range of tests.
Access additional content here.