Students always leave some mark on the schools they attend. But at Stonewall Elementary School in Clear Brook, Va., this mark will now be more literal than most. In a new tradition, graduating fifth graders will put their handprints on a 7-ton limestone boulder at the entrance to the school, alongside the handprints of faculty and staff.
This new rite of passage is made possible by the neighboring Carmeuse Winchester operation, which donated the boulder as part of its ongoing positive relationship with the school.
"Our continued work with Carmeuse Winchester has helped to create lasting impressions for our school community," said school principal Mark Weisbrod. "Their coordination and donation of the boulder has allowed us to start a new tradition linking students and staff for years to come."
The donation was coordinated by Chris Spiker, quarry manager; Dillon Clark, production supervisor; and Logan Thompson, site operations manager at Carmeuse Winchester. It was supported by two other local companies, who came together with Carmeuse in a true community effort. Pine Knoll Construction donated the stone hauling, while W.O. Grubb Crane Service donated the crane used to set the stone.
"Stonewall Elementary is always thankful for the community partnerships that serve to support our school," continued the Stonewall principal, "and working with Logan Thompson and his team is always a pleasure."
It is a pleasure reciprocated amongst the Carmeuse employees.
"The Carmeuse Winchester team is proud to have played a part in starting this awesome new tradition at Stonewall," said Thompson. "Mark and his team did a great job with the finished product. That stone will sit proudly at the entrance for decades to come."
The boulder donation is the latest act of a continuing commitment to community partnership by the Winchester operation. Most recently, in September, the quarry donated 110 tons of crushed stone to the Locust Grove Cemetery to enable the historic African American burial ground to pave the dirt driveway there.
Established in 1880, the Locust Grove site relies on the support of local volunteers to maintain the property and properly memorialize those buried there. For its entire history, the driveway has been dirt and grass – but recently the cemetery took on the task of changing that.
Partnering with a local paving company and the town of Stephens City, the cemetery also reached out to Carmeuse for support. After a meeting between the Carmeuse plant leadership and Locust Grove team, the company was proud to be able provide the crushed stone needed to complete the project on schedule and within budget.
The donation was coordinated by Thompson and Winchester-site Aggregate Coordinator Gina McCarty. Carmeuse representatives also took the time to visit the site during the installation of the stone.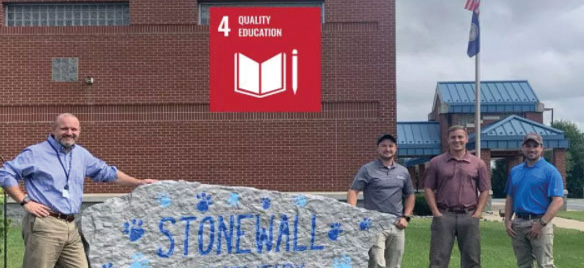 Pictured from right are Mark Weisbrod, principal at Stonewall Elementary School, and three Carmeuse employees, Chris Spiker, Dillon Clark and Logan Thompson.