A Five-Point Guide To A Successful Crusher Wear Strategy.
By Eric Jones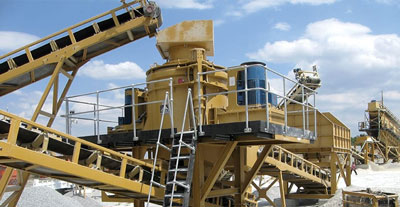 When it comes to the success and reliability of a process, your servicing and spares strategy is critical.
Crushers are designed to ingest and break some of the most abrasive materials on earth – to the detriment of their internal wear parts. Engineered to operate on the front-line, they perform within some of the harshest environments.
When we sell processing equipment to mines and quarries, we often find it is classified as "mission-critical" – meaning the failure of this machine can stop the production of the entire site.
The availability of high-quality wear parts can be the difference between the success and failure of an entire project. Here are some key points you should consider when designing a spares and wears strategy.
Material: Focus on the Recipe, Not Individual Ingredients
The combination of materials used in crushing parts plays a critical role in their success or failure when installed.
Manganese is a favored alloy for those operating cone and jaw crushers due to the material's work-hardening properties. As rocks meet the outer layer of the manganese its exterior toughens, while its interior remains soft.
This combination of toughening exterior and flexible interior means the part is harder to wear down during typical operations and can navigate higher impact blows.
Shape is Key
The shape of the jaw crusher wear parts often determines if the jaw die will experience equal or unequal wear throughout the plate, impacting the overall efficiency of your crusher.
The mold, which also includes the tooth profile, must be designed for your application and the material you are crushing.
The tooth pattern must be designed to properly grip your chosen feed, enabling your crusher to process the material as efficiently as possible. This is a fine balance as the die must offer enough wear material to ensure the maximum life of the part, while keeping weight to a minimum and safeguarding against excessive wear material, which reduces the overall capacity or closed side setting of the crusher.
The shape of the valleys between each tooth must be carefully considered. If the shape is not suited to your application, rocks can become lodged, clogging your die and putting the crusher under undue stress during operation.
In addition to evaluating your application, the team at Weir Minerals and ESCO can examine your worn parts and recommend different jaw features and customizations, which could increase wear life, boost production, ensure even wear, or alter your product size. These wear parts will be designed using your old part's successes and failures and made specifically for you.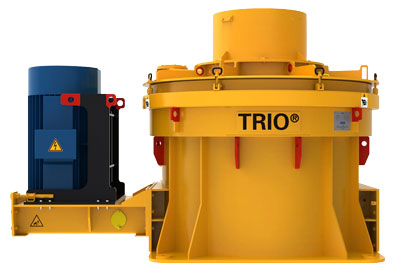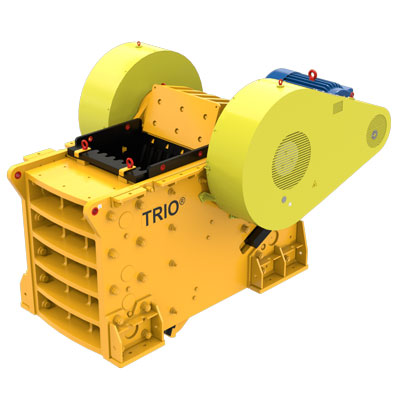 Unlocking Your Crusher's Capabilities
Customers are often surprised when they find their crusher has untapped potential.
Take the Trio TV series vertical shaft impact crusher (VSI) for instance – a popular crusher when creating manufactured sand. The VSI is fed from the top, and the material is guided into a high-speed rotor.
It is then accelerated, application dependent to 45 to 75 m/s, and discharged into an "impact zone." In here it is broken along its natural fracture lines as it comes into contact with other feed material rebounding from the walls of the chamber or anvils installed inside the crusher.
Customers of the Trio TV series are always surprised when we discuss the product's flexibility. By simply switching your wear-part combinations, this crusher can easily interchange between three different crushing chamber configurations:
Steel on Steel (SOS) effective when crushing larger nonabrasive materials, in secondary and tertiary crushing applications.
Rock on Rock (ROR) useful when crushing abrasive materials, in tertiary and quaternary applications where additional fines are desired.
Rock on Steel (ROS) configurations are recommended when crushing low abrasive materials, in tertiary and quaternary applications where a higher rotor speed is necessary to produce additional fines.
Speak with your original equipment manufacturer and better understand the capabilities of your product. Often by switching configurations, existing equipment can be repurposed to offer a pathway to creating a completely new income stream for your site.
Time
Time is the easiest factor to understand and the one which most struggle to optimize.
We've noticed an increasing trend where some cone crusher operators choose to replace mantle and cone liners at different times – often because one is wearing faster than the other.
We realize that operators must ensure they are using each part to its full potential, however our recommendation is simple; work with your supplier to re-evaluate your process and identify parts which wear at the same rate – or find someone who can.
Mantle and cone liners must be changed at the same time – it is the only way to ensure the parts match upon commissioning and reduce the risk of part failure, while keeping servicing stoppages to a minimum.
The successful timing of servicing windows is crucial. Think about a Formula One race team for example, strategizing their tire and fuel stops – too early and you have not maximized your part's potential, too late and you put your equipment at risk.
It is very important to understand the limitations of your part while monitoring wear rates. Work with your supplier, take the time to understand all factors at play and reap the rewards when you're able to fully optimize your maintenance schedule.
Supply – Can You Get What You Need When You Need It?
The final factor is one which I cannot emphasize enough – partner with a company you can count on.
At Weir Minerals we realize that maintaining the reliability of operations is of key importance to our customers. All Weir Minerals equipment is fully supported by our unmatched global service center network – operating in 70-plus countries around the world.
In addition to the expansive knowledge, expertise and local support provided by our service network. Our teams are equipped with some of the best spare and wear parts, manufactured using the most technologically advanced wear-resistant material in the market.
We take the time to visit and understand your site. We make sure your parts are available when you need them, and that you have the support on hand if help is required.
Eric Jones is global service director of comminution aftermarket for Weir Global.