Robit button bits such as the Rbit Button Bit Series are manufactured with recyclable 100% green steel. Consistent top quality is guaranteed by fully automated production lines. Rbit is also finalized with eco-friendly water-based paint.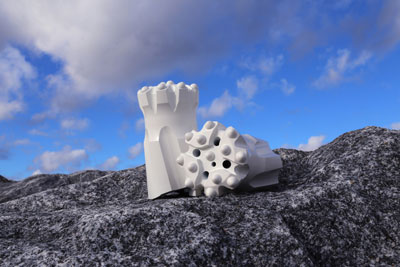 "With the Rbit, our commitment is to help our customers to reduce the total drilling costs by achieving faster rate of penetration and the lowest cost-per-meter," the company stated.
The Rbit features:
Optimized button layout configuration of the Flat Face to ensure maximized rock contact and energy transmission.
A new transition face was developed in both Flat Face and Drop Center to improve the transfer of percussion energy into the rock.
Enhanced flushing design, now available in Flat Face and Drop Center, delivers even faster rate of penetration.
Redesigned wider retrac grooves that allow more space delivering a better flow for the cuttings.
Heavy Duty models are now available in both Flat Face and Drop Center.
"All of our new high-quality Rbit drill bits have been designed with state-of-the-art Computer Fluid Dynamics (CFD) simulation. Moreover, field tests globally have demonstrated clear evidence of a superior drilling performance which our technical simulation had already guaranteed," the company said. "With Robit's new Rbit, we have found yet another way to deliver excellence to our customers worldwide."
Robit, www.robitgroup.com