Developed in response to evolving customer needs and expectations, John Deere launched its Performance Tiering Strategy, delivering a range of products at different levels of capability and user experience.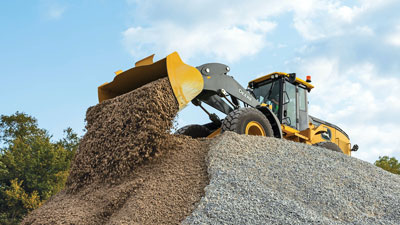 Available first on the wheel loader lineup, the Performance Tiering Strategy supports customers by providing machine solutions built for various applications and jobs to enhance profitability and efficiency. Moving away from the traditional series letter designations, the Performance Tiering Strategy provides three tiers of machines – G tier, P tier and X tier.
"Every job site is unique, and customers want machine solutions that can be personalized to meet their diverse needs, including performance, price and comfort," said Jason Daly, global director, production systems, technology and marketing, John Deere. "By offering three tiers, customers can move up or down the spectrum to find the right mix of features, performance and innovation for their business and application."
The Performance Tiers are defined as:
Adding a premium edge, the X-tier models are built with the most innovative John Deere technology and features, delivering the highest levels of productivity, efficiency and customer experience.
P-tier models can be counted on to produce at high levels, day in and day out. Advanced features deliver exceptional performance, efficiency, comfort and service life in demanding, high-production applications.
The G-tier models are practically equipped and economical, providing proven capabilities with the reliability and ruggedness expected from John Deere. These machines are ideal for customers in need of a reliable machine to complete common light- to medium-duty tasks.
Deere & Company, www.JohnDeere.com