Sandvik Mobile Crushers and Screens continues to drive the sustainability shift in the crushing and screening industry with the launch of the fully electric UJ443E heavy jaw crusher, ideal for the mining, quarry and contractor segments.
The Sandvik UJ443E is built upon a new 'fully electric' track platform and features high quality, reputable componentry throughout, as well as the latest generation Sandvik CJ412 jaw crusher. Its new modular feed station includes a larger hopper, two feeder options with larger grizzly cassettes and an optional under screen for greater natural fines extraction before crushing, allowing operators to optimize their process flow depending on feed conditions and material.
Capable of operating in the most hostile environments, the UJ443E is designed for hard and abrasive rock applications. This unit is one of the most versatile and sustainable heavy-duty, mobile primary jaw crushers available today, according to the company.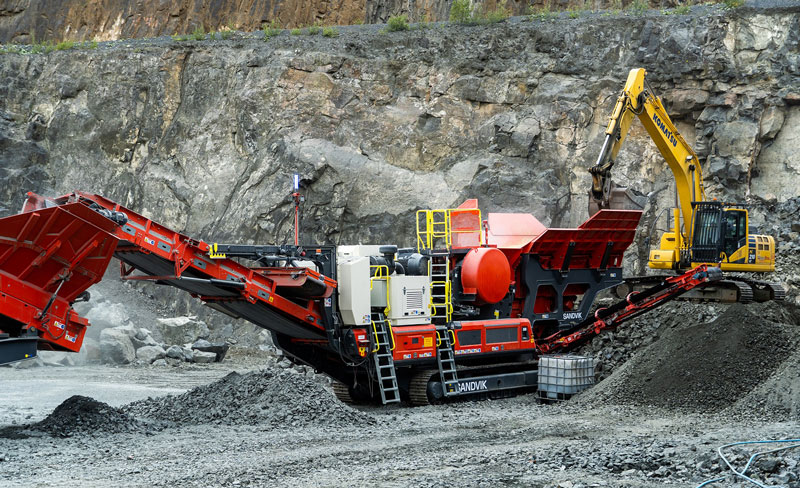 A Sustainable Solution
Aligning with Sandvik's "make the shift strategy," the UJ443E has been designed with an increased focus on sustainability, productivity, and durability, whilst retaining the look, feel and value proposition customers' demand. The fully electric UJ443E provides customers with up to 30% reduction in fuel consumption and up to 30% increase in throughput* versus previous generation products.
It features electric final drives and an onboard genset, meaning it can be operated in a more sustainable way, being powered by either an external electricity supply, HVO or diesel from the onboard genset. Operating whilst connected to the external electric source can bring several advantages, including lowering running costs, extending drive train service intervals, reducing time spent refueling, reducing onsite emissions and lowering noise levels. The fully electric track drives also decrease the use of hydraulic oil on the plant by up to 91%.
The UJ443E features a 125Amp downstream connection which allows customers to operate a downstream plant such as a screener or scalper, providing up to 20% decrease in fuel consumption compared to running separate units.
Breaking Boundaries
The UJ443E offers a user-friendly mobile solution, manufactured using the highest quality components onboard, with controls and maintenance points located conveniently at ground level.
To minimize downtime and maximize the uptime, UJ443E is quick to set up and close-down and is equipped with a new and unique crusher unblock system to clear any blockages from the jaw crusher.
UJ443E comes with improved access to maintenance, including new access platform under and a newly designed automatically locking folding hopper sides, that can be operated from ground level.
The new automation system with Optik intuitive user experience, includes simplified operation controls and total integration with our My Fleet telematics solution. Diagnostic support, pre-installed guides for troubleshooting and real time information allows customers to know exactly how their equipment is being utilized.
Sandvik, www.rockprocessing.sandvik