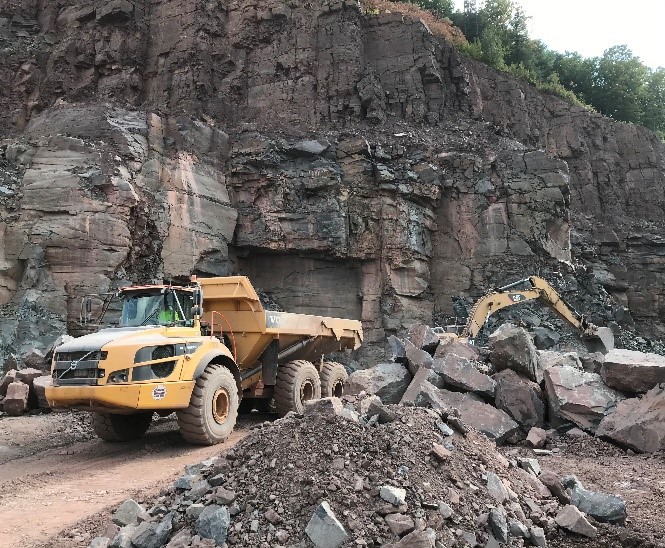 Carver Sand & Gravel LLC, a quarry in the state of New York, has signed the first ever subcontract for procurement of rock for a U.S. offshore wind farm with Great Lakes Dredge & Dock Corp.
Great Lakes will use the rock to provide scour protection for offshore wind turbine foundations, and substations at Equinor and bp's Empire Wind I and Empire Wind II wind farms.
The rock will be quarried locally, transported to the quayside on the Hudson River and loaded onto Great Lakes' rock installation vessel, the Acadia, which will sail to the wind farms to install the rock starting in 2025.
Great Lakes and Carver will be developing the first U.S. rock supply chain for offshore wind, including the quarry producing the rock, the stockpiling and transportation of the rock to the quayside, the port and loading facilities that will load the rock installation vessel, and other facilities along the Hudson River that will help guide the vessel in the riverway.
Eleni Beyko, Great Lakes' senior vice president, U.S. offshore wind, commented, "This is a significant milestone for Great Lakes, our clients, Equinor, and bp, as well as Carver. We have worked closely with Equinor and bp to develop this rock supply chain for the Empire Wind projects to deliver local content from the State of New York. With safety and quality as our top priorities, we will be supporting the local communities by creating local jobs and stimulating economic activity in the state of New York."
"The subcontract between Great Lakes and Carver is a great example of how New York's offshore wind projects, such as Equinor and bp's Empire Wind, continue to drive industry firsts with major investments in existing New York businesses and workers that will build the American offshore wind supply chain providing a huge win for all involved," said N.Y. State Energy Research & Development Authority President and CEO Doreen M. Harris.
For over 30 years, Carver Companies fundamental belief has been to provide unparalleled service all while maintaining our values of honesty and integrity both on land and sea. "We pride ourselves on our unmatched logistics services and superior products to our customers, partners and tenants. We work hard to inspire our diverse, well-rounded workforce and management team to always perform at the highest levels of safety and professionalism," the company stated. "Carver Companies has a long-term vision of growth that will transform the way our clients respond to challenges. We become your partner in comprehensive project management. We provide resources unlike any other organization, and in turn can respond quickly to our client's needs, no matter how unique."