The year 2022 marks 150 years of business for Eagle Iron Works (EIW), during which time they have offered customers reliable, easy-to-operate equipment for washing and classifying applications. During AGG1 2022, EIW will showcase how reaching this significant business milestone has given them the expertise needed to optimize processing solutions to fit a customer site.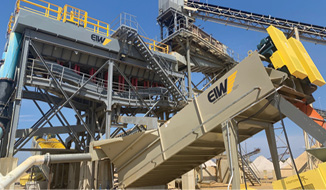 As part of its 150th anniversary celebration, EIW will be hosting special giveaways in its booth throughout the show, as well as hosting a celebration for their customers, dealers, and industry friends during AGG1.
Additionally, EIW is excited to present its first session during the AGG1 Academy. Together with representatives from their dealers Dibble Equipment and Process Machinery Inc., EIW will be hosting Choice Matters: When and Where to Use Wash Equipment. This session will cover key information on why there isn't a one-solution-fits-all approach to washing and the importance of working with a partner that will recognize your unique washing needs.
EIW has provided aggregate-processing solutions for more than 150 years. Stop by booth #1539 during AGG1 to learn more about how they can support your washing needs with their durability, service and support.
EIW, www.eiwllc.com