The First Part Of 2021 Has Seen A Flurry Of New Product Introductions. Here Are A Few.
By Mark S. Kuhar
Equipment and technology are the lifeblood of the aggregates industry. While 2020 saw the industry putting the brakes on new product introductions, 2021 has started with a bang. Here are a few of the most recent.
---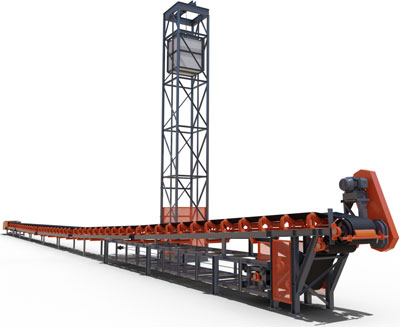 Superior Industries
Superior Industries Inc. launched a new model of its popular Zipline Overland Conveyors. The new EXT Series expands the range of the modular conveyor product line for longer and wider material handling applications.
Zipline Conveyors target bulk producers looking for overland conveyors that require little or no pre-engineering for express deliveries and are designed for quick assembly in the field. Today, with the addition of the new EXT Series, Zipline Conveyors are available in lengths up to 2,500 ft. (762 m) and belt widths up to 48-in. (1,220 mm).
Between the head and tail are a series of 40-ft. (12.2 m) intermediate sections designed with an 8-in. (200 mm) channel and 2-ft. (610 mm) tall support stands. Standard Zipline Conveyor models are equipped with mechanical take-ups for shorter distances, but the new EXT Series includes a gravity take-up tower to accommodate longer-distance overland conveying.
All of the conveyor components – like the pulleys, idlers and scrapers – are also manufactured in-house. This unique advantage means higher quality, faster deliveries and all-inclusive support from Superior Industries.
Superior Industries, www.superior-ind.com
---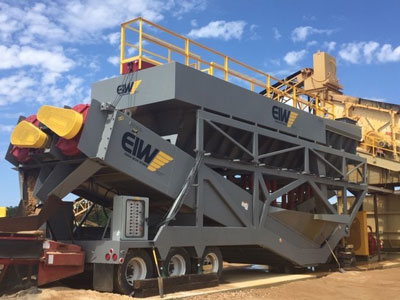 Eagle Iron Works
Eagle Iron Works (EIW) has offered customers reliable, easy-to-operate equipment mounted on portable chassis to handle washing and classifying applications for many years to meet customer requirements. Now EIW has introduced its Eagle Trek line of portable wash equipment, which includes the same well-known solutions and proven Eagle equipment designed into a standard array of sizes.
If your site is looking to produce aggregates to specifications using a highly compact, quick to set up, and easily moved unit, the Eagle Trek line has what you need, the company stated. Being able to move quickly from site to site means more time operating, which increases your productivity and profit. EIW is currently offering two standard portable lines available in a wide range of sizes depending on your need.
The first is the Eagle Trek TSP, which is an EIW classifying tank over top of a double screw washer. EIW's Water Scalping-Classifying Tanks and reblending controls have proven themselves through the years in many plants that continue to provide excellent results throughout the world. Combined with an Eagle Double Screw Fine Material Washer, two typical construction grade sand specification products can be made simultaneously.
The second unit, known as the Eagle Trek SSP, contains a horizontal screen and a double-screw washer. For the first time, this plant includes an Eagle triple-shaft horizontal vibrating triple-deck screen, which is able to size your washed rock products for direct stockpiling.
Integrating with an EIW CONDOR (standard) or Classic (optional) Double Screw Fine Material Washer, the Eagle Trek SSP can size and wash three aggregate products and one sand product.
Based on years of experience with portable plants, all Eagle Trek plants meet Department of Transportation requirements to be easily transported. All Eagle equipment means that you can work with Eagle dealers directly to receive complete service and support.
Eagle Iron Works, www.eagleironworks.com
---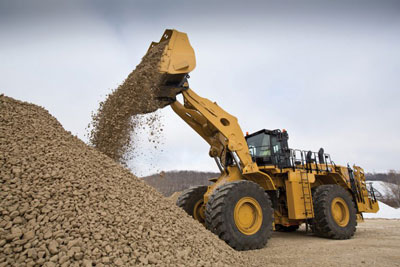 Caterpillar
The new Cat 992 Wheel Loader offers up to 32% greater productivity, according to the company. This new large mining loader reduces maintenance costs by as much as 10% and offers up to 48% greater payload-per-fuel efficiency than the earlier model 992K.
Powered by the new Cat C32B engine with U.S. EPA Tier 4 Final/EU Stage V and Tier 2 equivalent emission engine options, the new 992 meets the global industry's demand for high-production equipment with greater payloads. Powertrain design enhancements to the transmission, axles and final drive, along with the new engine, deliver a 20% longer interval for planned component replacement.
Offering both standard- and high-lift configurations, the 992 delivers the lowest cost-per-ton when paired with fleets of Cat 775, 777 and 785 trucks. Standard-lift payload capacities reach 25.5 tons for quarry face applications and 30 tons for loose material handling, while high-lift capacities reach 22.5 tons and 27 tons in respective applications.
A new Z-bar linkage optimized for performance, and improvements to rimpull and breakout force, deliver greater machine capacity and efficiency. The new 992 has demonstrated in field testing up to 48% greater payload-per-fuel efficiency in applications where a four-pass match to 90.7-tonne (100-ton) trucks was achieved, versus five passes with the 992K. The powerful and efficient 992 provides up to 9.5% more rimpull during digging and up to 20% more breakout force, increasing productivity.
Caterpillar, www.cat.com
---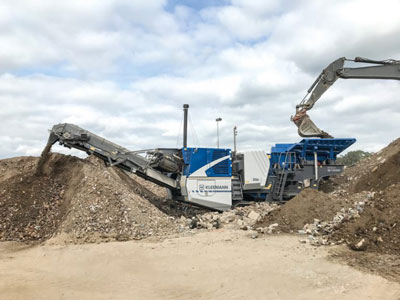 Kleemann
With the market launch of the new MOBICAT MC 110(i) EVO2, Kleemann presents a mobile jaw crushing plant of the new generation. The further development of the tried and tested predecessor plant offers users ground-breaking technologies for optimizing all areas of a typical workday.
During the development of the mobile jaw crusher plant MOBICAT MC 110(i) EVO2, Kleemann concentrated on the requirements of demolition and building companies, contractor crushers and quarry operators. With an hourly output of up to 400 tph, the new mobile jaw crusher meets the requirements in the medium output range. It delivers an impressive performance in a wide variety of quarry and recycling application, where the emphasis is on effective coarse crushing.
During the further development of the MC 110(i) EVO2, the development engineers from Kleemann in the main German factory in Göppingen placed the focal point on optimum transportability and a fast start-up. The transport height was reduced by 20 cm to 3.40 m. Relocation is now possible with simplified transport by means of semi low-loaders. The start-up procedure itself takes only around 10 minutes and includes set-up times for flaps, belts and feed hopper.
A special highlight of the MOBICAT MC 110(i) EVO2 is a new effective two-stage overload system. It effectively prevents blockages and material bridging that can lead to unwanted downtimes. If uncrushable material enters the crushing process, the CSS opens two times faster than with the predecessor plant or, as an option, even up to 40 times faster. This increases the availability and thus the overall output.
Kleemann/The Wirtgen Group, www.wirtgen-group.com/en-us/company/kleemann
---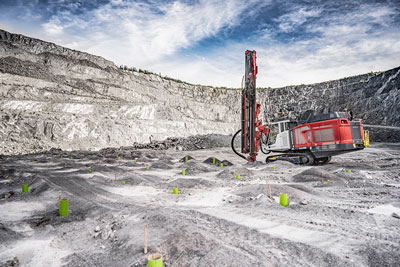 Sandvik Mining and Rock Solutions
Sandvik Mining and Rock Solutions introduced the Top Hammer XL, its latest innovation in surface top hammer drilling.
The new, groundbreaking drilling system, targeting large-scale quarry and surface mining customers, offers a faster, more fuel-efficient and more cost-effective way to drill holes 140 to 178 mm (5.5 to 7 in.) in diameter.
The components of the system – a new Pantera DP1600i drill rig, new RD1840C rock drill and new LT90 rock tools – are all optimized to work together seamlessly for exceptional drilling results. It is part of Sandvik's commitment to use engineering and innovation to make the shift that will drive safer and more sustainable business. In addition to excellent drilling results, it offers an effective solution to reduce fuel consumption and, ultimately, CO2 emissions.
This more fuel-efficient yet productive drilling method can help Sandvik customers grow their business in a more sustainable way, the company stated.
The efficiency of the new Top Hammer XL drilling system stems from the three components. The proven carrier offers a solid base for the extremely powerful rock drill that generates an optimum pulse for the effective tooling system, which in turn transfers the high-energy shock wave with minimum losses to the rock.
The Top Hammer XL system has been thoroughly tested and proven in several field tests by drilling more than 100,000 meters in challenging rock conditions. The test results in the given conditions show a 50% reduction in fuel consumption, 25% reduction in total drilling costs and 15% increase in productivity compared with the DTH drilling method.
Sandvik, rocktechnology.sandvik/th-xl
---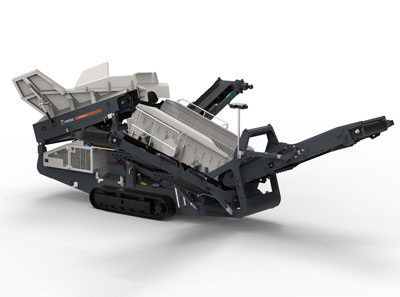 Metso Outotec
Metso Outotec added two new products to its Nordtrack mobile crushing and screening range. The Nordtrack S2.5 mobile screen is a small size, versatile scalping screen designed for small job sites and a variety of applications. With a compact and light-weight structure, a highly efficient two-deck screen, and a wide selection of different screening media, it is the perfect solution for construction contractors with frequent changes in site locations or simply as a rental unit.
The second new addition to the range is the Nordtrack I908 mobile impact crusher. Its design is optimized for the smaller-sized material reduction job sites, and it accepts different kinds of feed material – from asphalt recycling to concrete crushing, as well as traditional rock crushing. The same base model with an integrated screen on the chassis, the Nordtrack I908S, was introduced earlier, and it has been one of the best-selling Nordtrack units especially in Europe.
Both new products are already available globally through Metso Outotec and its distributor network.
Metso Outotec, www.mogroup.com/nordtrack
---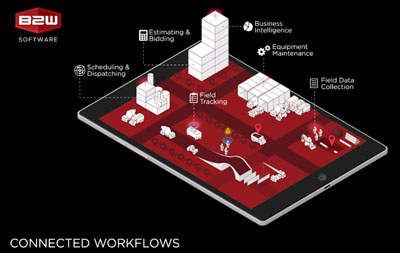 B2W Software
B2W Software delivers a differentiating approach for managing estimating and operations in heavy construction. Instead of fighting the limitation and liabilities of disparate software programs, contractors can establish one cohesive platform.
Unified construction management tools help them win more bids at better margins, schedule resources, track performance, maintain equipment and leverage data to make more informed decisions.
Connected B2W applications for estimating, planning and scheduling, field tracking, equipment maintenance and data capture and analysis.
A single source of unified operational data – such as employee, equipment and job lists – shared across applications.
Dynamic, real-time updating of operational data from multiple applications, with platform-wide visibility.
Mobile applications for project access, data input and collaboration from any location.
Enterprise-class architecture for advanced functions, reliability, speed and scalability.
Easy to deploy and compelling to use in construction environments.
Integration with accounting and construction project management systems.
B2W Software, www.b2wsoftware.com/products
---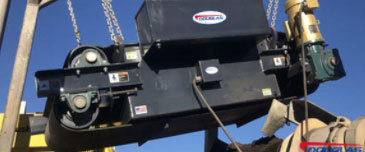 Douglas Manufacturing
The magnetic separator product line at Douglas Manufacturing consists of permanent magnetic separators, electromagnetic separators, magnetic pulleys and metal detectors. These products are manufactured to meet and exceed all relevant industry standards and engineered to protect expensive processing equipment while effectively removing ferrous metals.
Permanent and electromagnetic separators, available in both self-cleaning and manual cleaning models, as well as heavy-duty and super duty field strengths, separate tramp ferrous metals from the conveyed material. They are suspended above the belt and pull tramp metal up and away from the belt effectively and efficiently.
The self-cleaning model discharges captured ferrous metals safely away from the conveyor, and this means customers can be assured of a cleaner product with little to no ferrous metal contamination.
The most popular and bestselling separators are:
Self-Cleaning Permanent Magnetic Separator (CBM – Standard Power or CBX – Super Power).
Standard Manual Cleaning Permanent Magnetic Separators (HMG – Standard Power or XMG – Super Power).
CEMA class Permanent Magnetic Head Pulleys (PMG).
The magnetic pulleys manufactured at Douglas Manufacturing Co. meet and/or exceed CEMA/ANSI standards. They can be used for any kind of head pulley application, and with Douglas' high-quality metal separators, users can remove harmful tramp ferrous metal before it could damage expensive processing equipment.
Douglas Manufacturing Co., www.douglasmanufacturing.com
---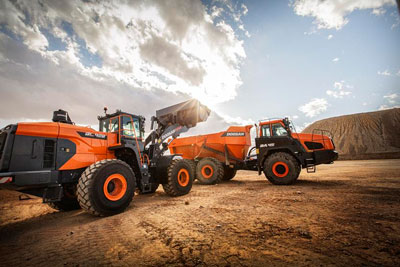 Doosan Infracore North America
Doosan Infracore North America launched its next-generation wheel loaders, the -7 Series, in the United States. and Canada. All-new redesigned cabs with first-class comfort features, increased bucket capacities and new, fuel-saving technologies are highlights of this next generation of Doosan wheel loaders.
Seven models of the new Doosan -7 Series wheel loaders, with standard bucket capacities between 3.7 and 7.6 cu. yd., are available now. Five additional Doosan models with bucket capacities between 2.6 and 3.3 cu. yd. are planned to launch in early 2022. Wheel loaders launching next year will include the popular tool carrier iterations for two models.
A new, award-winning exterior design is likely the first feature customers will notice about the Doosan -7 Series wheel loaders. The completely redesigned, more comfortable cab is a close second, noted the manufacturer.
The new wheel loader cab layout has relocated important and frequently used controls for easier, more intuitive use. All Doosan -7 Series wheel loaders have the same control setup, so operators won't miss a beat when moving from machine to machine.
Bucket capacities for select models are 7% greater than prior models. These select Doosan models include the DL320-7, DL380-7, DL480-7 and DL580-7. The increased capacity can provide faster, easier loading in fewer passes, according to the manufacturer.
Doosan Infracore North America, na.DoosanEquipment.com
---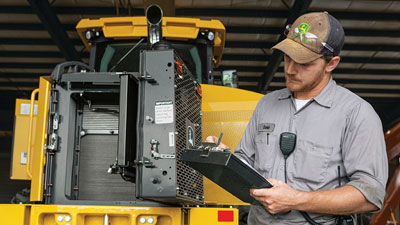 John Deere
To better support customers through improved aftermarket and support capabilities, John Deere announced its preventative maintenance program for construction equipment, John Deere Protect.
With John Deere Protect, required maintenance is performed at every 500-hour interval by an experienced dealer service technician. As a result, customer risk and long-term ownership costs decrease, and machine uptime increases, positively impacting customers' bottom lines.
First introduced on the John Deere Ag business, John Deere is extending the program to the construction lineup. With John Deere Protect, the machine owner will see a lower cost of machine ownership and operation over the equipment life cycle. Additionally, John Deere Protect is transferable, meaning that if the customer sells a piece of equipment, the program stays with that machine for its lifetime.
The John Deere Protect program will be available for select John Deere construction equipment in the United States and Canada starting this month.
Deere & Company, www.JohnDeere.com
---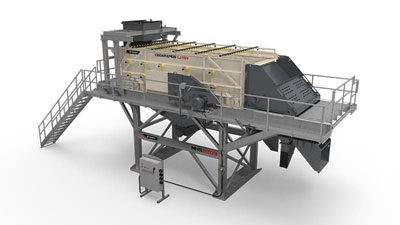 Cedarapids
Cedarapids introduced new options for the popular MHS6203 and MHS8203 screen modules including a wash plant option and a feed box and support structure. The screen modules feature the proven TSV Series horizontal screens, combining the efficient, high g-force El-Jay oval stroke action and a large blending chute for a range of discharge options.
The new wash plant option includes a feed box with two spray bars and support structure, screen spray system with manifold and under screen flume. Outfitted as a wash plant, the module can produce high value washed stone products and can be paired with a sand screw or other sand processing and fines recovery equipment.
The new Rock Box Style material feed box allows for the conveyor to feed from either side or over the back of the screen, allowing additional flexibility for placement of the module on a compact site or as part of a multi plant system.
The MHS6203 screen module features a 6- x 20-ft. three-deck TSV screen, while the MHS8203 features a 8- x 20-ft. three-deck TSV screen. All Cedarapids modular crushers and modular screens bolt together on site and require minimal on-site wiring. Designed with logistics in mind, the screen modules ship in two 40-ft. shipping containers; the screen ships separately.
Cedarapids, www.terexmps.com