Custom Water Tank Improves Efficiency for Washington Developer.
By Mark S. Kuhar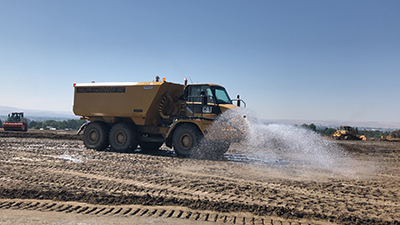 RP Development LLC is a relatively new player in the booming construction and development market in Washington state's Tri-Cities area.
The majority of developers in the area simply buy land and contract out the actual development. RP Development, on the other hand, purchases and develops properties using its own in-house demolition and construction crews, making it the only full-service developer in the area. By removing the third party, RP Development is able to streamline the process, greatly increasing efficiency for itself and for customers.
Aggregates producers can pick up a few tips from RP Development's use of water trucks. The company was using two Peterbilt 367 on-highway trucks equipped with 5,000-gal. water tanks to haul water within its jobsites for wetting soil for compaction.
Due to high demand, the tanks were constantly in use. A 12,000-gal. water tower filled the 5,000-gal. tanks in about 90 seconds, but with half a mile or more between the fill point and the jobsite, RP Development lost productivity with each trip.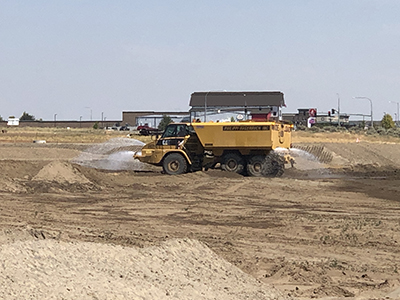 On the jobsite, each tank slowly distributed its load through a dual-head spray bar equipped with six nozzles and a cannon, attached to the back of the truck. The 500-gal.-per-minute (gpm) pumps took 20 minutes to dump the full load. Then the driver would return to the water tower for a refill.
"The entire process could take more than half an hour per truck," Bauman said. "It severely limited what we were able to accomplish on the jobsite each day. We managed to make it work, with great planning and flexibility, but we knew we needed a better solution to achieve our productivity and quality goals."
Tanking Chances
RP Development began researching larger water tanks that would fit its unique needs. They found no shortage of models available from reputable original equipment manufacturers. However, there was no way to customize the equipment to fit the developer's application. The search continued until ConExpo-Con/Agg 2017 when Bauman stopped by the Philippi-Hagenbuch (PHIL) booth.
"From the start, PHIL was interested in providing a solution, not just a product," Bauman said. "Where the other OEMs gave us a spec sheet with limited options, the PHIL team pulled out a notebook and started writing down what we wanted."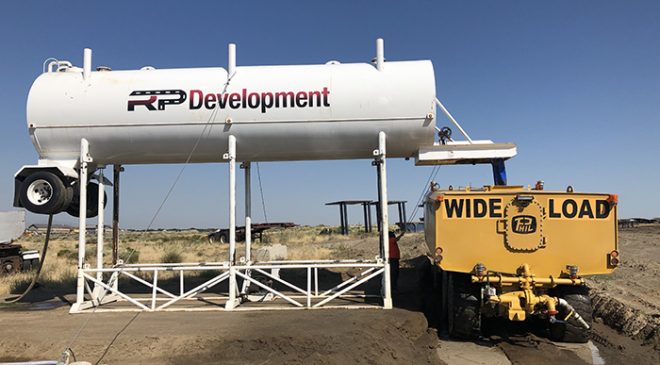 RP Development partnered with PHIL for an 8,000-gal., custom-designed, square-sided water tank to fit the company's 730 Cat articulated dump truck chassis.
"The square sides were different than anything else we were seeing on the market," Bauman said. "But once the PHIL engineers walked us through the science behind it we realized the benefits to capacity and overall safety are remarkable."
The PHIL team explained that a square tank can haul about 20% more water than a rounded tank with similar exterior dimension, allowing RP Development to increase capacity without increasing the overall size of the tank.
A square design, manufactured with heavy-duty Hardox 450 steel, also offers a lower center of gravity, reduces internal water churn and due to their internal baffle doors, allows for optimal water flow while minimizing front to back surging. These features increased stability and safety during transportation which is ideal for an application that requires a fair amount of travel between fill and dump sites.
The new tank features a flow rate of 1,500 gpm meaning it only takes RP Development six minutes to distribute the entire tank load – 14 minutes faster than the previous tanks. The tank design also incorporates six spray heads and a water cannon capable of pumping 650 gal. of water per minute.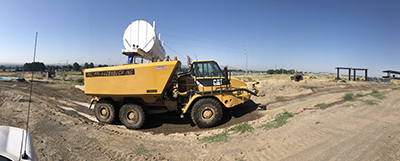 "Just comparing volume between one of the old tanks and the new one, we've got 60% more capacity with the PHIL tank," Bauman said, "But that's just the beginning. We can carry more and unload it faster. Plus, with the cannon we can reach areas we couldn't get to before. It's revolutionized what we can do in a day."
Crystal-Clear Results
A recent subdivision project allowed RP Development to fully test out the efficiency of the new water tank. The side-by-side Riverhawk and Sorano subdivisions feature a combined 309 residential lots. Between the two, RP Development needed to move an estimated 200,000 yd. of dirt. During development, the PHIL water tank delivered an average of 41 full loads of water daily.
"For the Riverhawk and Sorano, we were hauling up to 328,000 gal. a day," Bauman said. "With the old tanks, it would have taken almost 70 trips to deliver that much water. Assuming half an hour to deliver, dump and refill, even with two trucks hauling constantly, it would have taken us 17 hours to match the productivity of the new tank. With the PHIL tank, we can do it in an eight-hour shift."
While other contractors and developers in the Tri-Cities area look to adopt RP Development's model, the company continues to strive forward – maximizing its efficiency with a second PHIL water tank in the near future.
Information for the article courtesy of Philippi-Hagenbuch Inc.