The New NSSGA Chair Talks About The Infrastructure Investment And Jobs Act, Young Leaders And The Best Business Advice He Ever Received.
By Mark S. Kuhar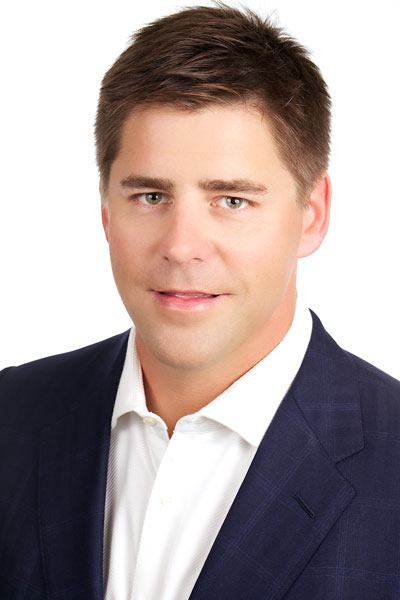 Rock Products: As you begin your term as chair of the National Stone, Sand & Gravel Association (NSSGA), what is the number-one thing you would like to accomplish?
Seth Hankowski: I would like to use my position as chair to lead the work on the implementation of the NSSGA 2023-2025 Strategic Plan Rocks Build America. Last year, the task force accomplished the actual building of the plan, and it is now time to roll up our sleeves and get to work on the four specific goals.
What are your plans to build on the work of your predecessor and execute the NSSGA Strategic Plan for 2023-2025?
First, I want to thank Karen Hubacz for her work and leadership to develop the plan. Now, I want to take that roadmap and work with NSSGA staff and members on its execution. We already know the many challenges our businesses face every day: from increased operating costs, to supply chain issues and workforce challenges. The four objectives outlined in the plan show how we can address these issues, as well as arm the association to be prepared for future ones. Accomplishing these goals will not only take NSSGA to the next level but provide value to the entire industry.
What did you learn from Karen Hubacz as you watched her during her tenure as chair?
Karen was a phenomenal NSSGA board chair, and I know I have big shoes to fill. I appreciate her passion for the industry and ability to tackle issues head-on. She also spent a great amount of her tenure encouraging those smaller producers to get involved. I aim to continue this theme forward and want folks to know the association represents all sizes and will ensure that all industry interests are heard. It's important for every member to be engaged so we are united and speaking with one voice.
You came up through the Young Leaders program, how will that experience help you in your role as NSSGA chair?
I started out in Young Leaders nearly 20 years ago. The program gave me a fresh look at the different opportunities and demonstrated how I could be more involved with the industry. The young leader meetings and networking events are always super energizing. It's clear everyone shares this unique camaraderie of wanting to make a difference. My role in Young Leaders provided a jump start to my overall engagement, as I was able to move into higher leadership positions. From serving on the Steering Committee to the Young Leaders chair and then on the Executive Committee, it paved the way for me to become the 2023 board chair.
The Infrastructure Investment and Jobs Act (IIJA) will give a huge shot in the arm to the aggregates industry, but challenges remain. How do we meet those challenges?
Certainly, the passage of IIJA was a historic moment for our industry. It provided the needed certainty that all producers and manufacturers and service suppliers require when planning for future projects. Unfortunately, we have seen the effect that inflation has created on our entire country and this legislation's funding is not exempt from that. Additionally, we have seen actions by the current administration to create new rules and guidance that are not in line with the intent of the bipartisan infrastructure law. Thankfully, NSSGA has engaged on Capitol Hill to share our industry's concerns and advocate for the needed changes. This can be seen with the problematic revisions to guidance implementing the Build America, Buy America Act. The administration must follow the law to ensure our materials are excluded from Buy America sourcing requirements. Through NSSGA's advocacy work, we saw success with the Federal Highway Administration's December 2021 memo, which was recently replaced this past February with updated guidance. I understand the implementation process of a large bill is difficult, but the bottom line is the law must be implemented as written.
Skilled labor is still hard to find these days. How can our industry tackle its labor shortage?
Many in our industry create an environment to invest in their employees by providing attractive salaries, competitive benefits, robust training, support and career development. However, workforce challenges still plague our industry, as we all need skilled and highly trained workers. Since 2021, NSSGA has been working with members through its Workforce Development Taskforce to create a strategy to address short and long-term workforce issues. I also support those in Congress that work first-hand on these challenges and NSSGA encourages the passage of legislation that would expand mine engineering and related fields at colleges and universities and develop vocational education programs supporting the mining industry.
Talk about the role of technology in driving the success of the aggregates industry in the future.
Technology and new innovations are critical for everyone's business. Not only do advancements in tech help with the bottom line and worker efficiency, but it can also boost safety and help with companies' environmental impact.
Why is national association membership important to business success?
NSSGA membership should be essential for anyone involved with the aggregates and industrial sand industries. The association provides countless resources and updates on issues that we all face daily. It also allows for us to have a louder voice in Washington, as there are members located in every U.S. state and almost every Congressional district. This large footprint creates a platform of success for our legislative initiatives. Additionally, the NSSGA team, their work and the many meetings and events are a great member benefit and I encourage everyone to take advantage of them.
This year's NSSGA Convention and ConExpo-Con/Agg 2023 show were very successful. Talk about the importance of industry conventions, trade shows and events.
The meetings and events that NSSGA puts on provide a great opportunity for everyone – no matter what stage you are in your career. Not only can you always grow your professional network but the meetings address topical issues facing the industry. This past meeting featured some fantastic speakers and breakouts on sustainability, workforce and advocacy/grassroots.
What is the best piece of business advice you ever received?
Embrace change, don't fight it.
NSSGA – Past Board Chairs
2022
Karen Hubacz
Bond Construction., Spencer, Mass.
2021
Darin Matson
Rogers Group Inc., Nashville
2020
Darin Matson
Rogers Group Inc., Nashville
2019
Bob Weldon
Weldon Materials Inc., Westfield, N.J.
2018
Randy Lake
CRH Americas Materials Inc., Atlanta
2017
Mark Helm
Dolese Bros., Oklahoma City
2016
Hal Wiliford Jr.
Memphis Stone And Gravel Co., Memphis, Tenn.
2015
Charles Luck IV
Luck Companies, Richmond, Va.
2014
Paul Detwiler III
New Enterprise Stone & Lime Co., New Enterprise, Pa.
2013
Ward Nye
Martin Marietta Materials, Raleigh, N.C.
2012
Ron Summers
CalPortland Co., Glendora, Calif.
2011
Dave Thomey
Maryland Materials Inc., North East, Md.
2010
Bill Schneider
Knife River Corp., Bismarck, N.D.
2009
Gerald Geraghty
Rogers Group Inc., Nashville, Tenn.