New Equipment Has Improved Efficiency But Also Yield At Its Dearborn, Mo., Plant.
by Mark S. Kuhar
Buildex, a Midwestern United States producer of expanded shale lightweight aggregate, has been producing its Haydite lightweight aggregate for more than 70 years. Buildex is a Hamm Inc. company, a division of Summit Materials.
With a focus on quality, consistency and service to its customers, Buildex supplies their Haydite for use in asphalt preservation, lightweight structural concrete, stormwater management and water treatment, horticulture, aquaponics, masonry block, refractory applications, natural athletic field conditions and much more.
Challenge
At their Dearborn, Mo., location, Buildex mines Weston shale for preparation in an on-site rotary kiln. The kiln heats the shale to expand and harden it into lightweight ceramic aggregate that is strong, durable, fire resistant and thermally stable.
The feeder-breaker that Buildex was using to crush the shale to size before processing in the kiln was old and in constant need of repair. However, parts for this particular machine were no longer available.
"It was ancient; it was very old," Plant Manager Holden McComb said of the feeder-breaker. "We had to manufacture anything that broke on it ourselves. We couldn't get spare parts for it." On top of that, the feeder-breaker wasn't very efficient, and Buildex would have to rehandle the material after it had been processed.
"The material that it made was either very small or very coarse, and so we were having to screen off and reprocess a pretty big percentage of that oversize so that we could use it further down the line," explained McComb.
Because of the condition of the feeder-breaker and the efficiency issues, Buildex began looking for a replacement crushing system.
"Like a lot of places, we're trying to minimize waste material and minimize fines. With the material we're processing being shale, we wanted something that could handle the tonnage we were looking for while producing a greater percentage of usable product," McComb said.
Solution
McComb had previously worked with McLanahan Corp. on crushers at other quarries, so he already had a connection with the equipment manufacturer when they contacted McLanahan for a crushing solution.
"We've got a pretty good relationship with McLanahan," McComb said, "so when we started the CAPEX process, they were one of the first ones we reached out to looking for not even a specific model or design but, 'This is our application, what do you think is going to work for us.'"
After sharing their application details and production goals with McLanahan, Buildex installed a McLanahan crushing system consisting of a 60-in. wide Wobbler Feeder, a primary 30- x 60-in. Super Black Diamond Single Roll Crusher and a secondary 24- x 24-in. Heavy-Duty Double Roll Crusher to process the quarry run material down into a smaller size for feeding into the rotary kiln.
After the shale is dug out of the ground with a hydraulic shovel, it is loaded into the McLanahan Wobbler Feeder, which removes the 4-in. minus material and discharges it onto the primary discharge belt.
The Wobbler Feeder meters the plus 4-in. material into the McLanahan Single Roll Crusher, which reduces the material down to 12-in. minus. This material is then conveyed to a surge bin for feeding the McLanahan Double Roll Crusher. The Double Roll Crusher performs the final product sizing of 4-in. minus.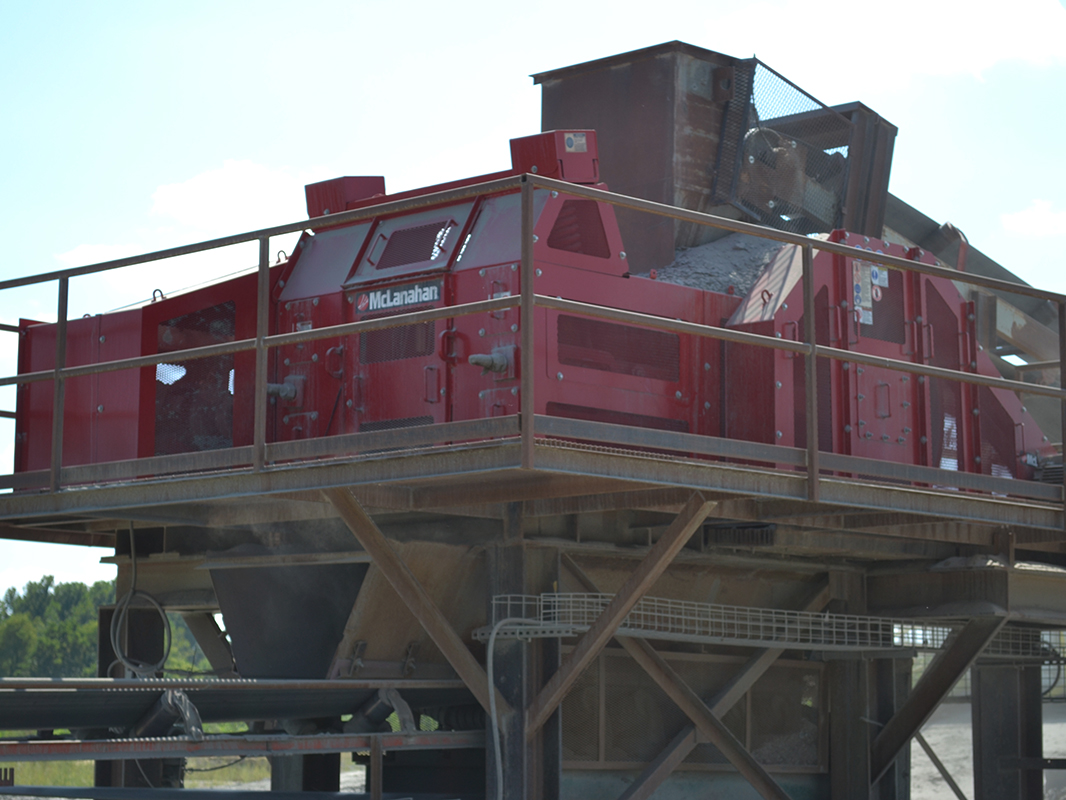 Results
With the McLanahan Wobbler Feeder and Roll Crushers, Buildex is seeing all-around improvements to their crushing process.
"The McLanahan equipment here has helped us a lot," McComb said. "It's improved our efficiency – we're getting more tons through the plant, but I think the bigger thing is it's improved our yield. We're not making as much oversize, we're not making as many fines, so we're not having to rehandle or reprocess that material."
Because of the higher efficiency of the McLanahan crushing system, McComb said he is able to run the plant fewer hours each week, which allows him to allocate those resources to other areas.
"We can take those employees and that equipment and perform other tasks and take care of things that need to be taken care of around the plant," explained McComb.
McComb said maintenance on the McLanahan equipment has been easy, and even though they were worried about the adjustments and general care of the equipment, McComb said neither has been an issue for them. He values the customer service and support Buildex has received from McLanahan throughout the project.
"For us, it's been great," McComb said. "The support has been great from McLanahan, not just through installation, but even here going on two years after installation."
Information for this article courtesy of McLanahan Corp.