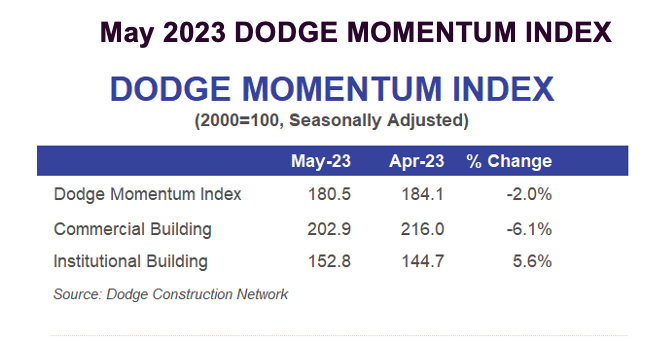 The Dodge Momentum Index (DMI), issued by Dodge Construction Network, fell 2.0% in May to 180.5 (2000=100) from the revised April reading of 184.1. Over the month, the commercial component of the DMI fell 6.1%, while the institutional component improved 5.6%.
"The DMI dipped in May amid sustained weakness in commercial planning activity," stated Sarah Martin, associate director of forecasting for Dodge Construction Network. "Conversely, institutional planning steadily improved over the month as research and development laboratories and hospital projects steadily entered planning. Sustained elevation in the federal funds rate and tighter lending standards will likely constrain growth in the DMI over the second half of 2023; however the index remains above the historical average. This paints an optimistic landscape for non-residential construction in mid-2024, as the economy recovers and the Fed begins to pull back rates."
Commercial planning in May was negatively impacted by continued weakness in office and hotel planning activity. Institutional planning accelerated alongside steady growth in education, health and amusement projects. Year over year, the DMI remains 11% higher than in May 2022. The commercial and institutional components were up 7% and 18%, respectively.
A total of 30 projects valued at $100 million or more entered planning in May. The largest commercial projects included Buildings 3 and 4 of the Blue Sky Data Center project in Omaha, Neb., each valued at $466 million, and the $400 million Prime Data Center building in Avondale, Ariz. Leading the way on the institutional side were the $500 million Tennessee Performing Arts Center in Nashville, and the $440 million Rady Children's Hospital ICU/EMS Pavilion in San Diego.
The DMI is a monthly measure of the initial report for nonresidential building projects in planning, shown to lead construction spending for nonresidential buildings by a full year.