Association of Equipment Manufacturers (AEM) and more than 40 member companies and industry partners leveraged the inaugural Celebration of Construction on the National Mall to engage with stakeholders on the industry's policy priorities.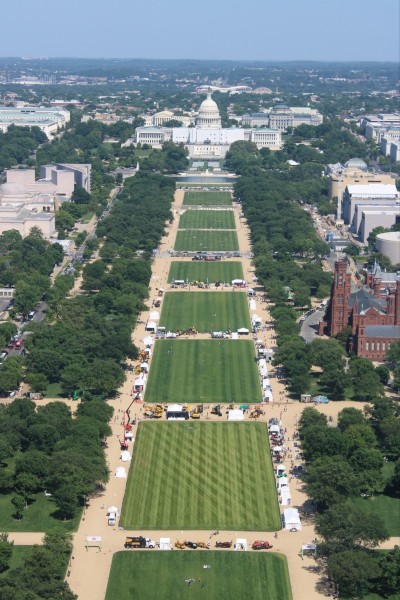 The three-day event brought more than 24,000 visitors to the National Mall in Washington, D.C., including top administration officials, lawmakers, regulators and the general public, for a first-hand look at the advancements in construction equipment and practices.
Participants included Caterpillar, Develon, Trimble, Volvo, Wirtgen America and others.
"This event highlights the incredible innovations taking place in the construction equipment sector and we are grateful to our member companies and industry partners for uniting to tell our story," said Megan Tanel, president of AEM. "We are thrilled to showcase the construction industry in our nation's capital."
Much like the Celebration of Modern Agriculture on the National Mall in 2022, this year's event proved to be an important opportunity to educate members of Congress and congressional staff about the equipment used in their states and congressional districts on a range of projects, from new residential construction to federally funded multi-million dollar investments in roads and bridges.
When not in awe of the sheer magnitude and capabilities of the equipment on display on the National Mall, members of Congress and staff were able to learn about what it takes to build the equipment, where it is made and how Congress can better support the 2.3 million men and women of the equipment manufacturing industry.
Chief among the many issues discussed were persistent supply chain constraints, workforce shortages, permitting reform, worker safety and the implementation of the Infrastructure Investment and Jobs Act, which provides funding for at least one infrastructure project in each congressional district across the nation.
AEM was honored to host a bipartisan group of members of Congress, including U.S. House Committee on Natural Resources Chair Bruce Westerman (R-Ark.) and U.S. House Committee on Transportation and Infrastructure Ranking Member Rick Larsen (D-Wa.). U.S. Representatives Nikki Budzinski (D-Ill.), Ron Estes (R-Kan.), Raja Krishnamoorthi (D-Ill.), Zach Nunn (R-Iowa), and Adrian Smith (R-Neb.) were also among the more than two dozen lawmakers to tour the event.
Congressional staffers representing districts across the country also came out in force to learn about our industry and put that knowledge to use while advising members of Congress on the industry's policy priorities.
AEM and its industry partners will continue the conversation with lawmakers for years to come, bringing a united voice and focus to the equipment manufacturing industry.