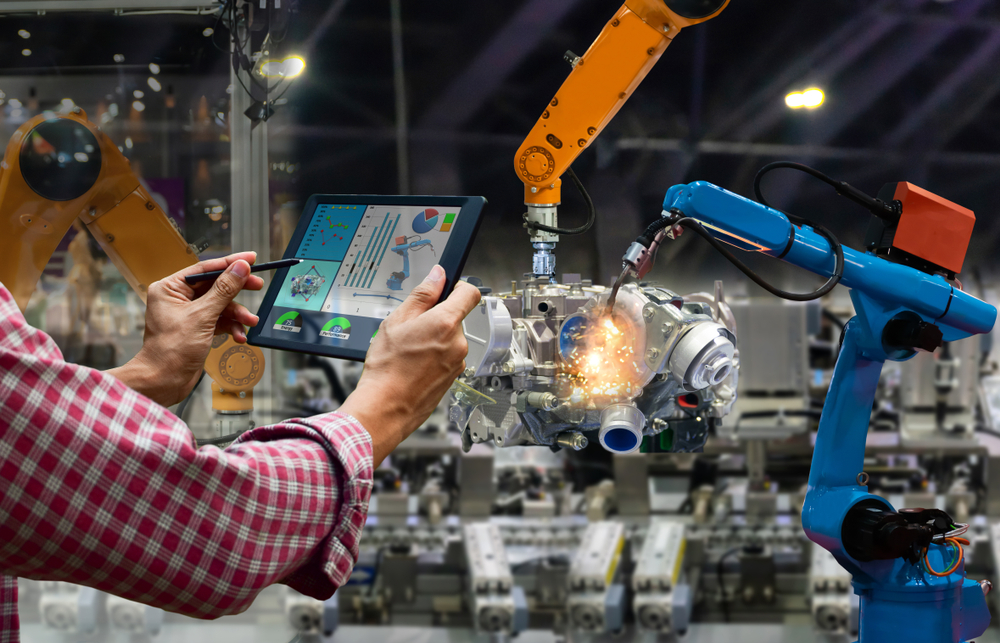 The skills gap in industries across the world is of great concern with almost 90% of companies saying they are aware that they are facing one. What role can technology play, and how can we as humans use this to our advantage as we work alongside it to reduce the skills gap in many industries?
David Marshall, Intergra marketing manager at Welding Alloys, said that employees should embrace, not fear, technology.
Working With Technology
It is important to stress that the advance and increase in technology does not automatically mean that the human element will be replaced. In fact, by working alongside technology, we can see the skills of employees develop, and allow for a business that performs well and operates in a more efficient way.
There are examples of technologies playing increasing roles in various industries, with positive results. From customer services to welding, automation and technology has a big role to play, and getting the balance right is crucial.
Welding Alloys, industry leaders in large scale welding, hardfacing and cladding applications, have developed their Flex e.bot collaborative robot to perform certain welding jobs and complex overlays, freeing up their welding operatives from onerous tasks and allowing them to focus on more important elements of their role.
Marshall said of their Flex e.bot (Cobot) development, "The Cobot is suitable for a range of applications and can be easily utilised in various working environments. It provides the perfect balance between welding automation, efficiency, and the human touch. The development of this strikes the balance between the use of technology and keeping the human element to provide an efficient process. Such collaboration with technology can help bridge gaps in skills, as well as allow for business continuity when workforces are running with a reduced capacity, as well as having safety at its core."
Learning and Development
One of the big problems in the skills gap is knowledge, or lack of for certain aspects of job roles. Training and education is something that can help with this, and accelerating training in business and beyond can be an effective step to combating the shortage of skills.
Training is cost effective, certainly compared to that of continually recruiting new employees. Naturally, there are times when a new hire is needed, but upskilling and reskilling existing members of staff is something to consider when looking to fill gaps in skills in your organisation.
Replacing an employee with a new hire can cost up to one and a half times their salary, so how can technology help here?
Cost effective strategies and using developments like AI can look at onboarding, to see how effective the process is, and streamline this if necessary. Technology in the onboarding process can involve the use of Virtual Reality (VR) technology, as well as going paperless and even the gamification of training and development.
These steps can create an inclusive feeling among new recruits, something which 82% of employees feel is a way to improve productivity and satisfaction. Tech-powered innovations can improve the whole process, get employees up to speed quicker and allow for gaps in skills to be filled.
In addition, online training courses can be of constant benefit to both new and existing employees, as well as the business and even the industry, as employees can be kept up to speed with new developments and processes.
Artificial Intelligence (AI) and Automation
One of the issues with any skill gap is that of recruiting potential talent to the workforce, to fill the required positions.
To boost chances of finding and recruiting the right fit for the business, AI-driven tools can be used to find gaps in the workforce, and the appropriate algorithms can enable employers to match the requirements of the role with potential candidates.
This works to suit both the employer and the employee – the business recruits a company based on what they exactly require, and the employee joins a company in a role they are suited to, and is more likely to feel valued in the workplace and be a long term recruit.
Further ways that AI can help remove some of the strains caused by skill shortages is to take over some of the less complex tasks that can be dealt with without human interaction.
Repetitive, less-skilled tasks can be taken away from employees and handed over to technology to complete the work.