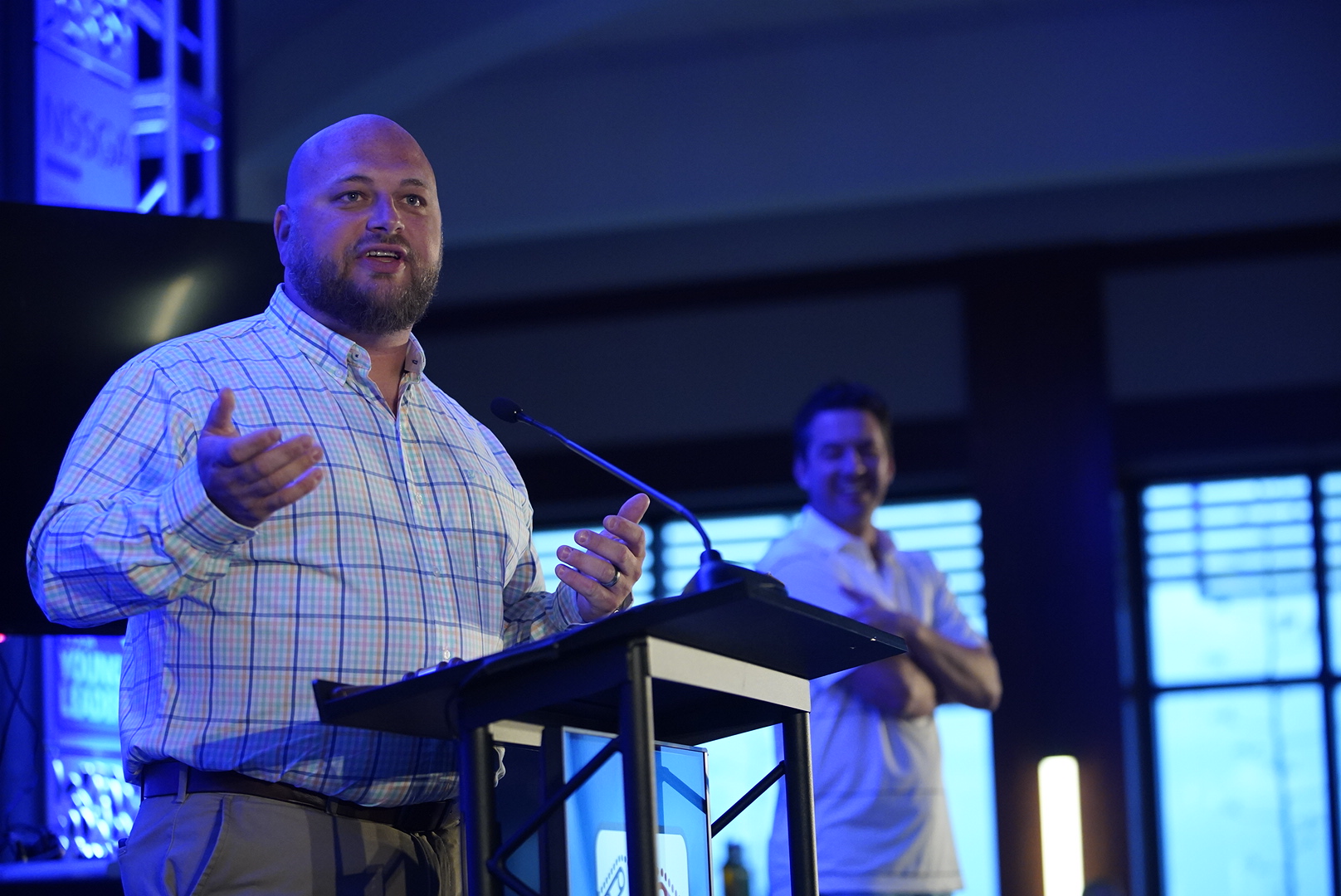 Rock Products: How did you get started in the aggregates industry?
Clay Albright: The aggregates industry is in my blood. I'm the third generation in my family to own and operate our open-pit limestone quarry in Danville, Ky. The quarry has been in the same location since 1912 and was the ninth mine to be permitted in Kentucky. Currently it is the third oldest in active operation. My grandad started at Caldwell Stone in 1960. My father started part-time in the early 1970s and full-time after he graduated college in 1976. As a kid, I drove around with both of them in the pit and tagged along in the dump trucks delivering rock to customers. When my grandad died my senior year, I knew my dad needed me there to help, so I rearranged my class schedule to have classes two days a week, and I could drive the hour back home the other three days to work in the pit. Dad looks back now and says that's the moment he knew I was all in, that I was committed, and that I wanted to be there.
How did you get started in the National Stone, Sand & Gravel Association's (NSSGA) Young Leaders?
My first Young Leaders event was in Tucson, Ariz., in 2009. It was my dad that suggested I go to Young Leaders, and I'm certainly glad he pushed me to do so. I've seen it grow far beyond when I started. In the years I've been involved, the Young Leaders group has nearly tripled in size and continues to grow and engage at a higher level.
What is the best thing about being in Young Leaders?
Hands down, the best part about being involved in NSSGA's Young Leaders is the networking. It's given me a chance to meet people from all over the country who work in every imaginable area of the aggregates industry. I know if there is a problem that comes up at work, that I have a friend from Young Leaders that I can call on for help. I've always emphasized networking to new Young Leaders members by saying "your network is your net worth."
Why is Young Leaders participation important for the companies that group members represent?
Companies that send their employees to Young Leaders are telling that employee they are important to the company; they see potential in them and are willing to invest time and money in their development. When a company sends someone to Young Leaders, they're also benefiting from that employee's network when it comes to processes and problem solving on the job. Just think, one of those connections you make through Young Leaders could help you streamline something when you return to work, and that directly benefits the company.
What do you see as the group's number-one priority going forward?
Involvement beyond Young Leaders in the broader NSSGA should always remain a focus and top priority of the group. Introducing our younger generation to ways they can help our association well beyond their time in Young Leaders is one key area we have been focusing more on lately. Young Leaders can steer its members to serve on committees to contribute to the effectiveness of NSSGA.
As chair, what do you want to accomplish over the next year?
I hope to see more and more young leaders attending other NSSSGA events, like the Annual Convention and the Legislative & Policy Forum. I want to see others like myself making an impact, not just in Young Leaders but in other areas of NSSGA. It's great to show up to the Young Leaders Annual Meeting for so many reasons, but it's even greater to make it to the other meetings, so you can strengthen the bond between friends and grow your network. I'd love to see Young Leaders members on every committee within NSSGA. We may be young and less experienced than others, but we have a strong voice together.
Why should others consider being part of the Young Leaders?
I can't emphasize enough the value Young Leaders provides in growing your network. By gaining the connections made through Young Leaders, you are making yourself more valuable as an employee and seeing others just like yourself excelling in every field of the industry. Sometimes we might feel like we are the only one our age dealing with certain issues, so it's reassuring to see that others all over the country can relate to us.
What is the best business advice you ever received?
Without a doubt the best business advice I've ever received was from my dad. Early on in my career, when I began to manage things more instead of being an operator, dad told me, "Be sure you ASK the guys to do something, don't just TELL them." That's something that has remained a priority for me to this day. If I'm on the company radio, it's much more respectful and courteous to ask the guy on the loader, "Hey Donnie, would you mind scraping up that big rock near the dump hopper?" instead of saying, "Hey Donnie, Get that rock by the dump hopper." I believe if I'm respectful and courteous to them, I'll get the same in return plus some. We're a small business with a family atmosphere, and my family depends on these men and women that work with us to keep things going day-to-day. I couldn't do my job without them, so why not be respectful?