North American Winner Of Heidelberg Materials' Quarry Life Award Shows How Industry And Communities Can Partner To Improve Sustainability.
By Kristin Dispenza
A quarry reclamation project near Monroe, Wash., received an industry award and through a close working relationship between community members and company representatives, set the stage for ongoing public and private sustainability projects. – Ed.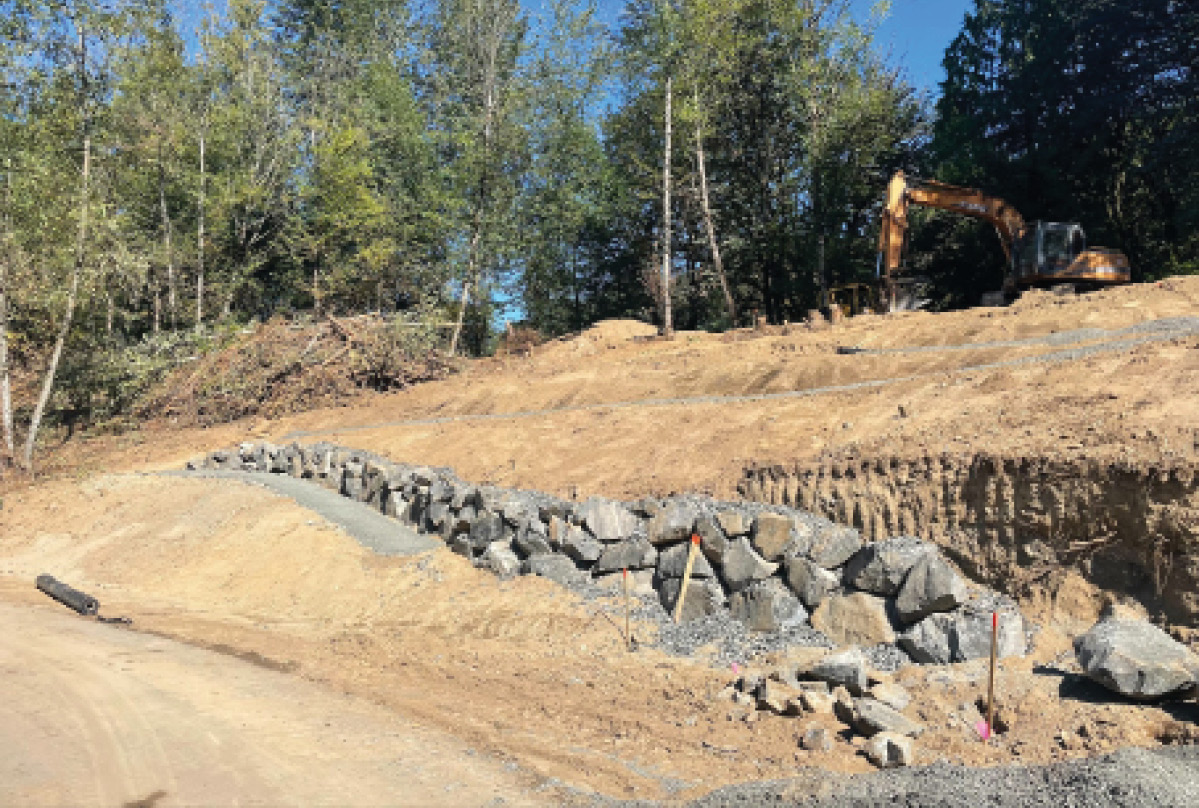 Concrete production begins with mineral extraction at quarry sites, and because of the massive scale of earth removal, these quarries unavoidably have an impact on the communities in which they are located. That impact, however, can come with upsides – a fact which may not always be recognized.
Kate Ryan, a resident of Monroe, Wash., and agriculture program coordinator at Washington State University (WSU) Snohomish County Extension, is part of a Community Advisory Group (CAG) that meets several times a year with Heidelberg Materials representatives to discuss any environmental or quality of life issues that may arise from extraction activities at Monroe's High Rock Quarry.
It was as a result of those meetings that Dave Warner, area general manager, Aggregates Northern Washington, Heidelberg Materials, told Ryan and another CAG member, Peg Ferm, about Heidelberg Materials' Quarry Life Award (QLA) program.
"The program offered a real opportunity to enhance the area's ecology while establishing an educational and recreational area that we hope will be go on to be augmented by the county park system, and maybe by others beyond that," said Ryan.
"Extraction sites can have a positive impact on biodiversity and habitats, and by having a formalized awards program, Heidelberg Materials is able to not only raise the understanding of how this is achieved but expand knowledge and share learnings. Overall, the partnerships that are established and the research that is performed as part of QLA promotes biodiversity not only within the boundaries of quarries, but beyond," said David Perkins, vice president, government affairs and communications, Heidelberg Materials North America.
Participating in the QLA allowed the community and Heidelberg Materials to take their partnership to new levels and work together toward meaningful sustainability initiatives. As a long-time resident of western Washington, Ryan remembers decades past when residents and quarry operators were not always able to align their interests but said some things have changed and "Heidelberg Materials leadership seems committed to making things work; there is a good relationship with the advisory group members, which led us to collaborations like the current project at High Rock."
About the Award Program
Heidelberg Materials launched the QLA program in 2011. The international scientific and educational contest takes place every three years, inviting researchers, non-governmental organizations (NGOs), students and/or local communities to submit project proposals. Proposals can be submitted in one of two streams:
The research stream, which focuses on scientific projects that increase knowledge of mining ecology and lead to improved biodiversity, landscape and/or water management.
The community stream, which focuses on engagement and outreach projects that help the quarry better connect with interested parties.
The QLA increases the scientific understanding of the interaction between nature and quarries. Science-based biodiversity recommendations are developed as a result of the program and shared not only across company sites but externally.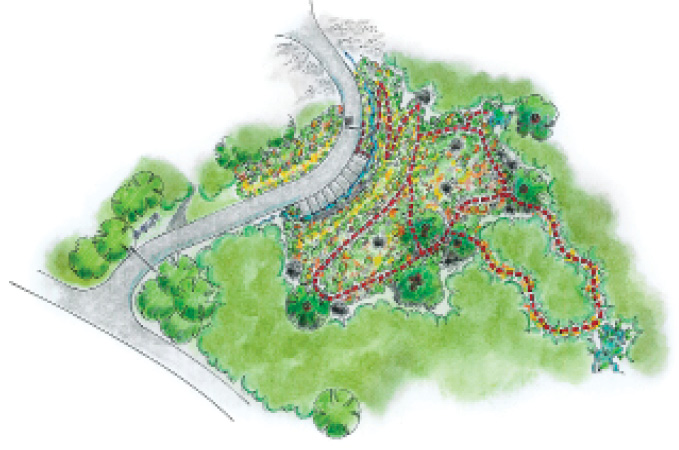 QLA Improves Habitat at High Rock Quarry
The project at High Rock Quarry was submitted by Ferm and Ryan and ultimately selected by Heidelberg Materials North America to participate in the fifth edition of the QLA in 2021. Mining has occurred at the site since the 1970s and Cadman Materials Inc., now branded as Heidelberg Materials, has been operating at the High Rock site for more than 30 years. The site produces rock, sand and gravel to supply the local aggregates market.
Ferm and Ryan's proposal was to create a self-guided Pacific Northwest Native Pollinator Trail (PNNPT) on a three-acre portion of the quarry site. Ferm, a registered landscape architect, had a strong interest in pollinator habitats. Ryan, as an agricultural coordinator for WSU Extension, also saw value in strengthening the local population of pollinators – especially since the state is a large producer of strawberries, raspberries, blueberries and other commercially important berries, all of which rely heavily on pollinators.
The project's distinction between native pollinators and imported species is an important one.
"When we talk about 'bees,' people think of honeybees, but they are actually imported from Europe. In Washington, it turns out that our native bees do an excellent job of pollinating many of our valuable food crops," said Ryan.
Plans for the Quarry
Plans for the High Rock Quarry pollinator project include installing trails, hardscape elements and a variety of native plants, with a goal of creating a habitat that is ideal for supporting native pollinators' food, nesting, and overwintering requirements.
Work commenced in early 2022, with Ferm researching appropriate plantings and drawing up a site plan. Hardscaping elements such as trails and a bridge were in place by the end of the year, as was the parking lot layout, and spring 2023 will see the first plants go in the ground. Eventually, to fulfill its educational mission, the trail will have signage that provides basic information about the plantings and includes QR codes linking to websites with more detailed descriptions for trail visitors who are looking for in-depth education.
Learning about types of pollinators is one educational aspect of the PNNPT; learning how plant life supports those pollinators is another. As plantings along the trail are installed and maintained, it is expected that knowledge will be gained regarding how best to manage land suitable for pollinators.
For example, it is known that agricultural lands, which rely on tillage to prepare the ground for crops, can disturb ground nesters, and the trail will explore ways of providing optimal alternatives to tilled areas. Similarly, leaving dead plant matter on the ground during the winter – a rare practice in any area with a large human population – can be immensely helpful for pollinators who use hollow stems or other organic material for overwintering, and these types of plantings, too, will be experimented with along the PNNPT.
It is hoped that the work being done on the initial three-acre site will expand to reclamation of the full 470 acres currently occupied by the quarry, once operations are complete in 2029. It is even hoped that the investment in the local ecosystem will expand beyond quarry boundaries.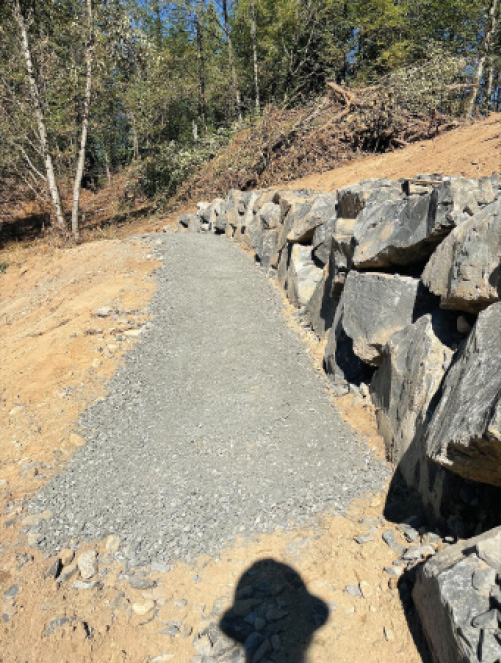 The Quarry Site
The quarry site is surrounded by rural residential properties, as well as forestry and agricultural lands. It is situated on the boundary of the Snoqualmie and the Skykomish watersheds and has a variety of critical areas mapped on or adjacent to the property. The surroundings also provide important habitat to wildlife beyond pollinators, including a great blue heron colony, bank swallows, black bears, coyotes, deer, beavers, cougar, ducks and other common birds.
"The pollinator trail project establishes a good example for people in Monroe's Tualco Valley," said Warner. "We think there is potential for the Washington State Department of Natural Resources to build on what we've done." Heidelberg Materials leases approximately 300 acres from the Washington State Department of Natural Resources (WA-DNR), and "the hope is that the department will choose to replant the acreage using knowledge gained during the PNNPT project, rather than to plant it with harvestable plants such as timber. It is possible, too, that the ecosystem enhancement would eventually expand into surrounding private land."
There is also potential for the quarry grounds to serve as a recreational area for local residents once quarrying operations have finished. The nearby valley has already seen development of the Snoqualmie Valley Trail (SVT), a 32-mile regional trail that follows the historic route of the early 20th century trains that connected the entire Snoqualmie Valley from the city of Monroe, Wash. to beyond North Bend, Wash. Ryan and other community members hope to work with Snohomish County to develop the land adjacent to the quarry and connect it to the trail system.
"Because of the amount of excavation that occurs," said Ryan, "quarries can be ideal for repurposing as parks or recreation areas with hiking, biking or riding trials, all of which benefit from having the dramatic elevation changes that result from quarrying. It takes a lot of work to improve a closed quarry, however, so it's important to intentionally shape and design those spaces."
Future Research
Considering the QLA program's goal of increasing scientific understanding of the interaction between nature and quarries, the PNNPT "leaves room for a future research component," according to Farris Hauck, Production Supervisor, North Bend/Redmond, Heidelberg Materials. "For example, it might prove an attractive setting for a graduate student's environmental project."
The title under which the PNNPT project was proposed says it all: "Pollinators: Who are these guys and what do they want?" The initial three-acre site being developed as part of the QLA, and future research and biodiversity projects that arise from it, will more than answer that question.
Kristin Dispenza is a senior account manager for AOA Public Relations Practice Group.