ConExpo-Con/Agg 2023 crushed expected attendance numbers, drawing more than 139,000 construction, aggregates and fluid power professionals from 133 countries to Las Vegas from March 14-18 – making it the largest trade show in North America with more than 2,400 exhibitors from 36 countries spread out over 3 million sq. ft. of exhibit space.
This year's show emphasized how the construction and aggregates industries are evolving in many ways to adapt to sustainable technologies, products and practices. Show attendees were treated to sustainability in action, from electric and hydrogen powered construction equipment, to more recyclable materials and waste reduction opportunities.
Rock Products reached out to manufacturers to get their take on the show and across the board they celebrated success.
Terex MPS showcased the exclusive new Cedarapids CRC1350S Portable Cone Crusher Plant and the new Simplicity ESX "Extra Clearance" Series Horizontal Screen: first-to-the-market models with features not offered by others in the industry.
"Our team was grateful for the opportunity to visit with so many people during the 2023 ConExpo-Con/Agg event," said Russ Burns, sales director, Terex MPS. "The chance to showcase two new pieces of equipment and receive first-hand feedback from passionate people in our industry was very positive. Our team truly enjoyed visiting with the numerous loyal customers and visitors from around the world and getting a chance to hear the stories and share experiences with our legacy brands."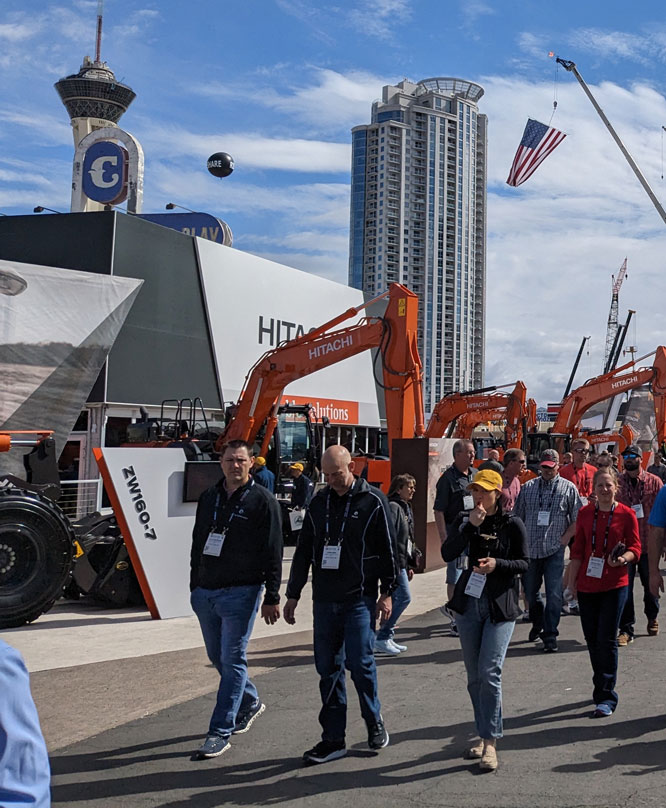 McLanahan Corp. showcased, among other equipment, a Horizontal Screen Over Screw Portable Plant for the first time at any trade show. While this is not a new piece of equipment for McLanahan, it is a highly demanded configuration that the company's dealers requested be on display due to its popularity.
"What a fantastic week to get back together and celebrate our industry," said McLanahan's Managing Director – North America Mark Krause. "After the last three years of video conferences, combined with a robust economy and optimistic outlook, the timing was perfect for face-to-face conversations about where our industry, and specifically our companies, are headed. It allowed us to see old friends, meet new clients and introduce some new products. I found that this show, more than previous ones, had buyers coming to the show to negotiate deals. We weren't sure how traffic would flow with the new lots and the West Hall, but nothing appeared different than past shows. ConExpo-Con/Agg 2023 really set the tone for what should be a very exciting year."
Superior Industries Inc. showcased more than 250-tons of its products at ConExpo-Con/Agg. At least eight of the products were brand-new and revealed for the first time at the show.
"Honestly, it was one of the best trade shows we've ever attended and we're not just blowing smoke," said Corey Poppe, communications manager. "The crowds were large, their energy was high and the reaction to our new products was very positive As sales now follows up, our marketing team is already dreaming about 2026."
BKT displayed it's EARTHMAX tire line such as the BKT EARTHMAX All-Steel radial tires, designed to withstand the harshest conditions.
"Attending the ConExpo show is always a must for BKT, and this year was no different. We were able to meet with many key customers, partners, and potential customers from all over the world. Participating in the show is vital to our business in the United States and helps us stay competitive in the construction industry," said Alexa Sherry, the company's marketing and business analyst
For the first time, Wirtgen Group shared a 70,000-sq.-ft. booth with John Deere and it was a showstopper. Exhibiting in production systems, specifically Aggregates, where equipment from Deere and Kleemann stood side by side, customers could see a unique supplier that can support an operation from material handling to crushing and screening, to loading. A one-stop manufacturer that supports the complete package for any producer.
"The atmosphere and energy at the booth were exhilarating, and to be back with our customers enjoying the business made it a truly unique trade show," said Evan Clark, vice president of sales for Wirtgen. "Thanks to all our customers and dealers who visited with us and enjoyed our friendships and passion for the business."
Van Der Graaf (VDG) is the leader in the design and manufacturing of drum motors for all types of belt conveyor applications, including mining and aggregate, ship loading and power generation. GrizzlyDrive Series Drum Motors are designed specifically to operate in harsh, dusty, abrasive and extreme environments where performance and durability matter most.
"ConExpo-Con/Agg was a really good show for VDG," said company President Alex Kanaris. "We had extremely good traffic in our booth during the first three days and a very quiet last two days. The attendees stopping at our booth demos were really good. We had very good feedback from existing customers stopping by to share their positive experience with our products, and potential customers acknowledging seeing our ads and wanting to see the product up close. The show was busy, productive, efficient and well attended."
Philippi-Hagenbuch highlighted HiVol Water Tanks, along with other custom-engineered off-highway haul truck solutions, at ConExpo-Con/Agg.
"2023 was my eighth ConExpo-Con/Agg as a member of the Philippi-Hagenbuch team," said Josh Swank, vice president of sales and marketing for the company. "Looking back on the show now after a couple of weeks, I still feel the excitement – and maybe a bit of the lasting exhaustion from all of the excitement and hard work leading up to it – from another truly outstanding ConExpo-Con/Agg. Philippi-Hagenbuch's booth in the new West Hall became the site of more than 400 daily meetings between our team members and attendees, with more than 20,000 other people spending time in or around our booth each day. Beyond the sheer numbers, the attendees we interacted with were individuals who expressed genuine interest in discovering new products and technology to drive productivity and efficiency for their operations back home.
"Beyond the show floor, I had the opportunity to attend the National Stone, Sand & Gravel Association (NSSGA) Annual Convention where I passed on the gavel to the incoming chair of the Manufacturing & Services Division Executive Committee, Charlie Johnson," Swank continued. "Additionally, I was fortunate to be able to present an educational seminar, "Improve Efficiency with Haul Truck Customizations," on Thursday morning as part of the ConExpo-Con/Agg educational track. Once again, I was thrilled by the genuine interest that the attendees showed and the number of thoughtful questions and discussion that resulted."
MAJOR is highlighting its FLEX-MAT Modular PLUS screen media panels at ConExpo-Con/Agg.
"The much-anticipated ConExpo-Con/Agg 2023 came and went faster than we could imagine. After months of preparation, it was exciting to see our hard work pay off and have invaluable meetings face-to-face with new and current customers, as well as our dealers," said Ian Edwards, senior director for global sales at MAJOR. "Plus, its record-breaking attendance reaffirmed why events like this one are so important. With the increased demand for raw materials, we were proud to highlight our efficiency-enhancing range of screen media, including our FLEX-MAT Tensioned screens, FLEX-MAT Modular screens and Woven screens, among other products.
"Our signature FLEX-MAT screen media is uniquely designed to combine high open area and efficient stratification to prevent blinding and pegging throughout the screening process," Edwards said. "While often overlooked, the profitability of the plant depends on proper screen media selection. With this in mind, we – alongside our dealers – strive to work closely with our customers to understand the ins and outs of their operation to ensure they are equipped with the appropriate screen media to maximize production."
Preparing for ConExpo-Con/Agg is a marathon where you cross the finish line at 9:00 a.m. on Tuesday morning as attendees flood through the gates, remarked Kristen Randall, global technology marketing manager at Haver & Boecker Niagara.
"We had many opportunities at the show to meet with new and current customers, introduce new technology – including multiple deck frame upgrades and our full Pulse diagnostics suite – and had fun along the way by celebrating our company's German heritage with customers at our daily Oktoberfest event," she said.
"Almost 140,000 attendees certainly beats the previous show. We had heard rumblings that attendance was high, but that's a major increase," Randall continued. "What a fantastic surprise. It goes to show the dedication towards growth and new technology, and the importance of camaraderie within the aggregates industry.
"Thanks to the fantastic turnout, our team has been working on several new projects and is looking forward to promising results for our customers in 2023. And, we are looking forward to ConExpo-Con/Agg 2026," Randall concluded.