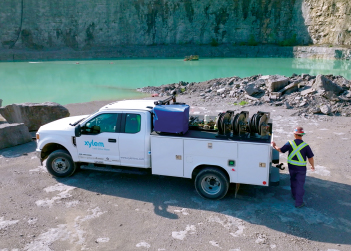 For over 170 years, Xylem has solved some of the mining industry's most complex water and fluid handling challenges. From smart, powerful pumps designed for the toughest applications to the latest in monitoring and control technologies, we will showcase our mining and aggregate solutions.So make sure you stop by and learn how we can help solve your mine water challenges.
Goulds Water Technology Vertical Turbine Pump and Floating Barge
Our line of vertical turbines provides hydraulic coverage ranging from 5-20,000 GPM (with options up to 50,000 GPM) to meet the high head demands for pit dewatering. A custom floating barge ensures the vertical turbine will not burrow into the bottom sediment should the water levels drop, saving it from excessive wear and tear and significantly extending service life.
Xylem AQUAVAR® IPC Variable Speed Controller
Optimized for pumps in submersible and groundwater applications, the IPC helps improve pump performance and supports multi-pump configurations for up to four pumps. An optional NEMA 3R steel enclosure will be on display, which provides peace of mind since the IPC is contained in a lockable unit and protected from the elements – all while providing easy access to the programming screen.
Flygt 2670 Pump
Featuring Flygt's closed impeller Dura Spin and Flygt Spin-Out™, which expel abrasives away from the impeller neck and seal cavity to minimize downtime, the 2670 dewatering pump provides superior wear resistance and ensures pump longevity.
Everything you Need to Operate Smarter, Safer, and More Sustainably.
The water-related challenges facing the mining industry are complex, but Xylem's new Mining Solutions Center has everything you need to turn mine water management into a strategic advantage. Explore Xylem's trusted solutions and learn how our extensive portfolio, smart technologies and superior field service capabilities can help you minimize water waste and downtime.