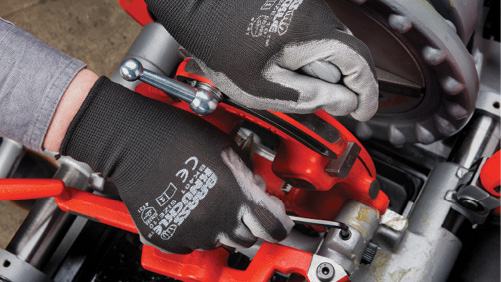 With long-lasting comfort comes increased compliance. That's the thought behind the SmartFlex 400 Series hand protection from Brass Knuckle. Three gloves, each designed with a 13-gauge nylon shell offering abrasion resistance, uncoated back and wrist to encourage all-day wear, and ultra-thin polyurethane coating on the palm and finger area for an amazingly sensitive gripping surface. Every glove in the 400 Series enables accurate handling of even the smallest of parts, whether in dry or light oil applications.
These thin-gauge general purpose gloves are ideal for everything from electronics repair to small parts assembly. The SmartFlex 400 Series combines outstanding dexterity, lightweight comfort, and protection from injury. BK401 is black nylon with gray coating to conceal dirt and grime. BK402 is white-on-white, making it easy to identify foreign particles on the glove, ideal for inspectors and quality control. BK403 is black nylon with a black coating, a tough-looking concealer for grimy projects. Each model is available in seven different sizes with color-coded cuffs to simplify re-issuance.
Each glove in the series is carefully constructed, designed for fit, but also cost-competitive. The lightweight, 13-gauge nylon shell provides dexterity and grip and is more lint-free than polyester. A grippy but not sticky polyurethane coating on the palm and fingers makes the 400 Series excellent for dry-grip applications.
400 Series gloves are ideal for many applications not requiring cut-level protection, from automotive to warehouse to light construction and assembly. Designed for maximum comfort and ease of use for all-day wear, the 400 Series offers protection and helps increase wearer compliance. Workers will never feel like they have to take these gloves off.
Brass Knuckle, www.brassknuckleprotection.com